Why You Should Visit Lima, Peru

I've heard that a lot of people skip their stay in Lima, or just stay one night as they transit through to Cusco, en route to Machu Picchu. Or perhaps they are moving south to Arequipa or heading north into Colombia and Ecuador.
But Lima deserves more of your time, more than just a one night transit visit! Here are some reasons for staying a while longer in Peru's bustling capital.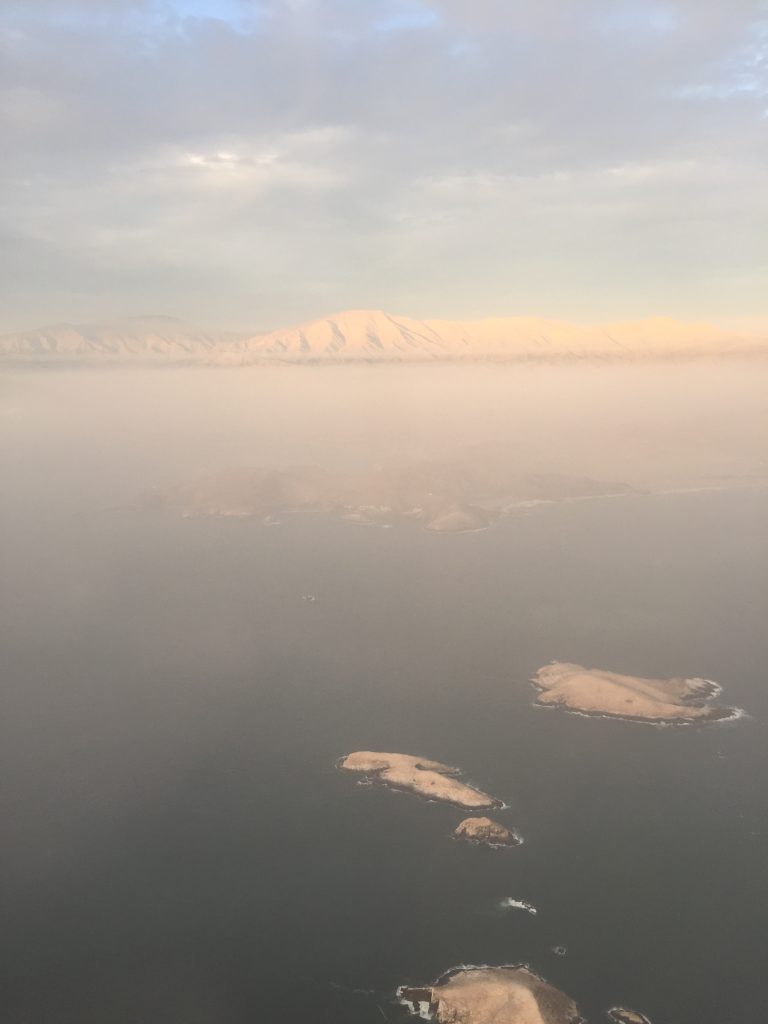 REASON 1 – THE NEIGHBOURHOODS
Being a bustling capital city, Peru has many neighbourhoods to explore. We opted to stay in Miraflores, near the coast, a great spot for tourists and the many eating and shopping options. It was also a great base for exploring other areas in and around Lima, whether by foot, bike, car or bus!
Downtown
For my first solo day in Lima, I organised a walking tour of Downtown Lima. Being a Monday I ended up being the only person on the tour and having my own private guide! Our meeting place was in Miraflores in Parque Kennedy. When then other person didn't show up, my guide Paula and I set off on the gas run buses that travel down the freeway into the city. I would have to get the bus back myself, so I paid attention to Paula's instructions!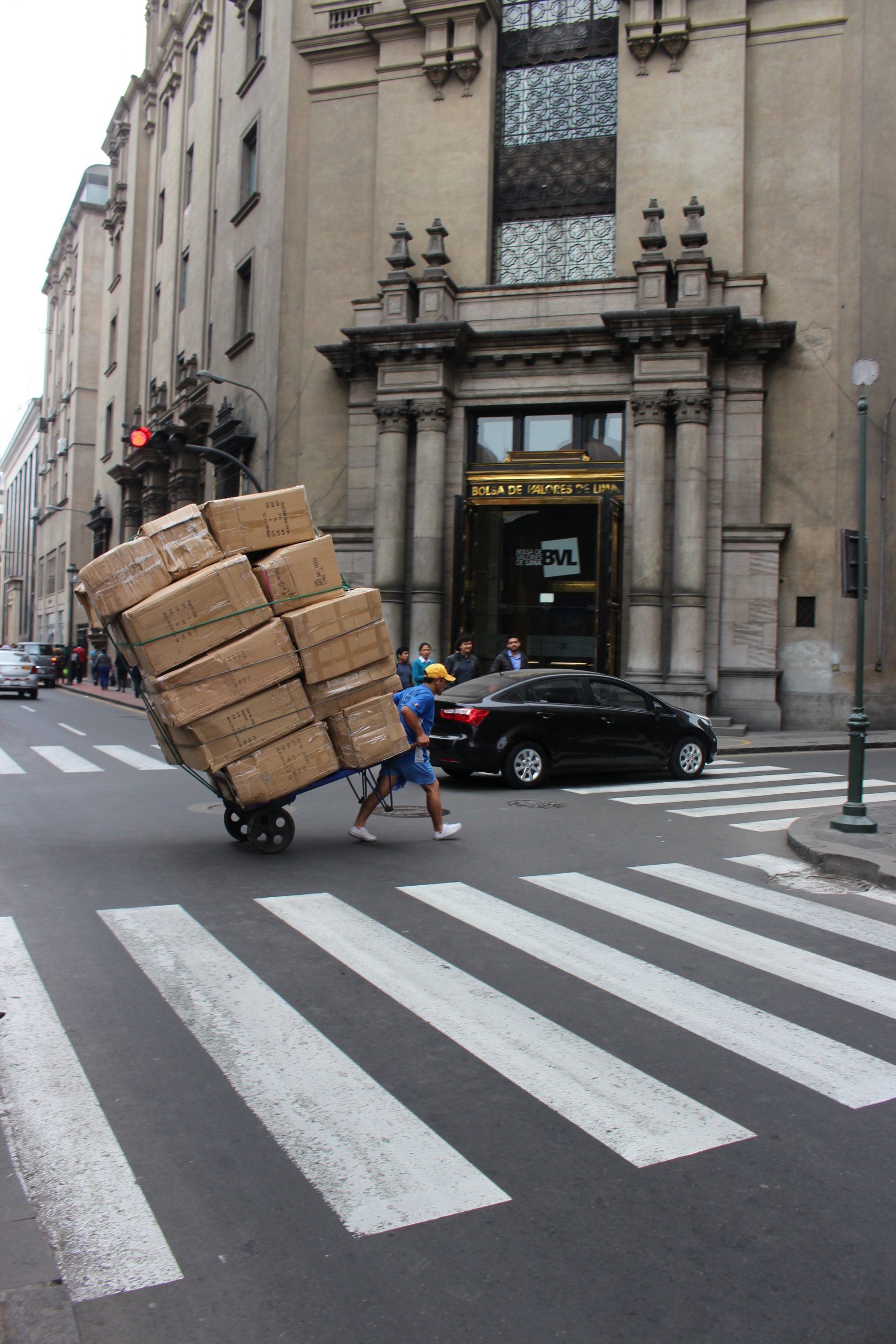 We wandered through the streets of Lima's Business district until we arrived at the main square of Lima, the historical centre of the city.  The Plaza De Armas is a beautiful square, surrounded by fountains, gardens and government buildings.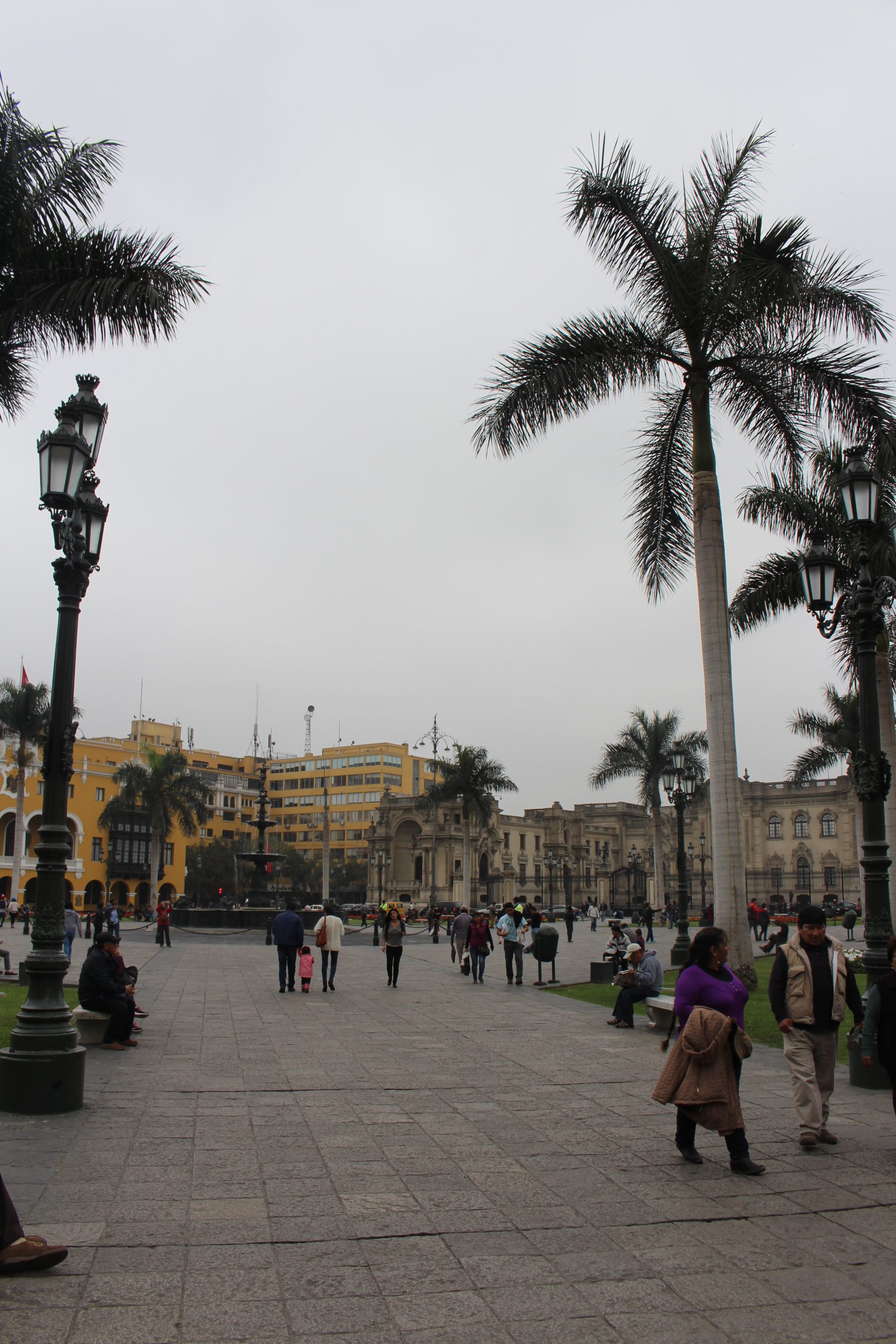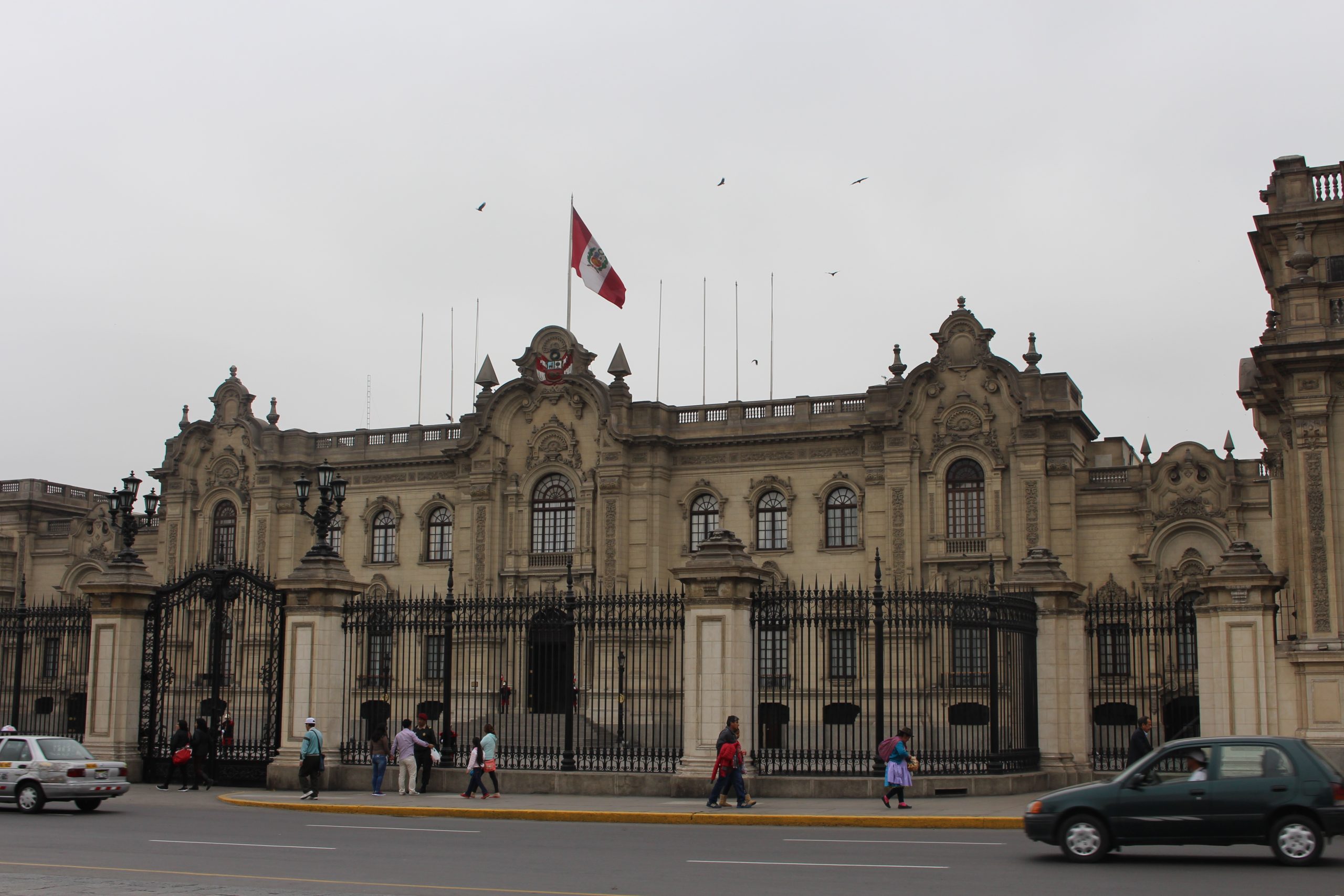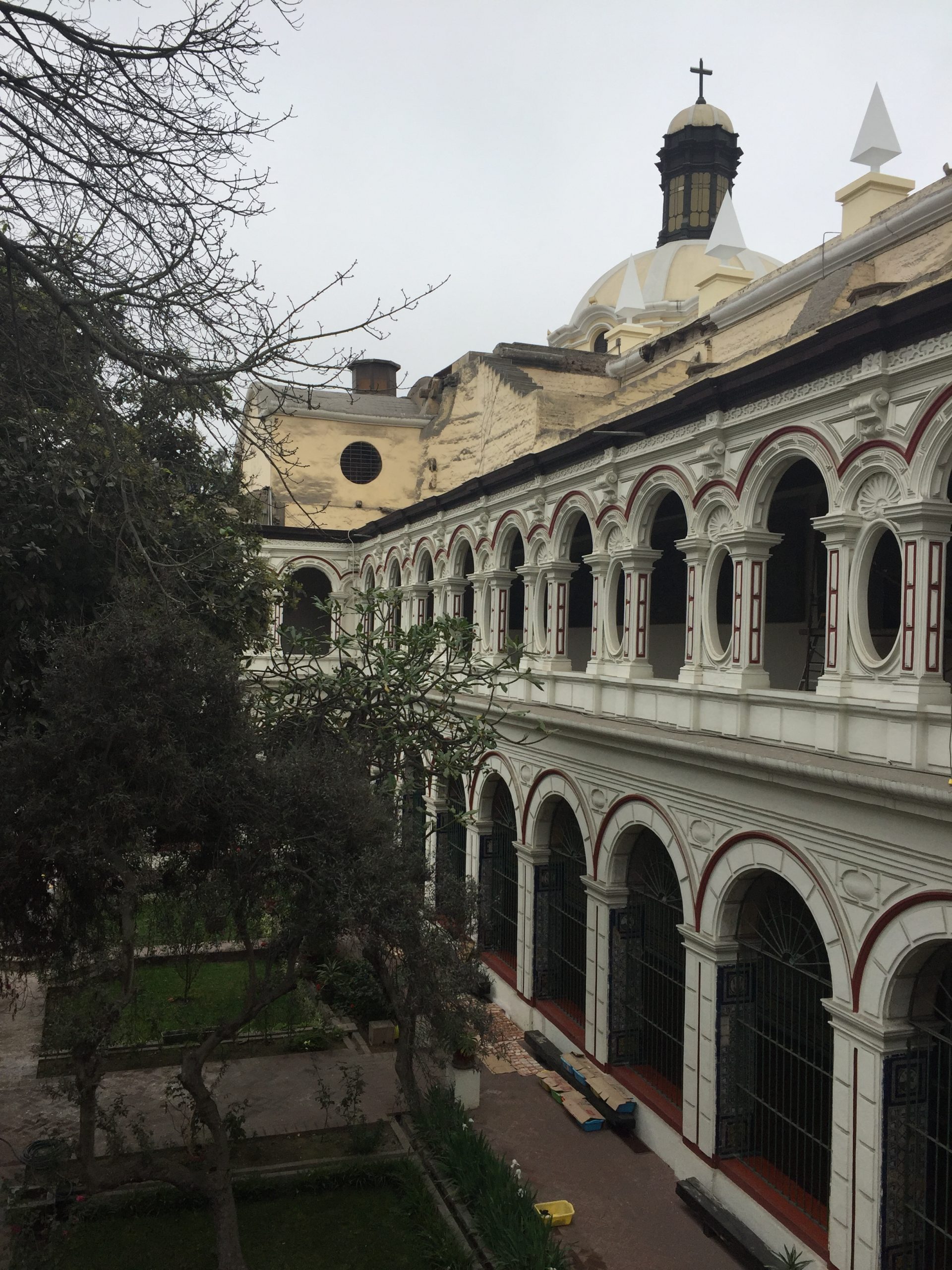 Our tour took us into the Monastery of San Francisco, or in Spanish 'Basílica y Convento de San Francisco de Lima'. A beuatiful old church, you can wander around without doing a tour. It is still a working monastery, housing monks, a museum and a 500 year old library!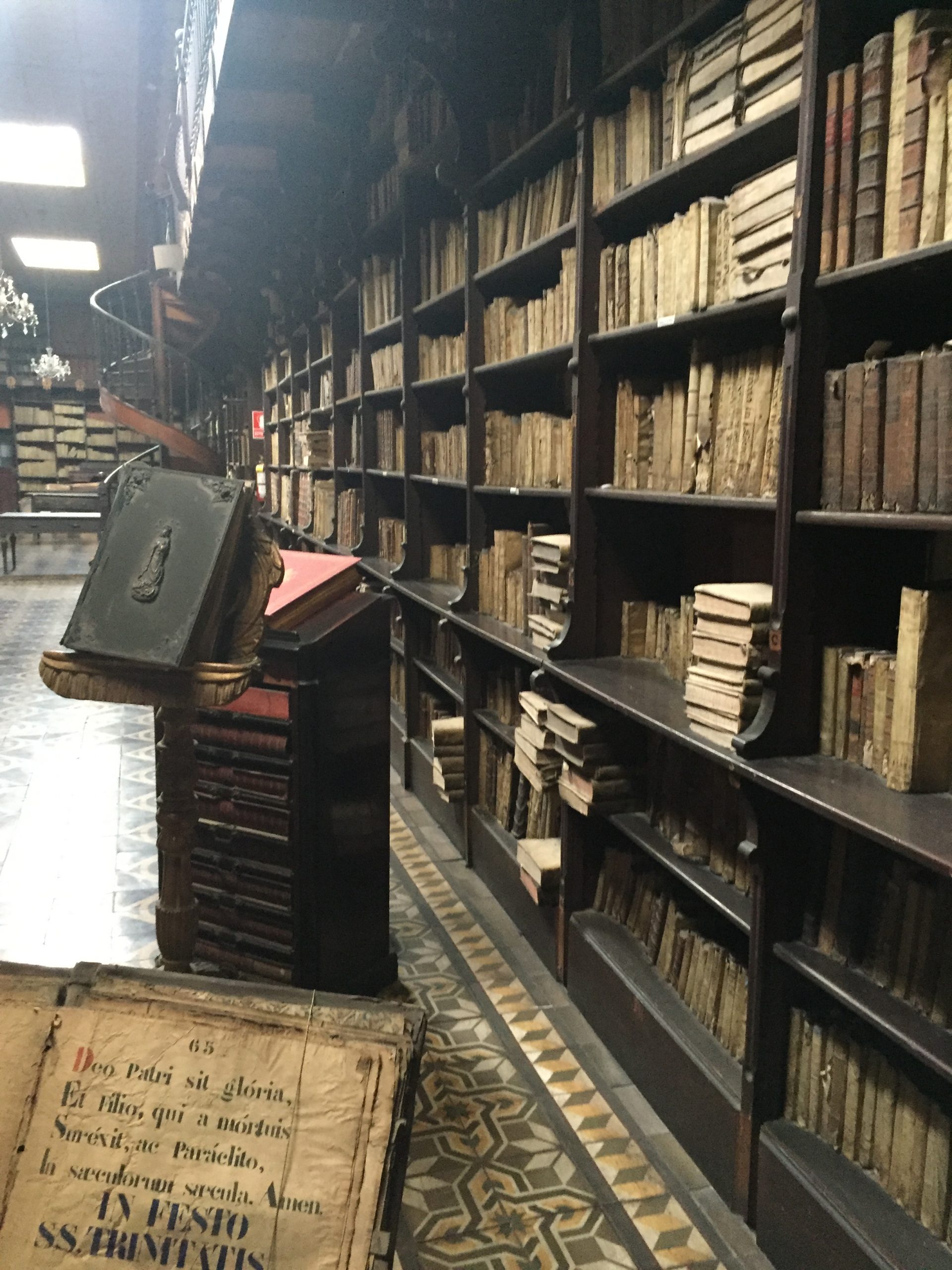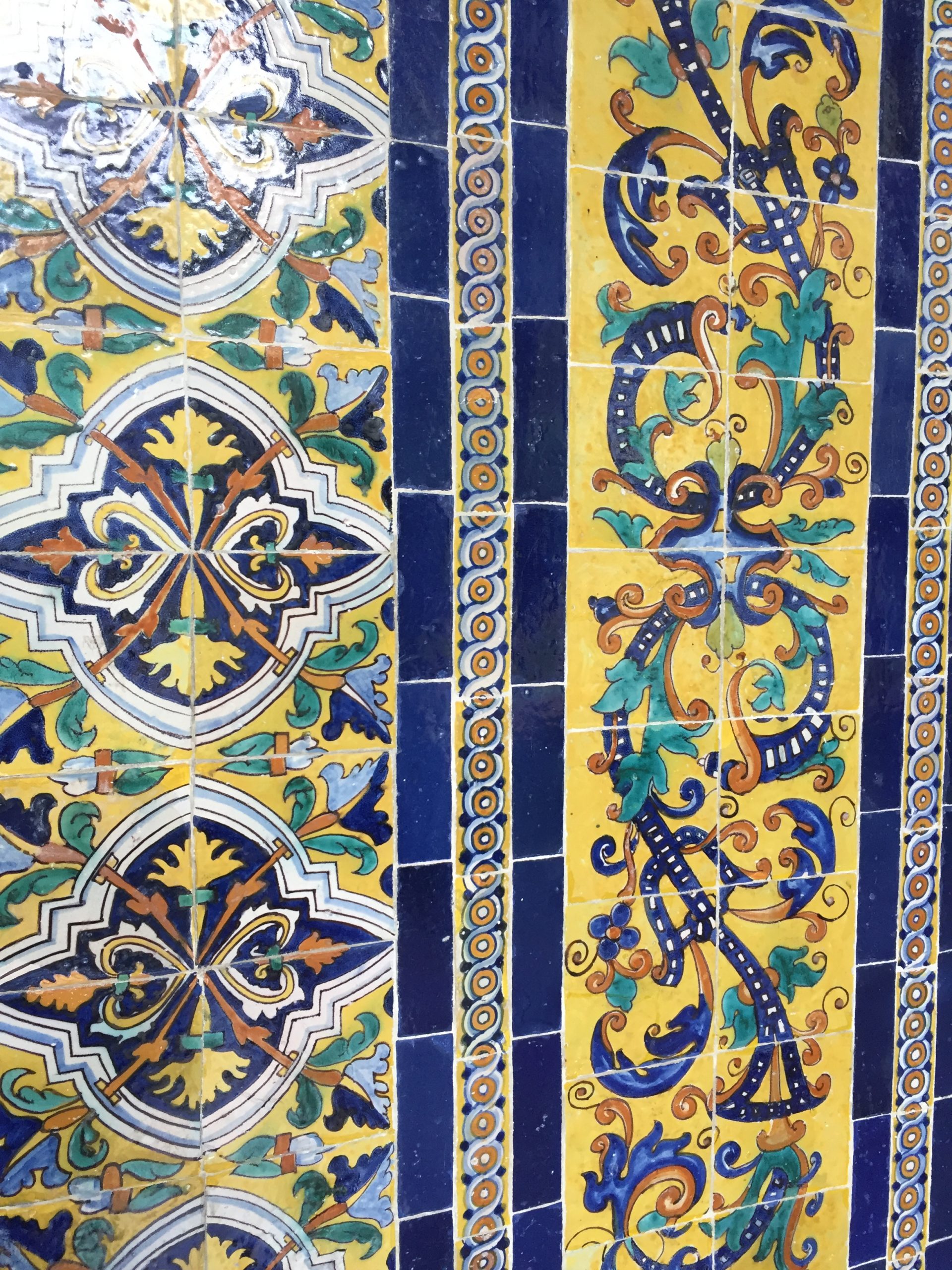 The monastery has a garden surrounded by restored artworks and beautful tiled mosaics. Underneath you can visit the catacombs, similar to the catacombs full of bones under Paris. Morbid, but fascinating!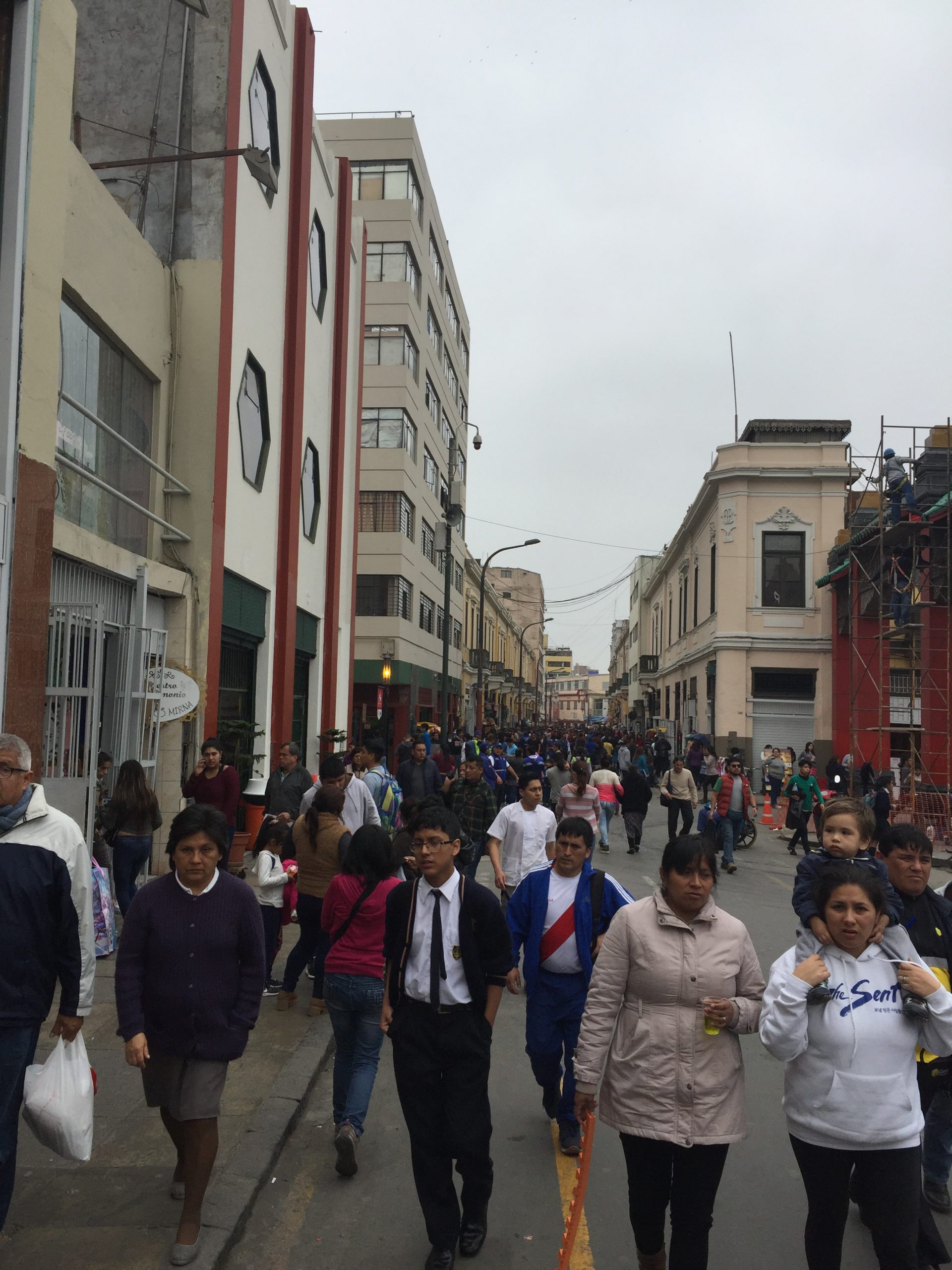 After the chuch and the plaza, other places to explore downtown are the markets and Chinatown, where you will no doubt see an array of interesting things for sale (bulls's testicles anyone?). We bought doughy Peruvian donuts and had an afternoon at the Morris Bar having a Pisco Sour! An enjoyable end to an afternoon wandering around Lima's CBD.
Miraflores
If you only have a day or two in Lima, I suggest you base yourself in Miraflores and explore the area. This is definitely the most famous part of Lima and it is well set up for tourists. You can stay near the coast, the most upmarket area of Miraflores or just visit for the day (or night). The Park of Love meanders around the headland, with mosaic walls, parks and statues, including the famous lover's kissing. It's also a great place to walk or bike ride. Beneath the cliffs is the coast and beaches of Lima, great for surfing and even hang gliding.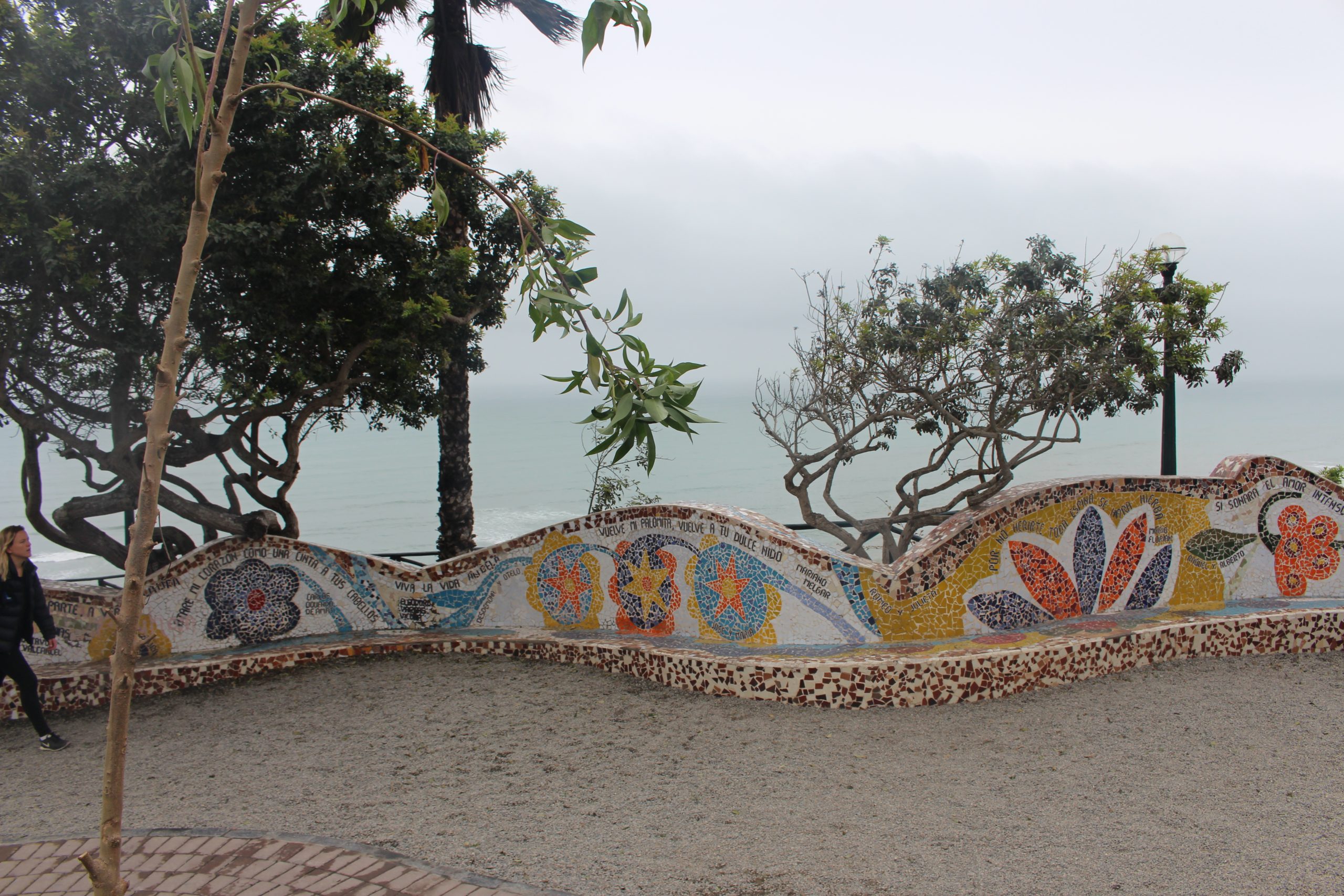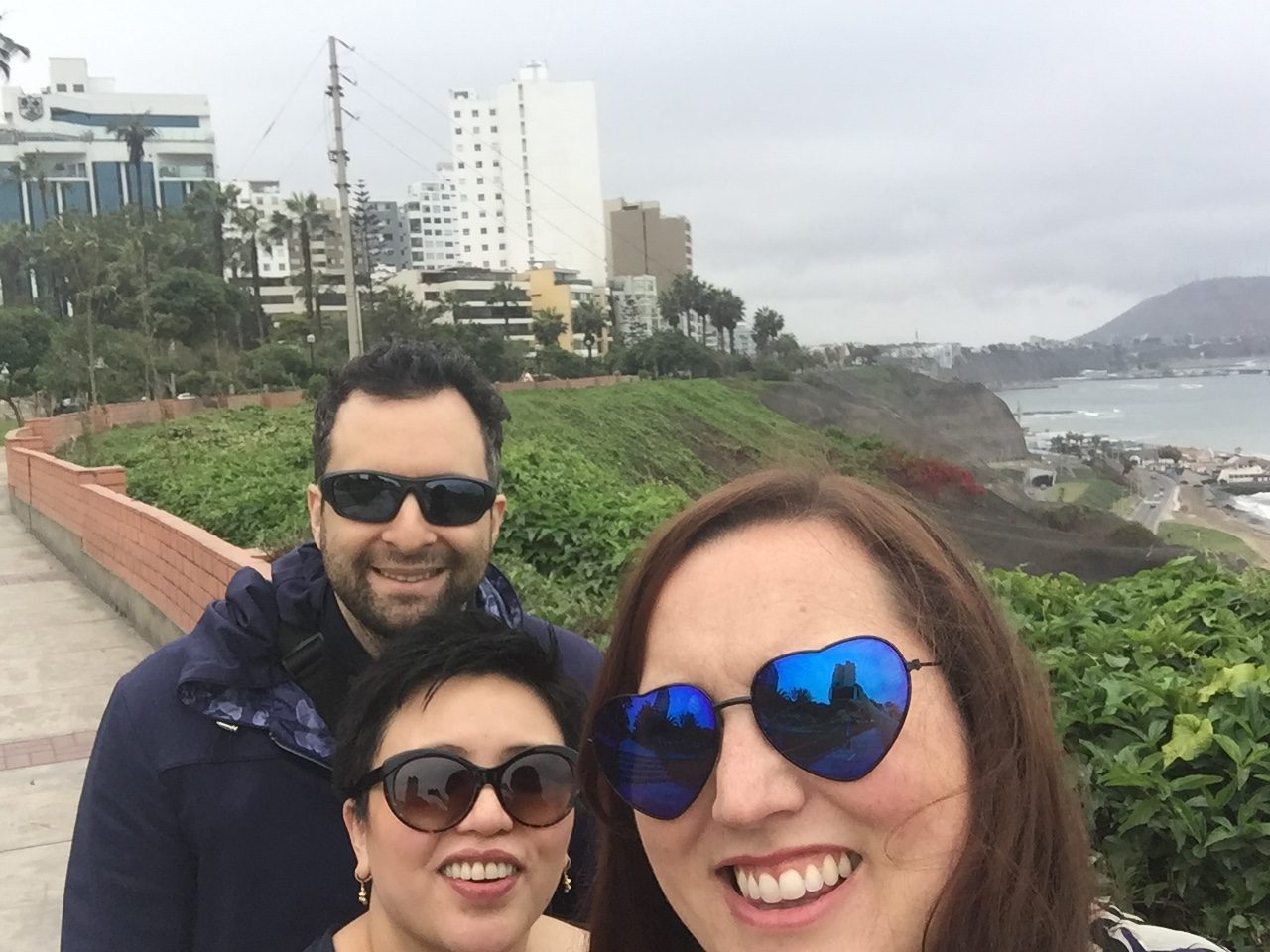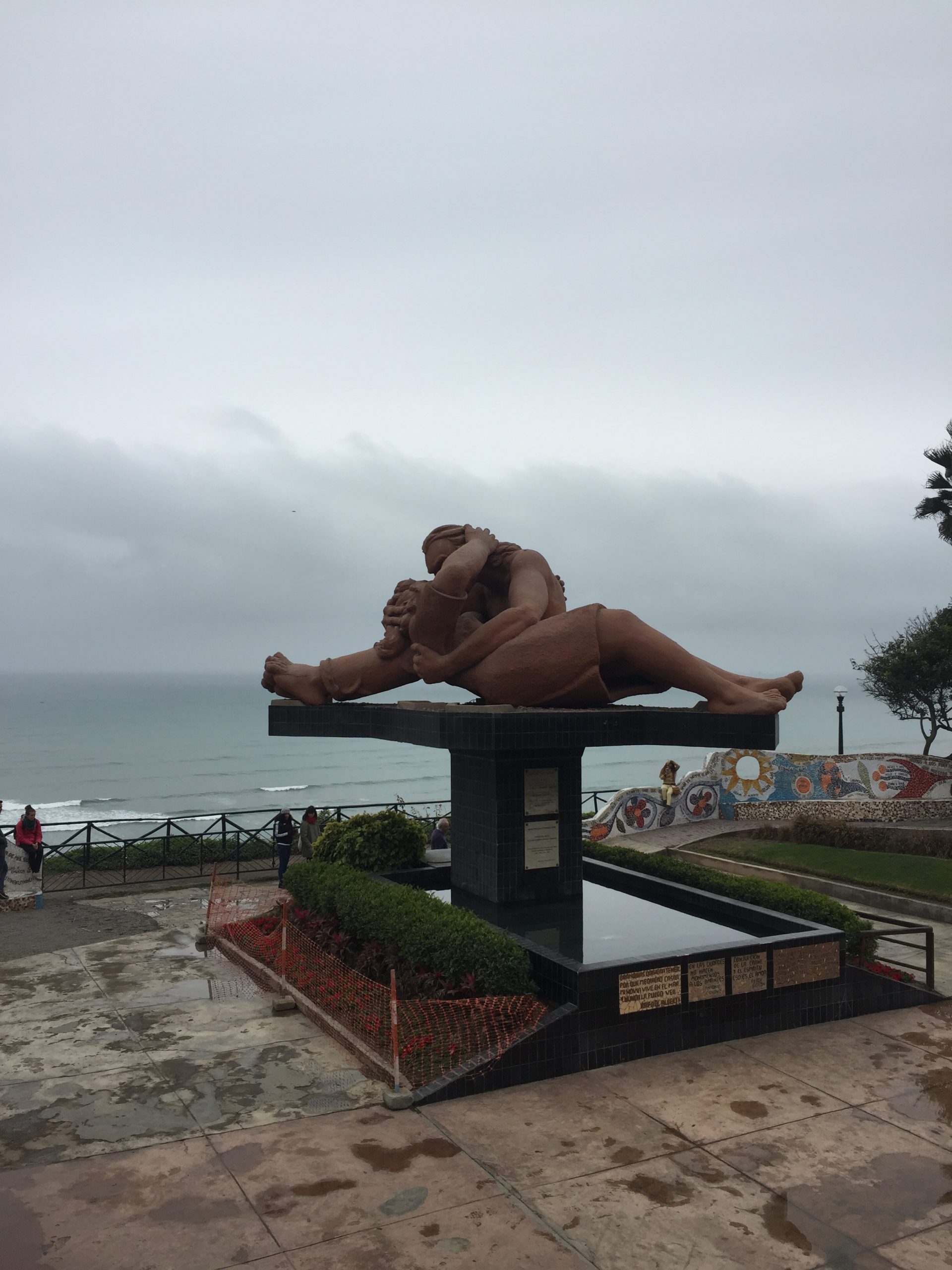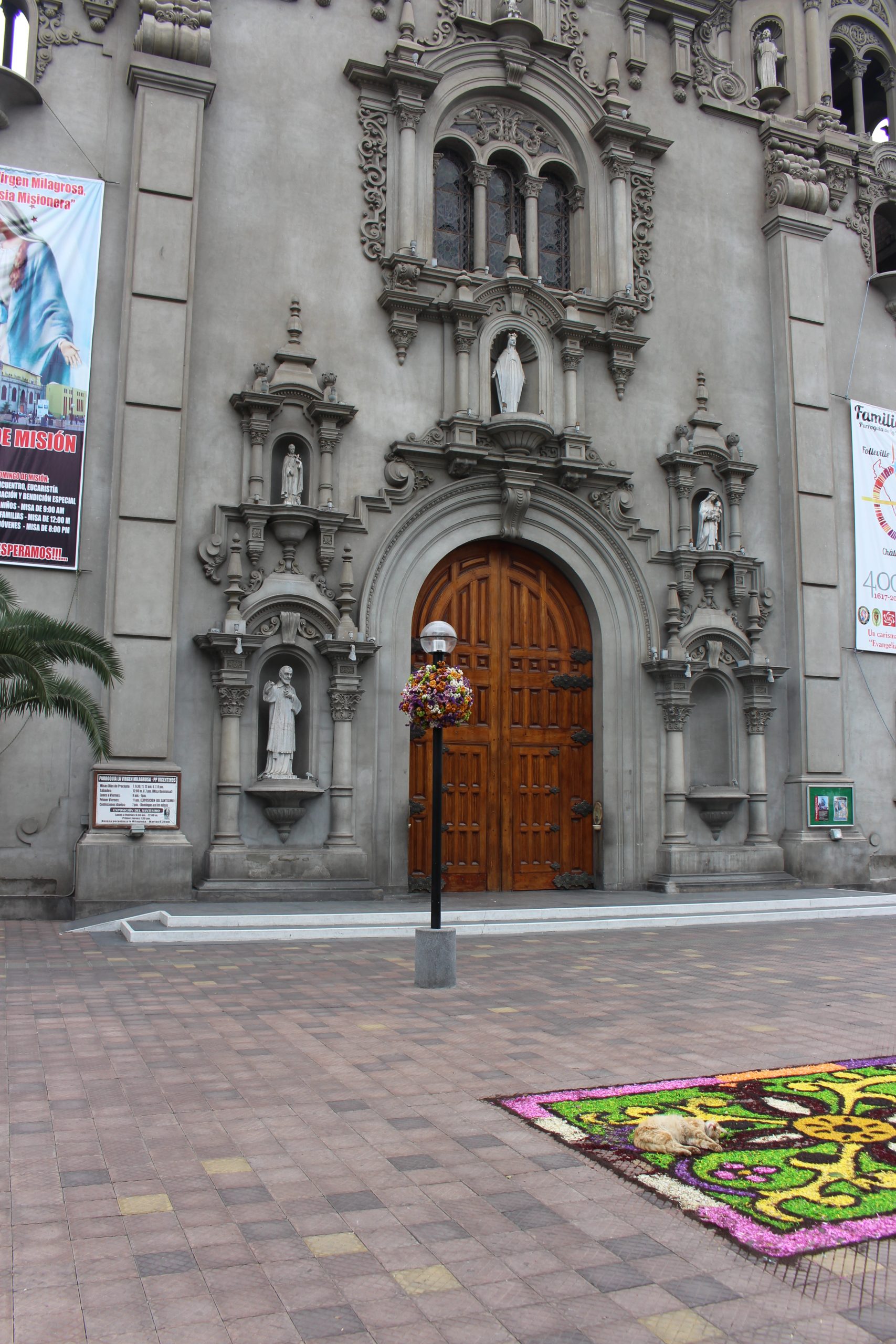 In the central part of Miraflores is Kennedy Park, Gatos Park (home of many stray cats!) and Miraflores Central Park. Not only are the parks a lovely place to visit and stroll around, surrounding the parks are lots of shops and dining options. In the middle of the park is the Catholic church – Parroquia La Virgen Milagrosa and Miraflores City Hall. The church is beautiful inside and out.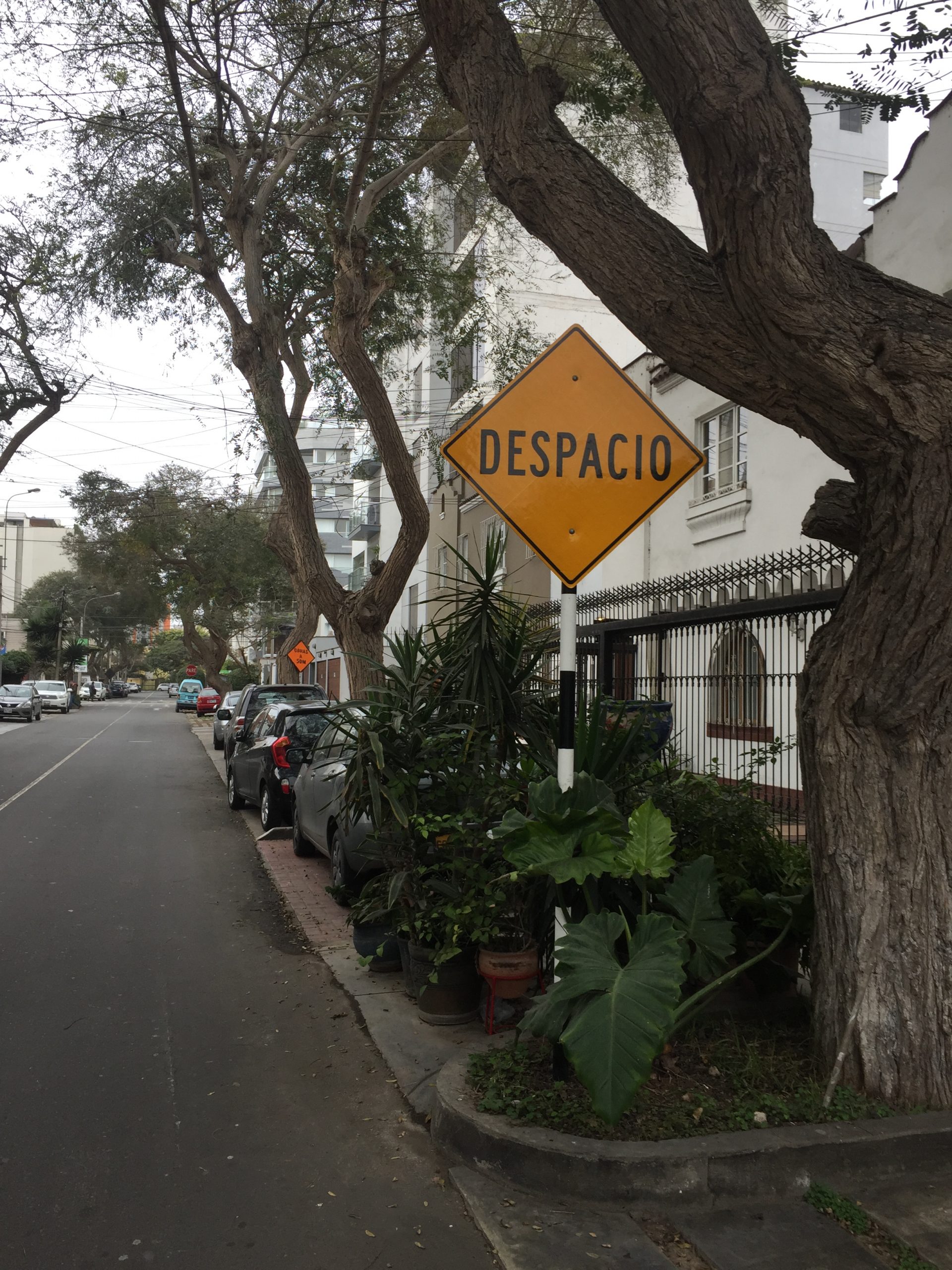 Miraflores is also where you will find the headquarters of many tour companies and tourist operators. We opted to do a 'bikes and bites' food tour that began and ended in Miraflores. A great way to combine sightseeing with exercise and tasting local cusine!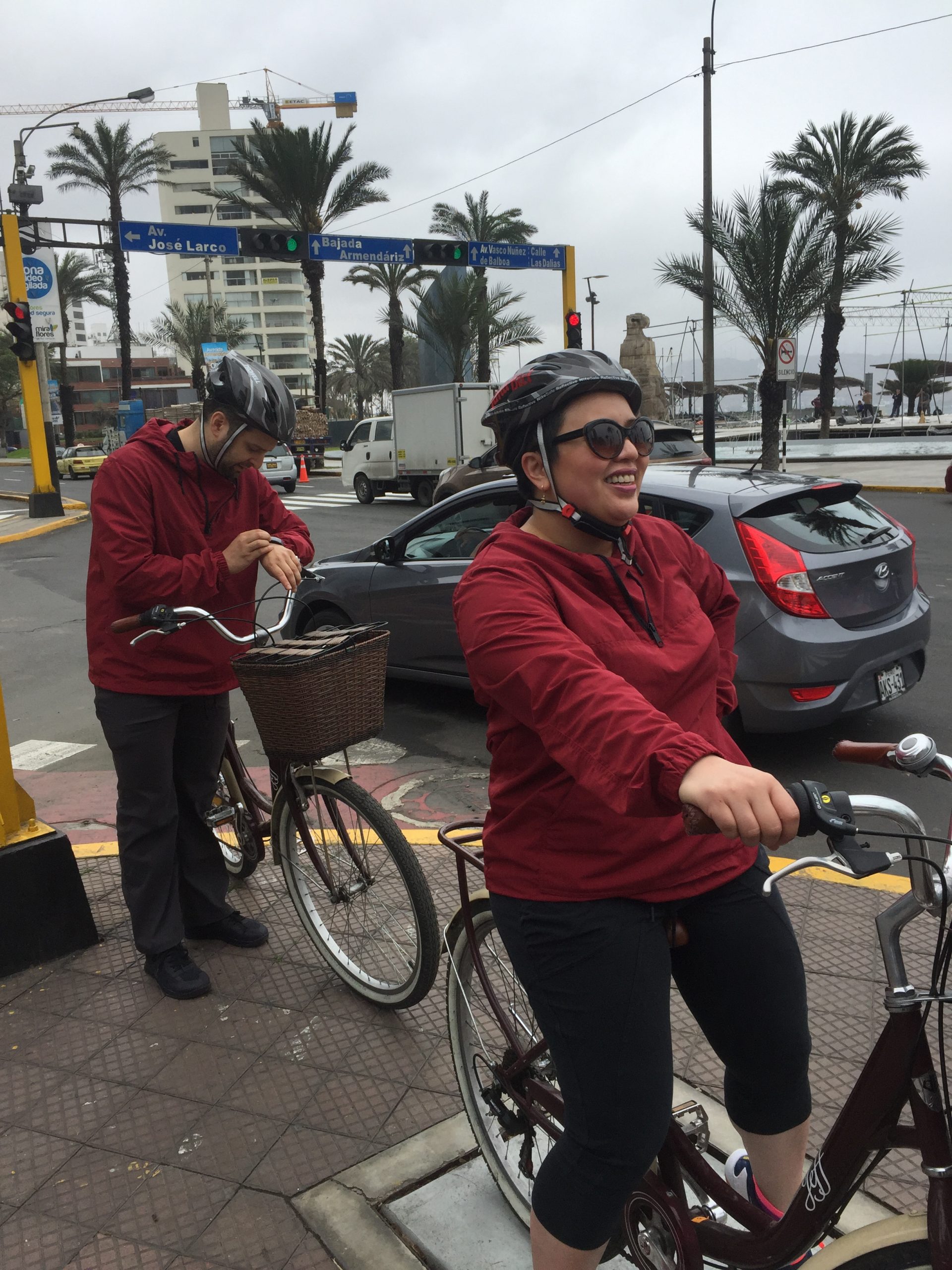 Another significant site in Miraflores is the Huaca Pucllana. This is a great clay pyramid that dates back to pre- inca civilisations and is estimated to be built around 200-600 AD.  It's located in the Miraflores district of central Lima, north of the parks. We took an Uber there at night as it looks amazing lit up. There are also restaurants nearby.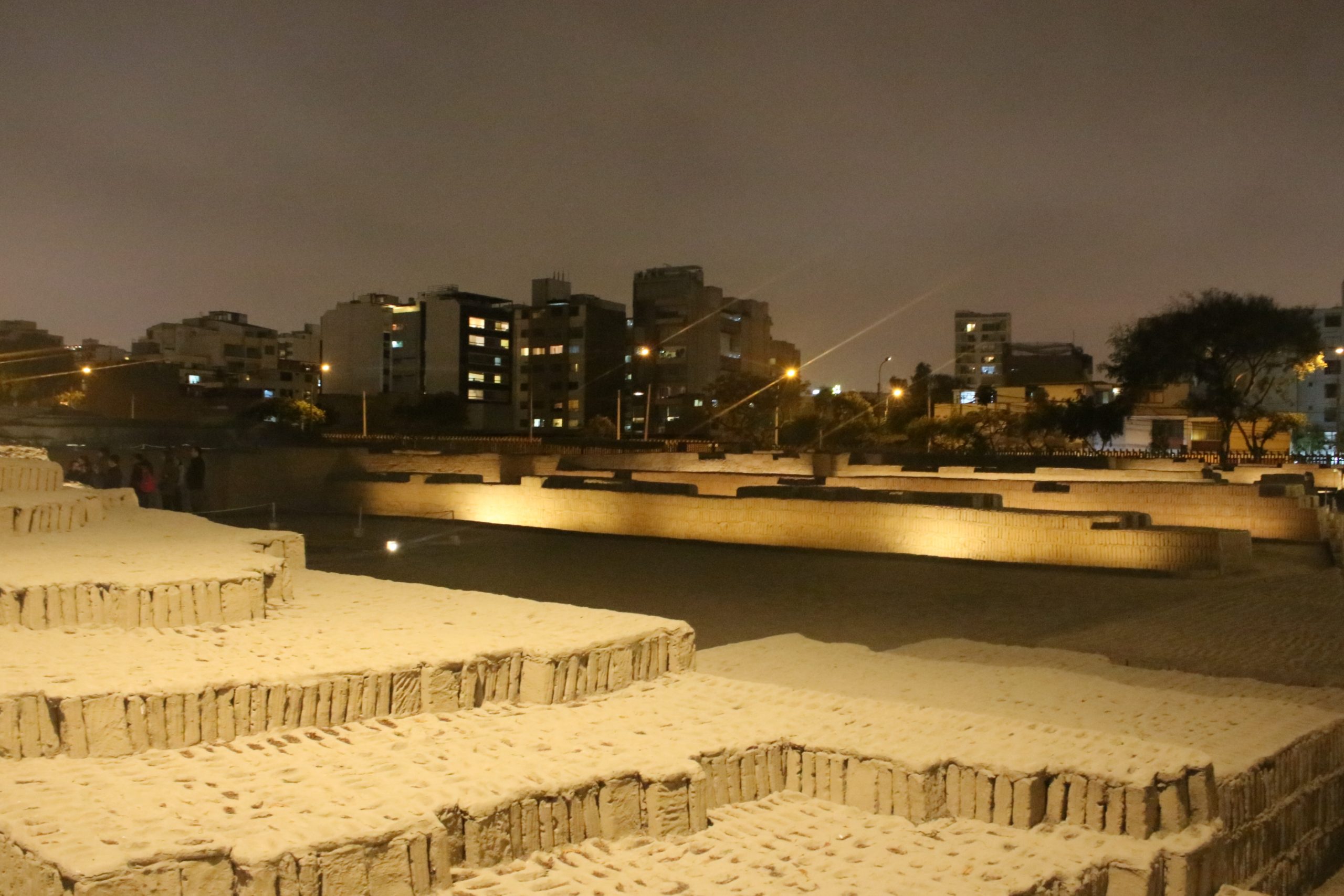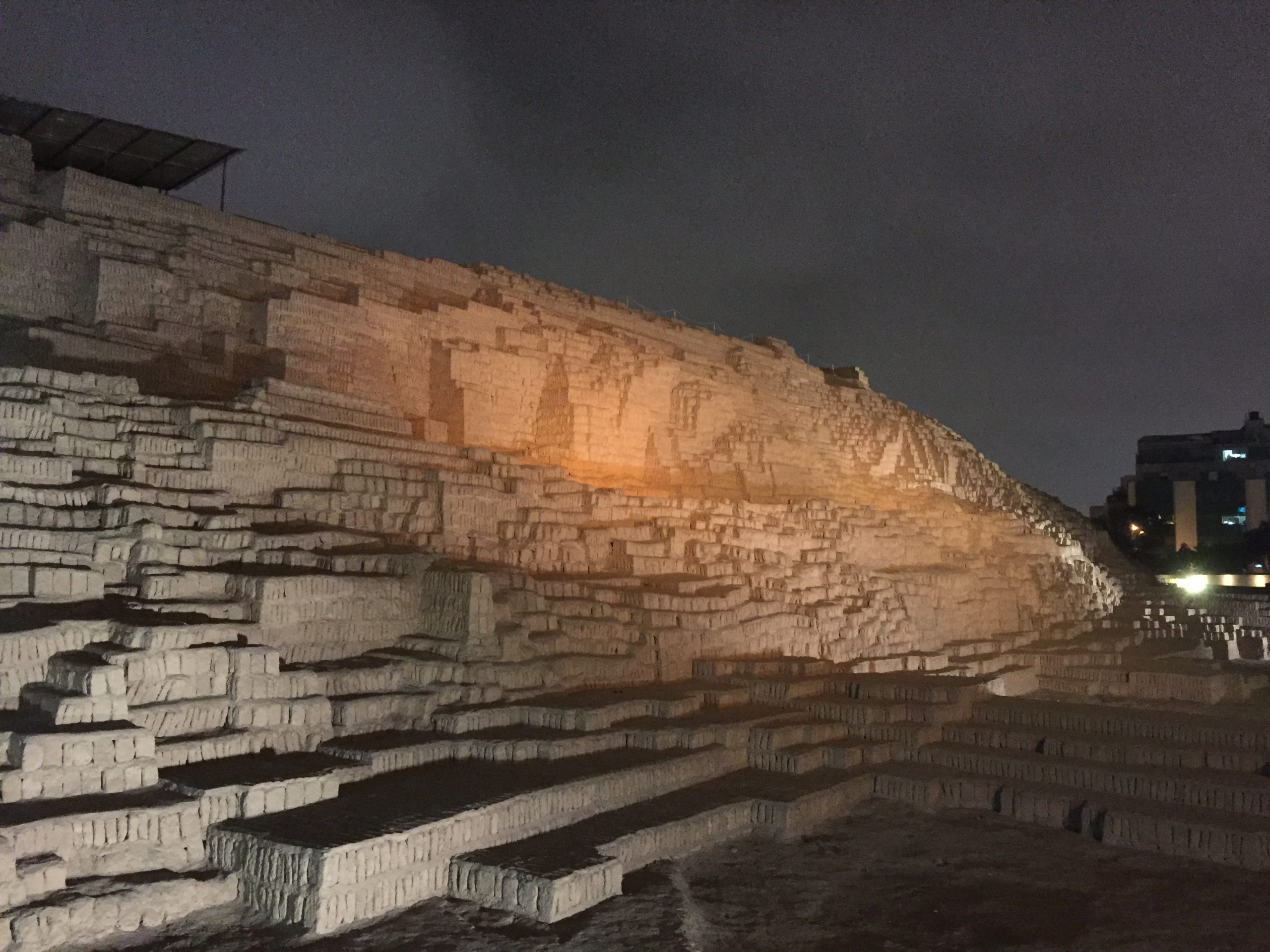 There was one restaurant that was adjacent the ruins. Talk about a meal with a view!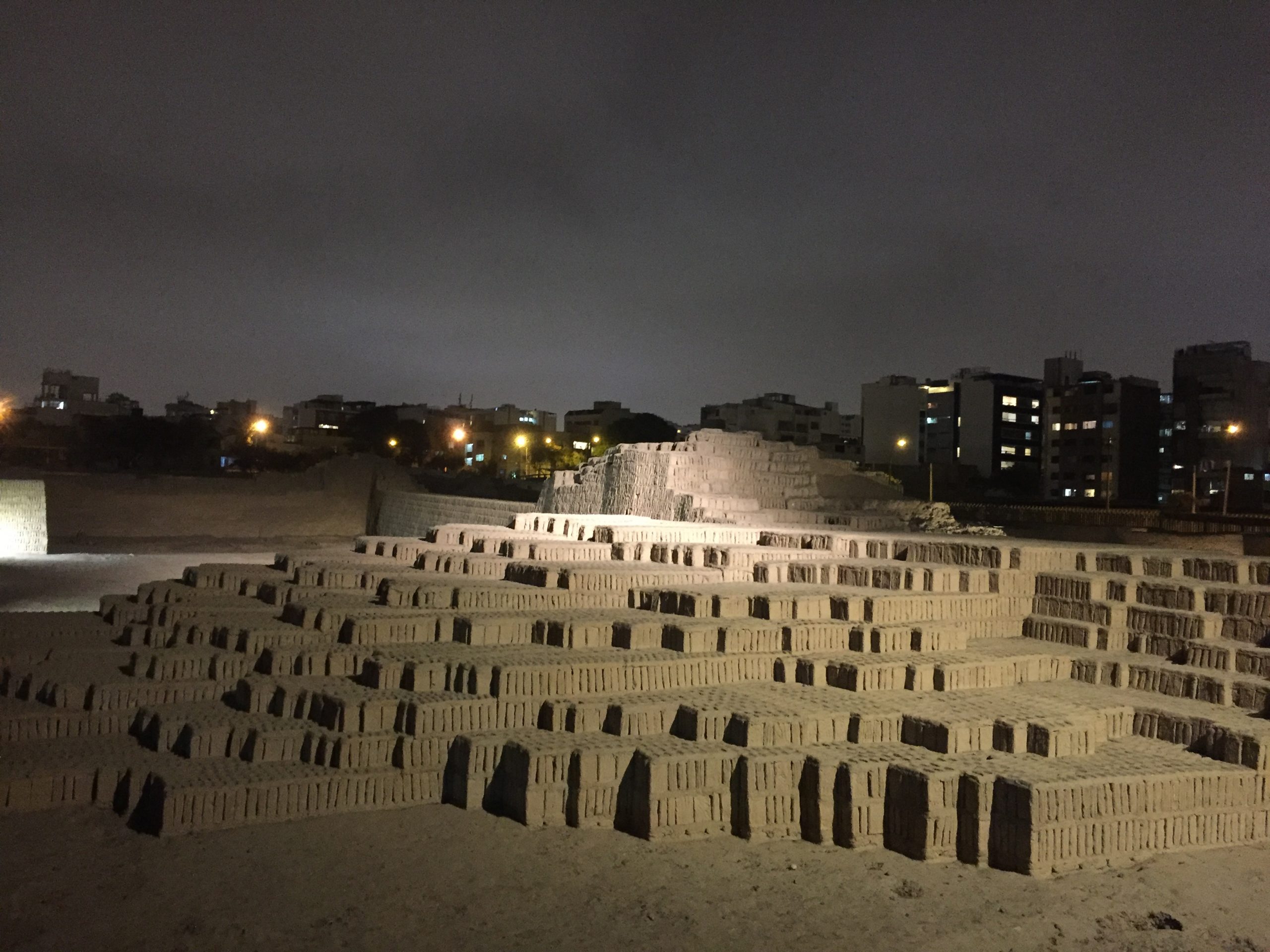 Chorrillos
Chorrillos is a coastal neighbourhood south of Miraflores. It is not as well know as its neighbour, Barranco, but easy to get to in a car or on a bike. On my two bike riding tours we visited Chorrillos. The first day tour (again, just me with my own personal bike riding guide) started on top of Morro Solar, a headland that overlooks the neighbouring shanty towns and Pacific Ocean. The headland features some monuments and statues, including a monument to an unknown soldier and 'Christ the Pacifica',  a gift from Brazil and inspired by its Atlantic opposite 'Christ the Redeemer'. Nowhere near as dazzling however!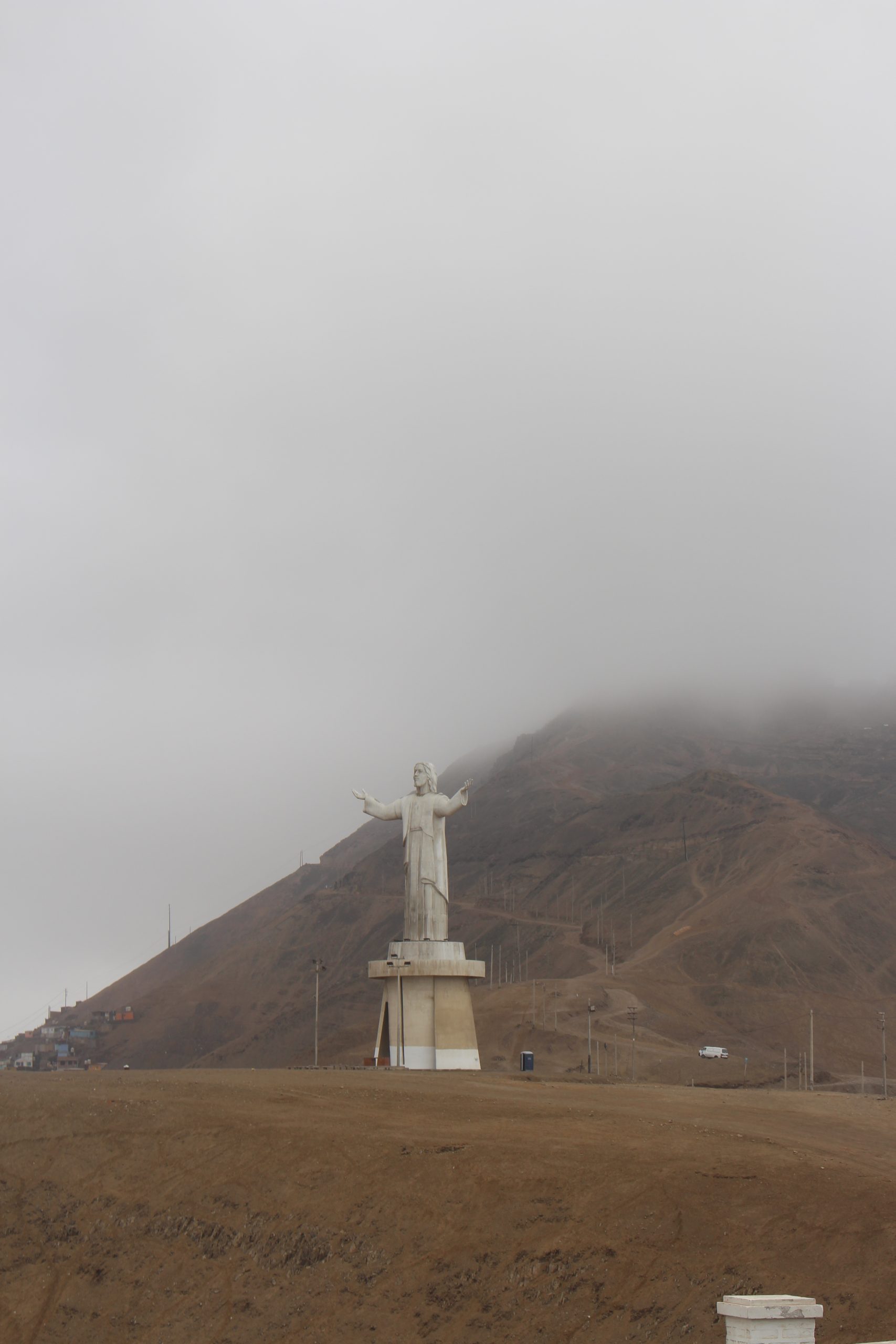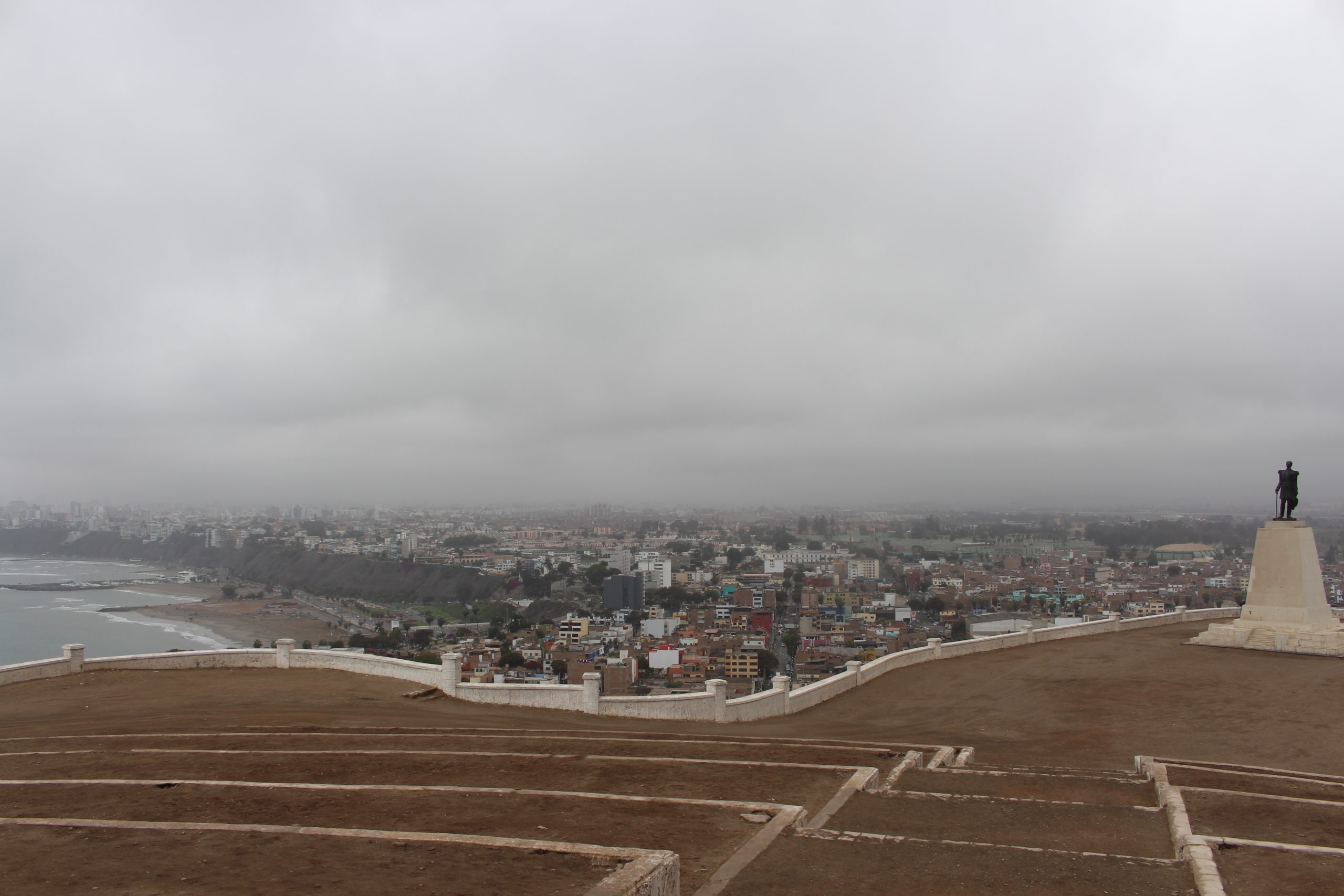 Looking down at some of Lima's neighbourhoods, from Morro Solar.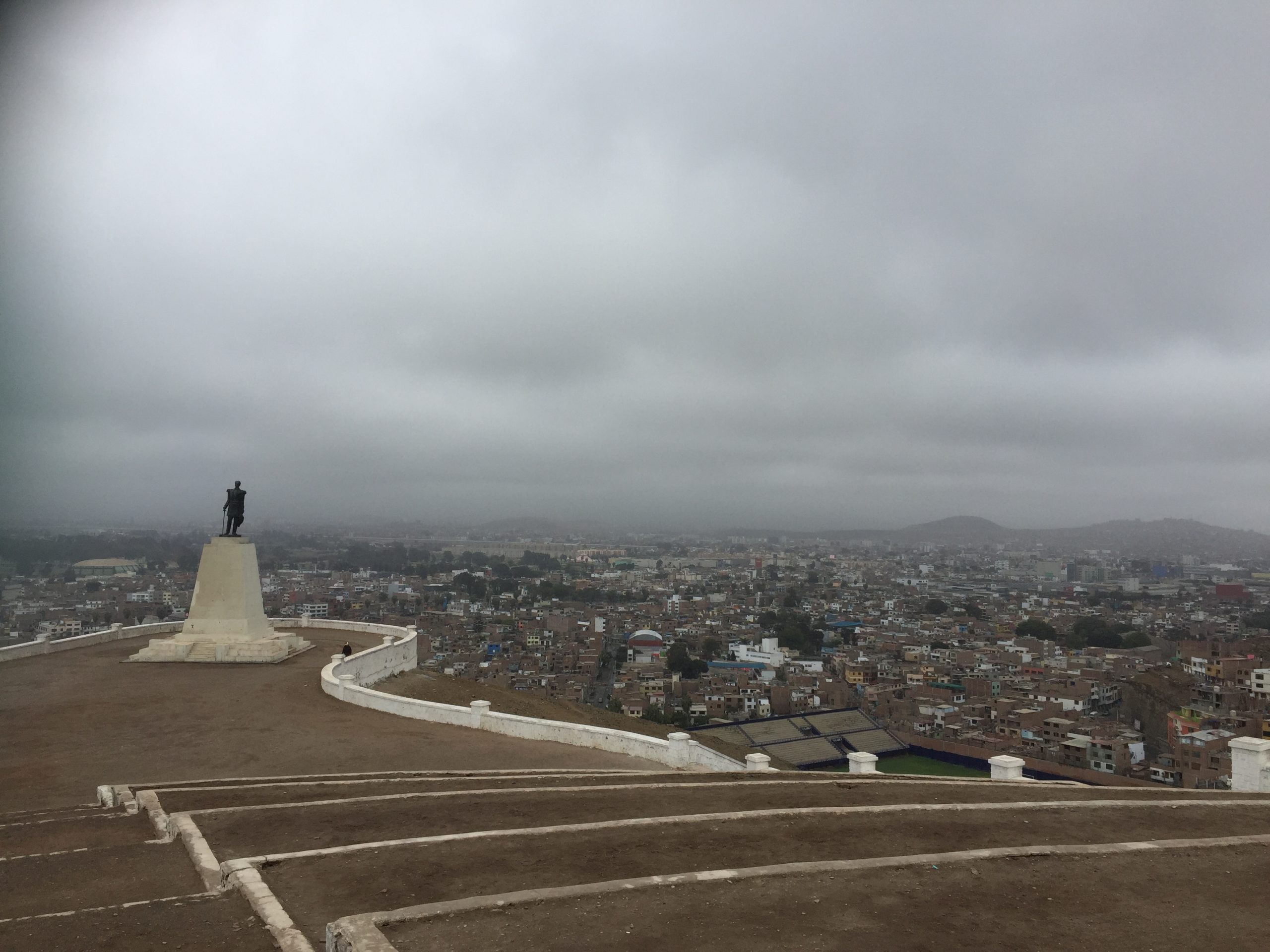 From the top of the headland we rode down to the coast road and around the cliffs, Easy riding and a good vantage point to see the beaches and oceanside restaurants. The coast and beaches are very rugged and rocky, and I was surprised to see that Lima appears to be built in the middle of an arid desert!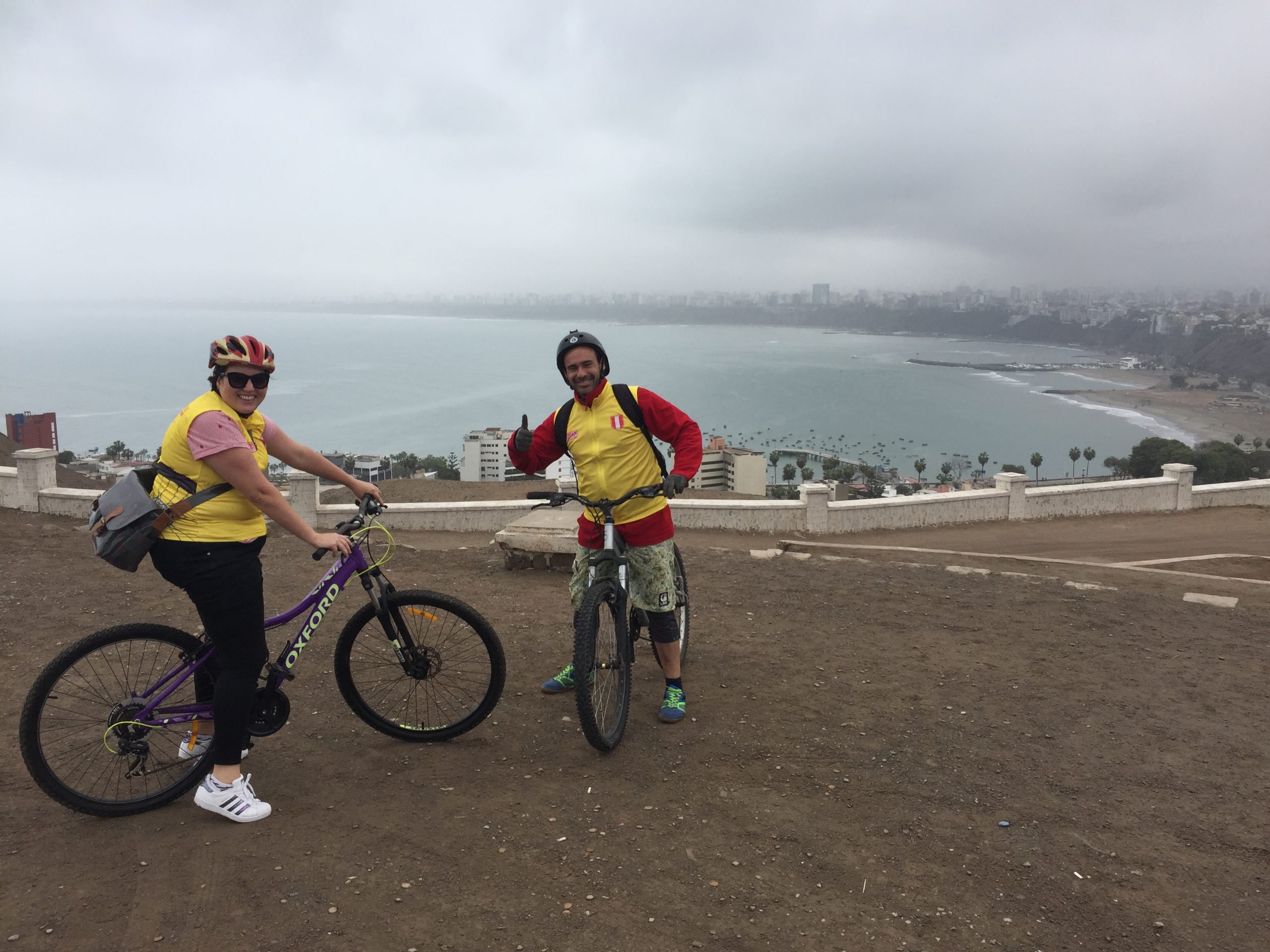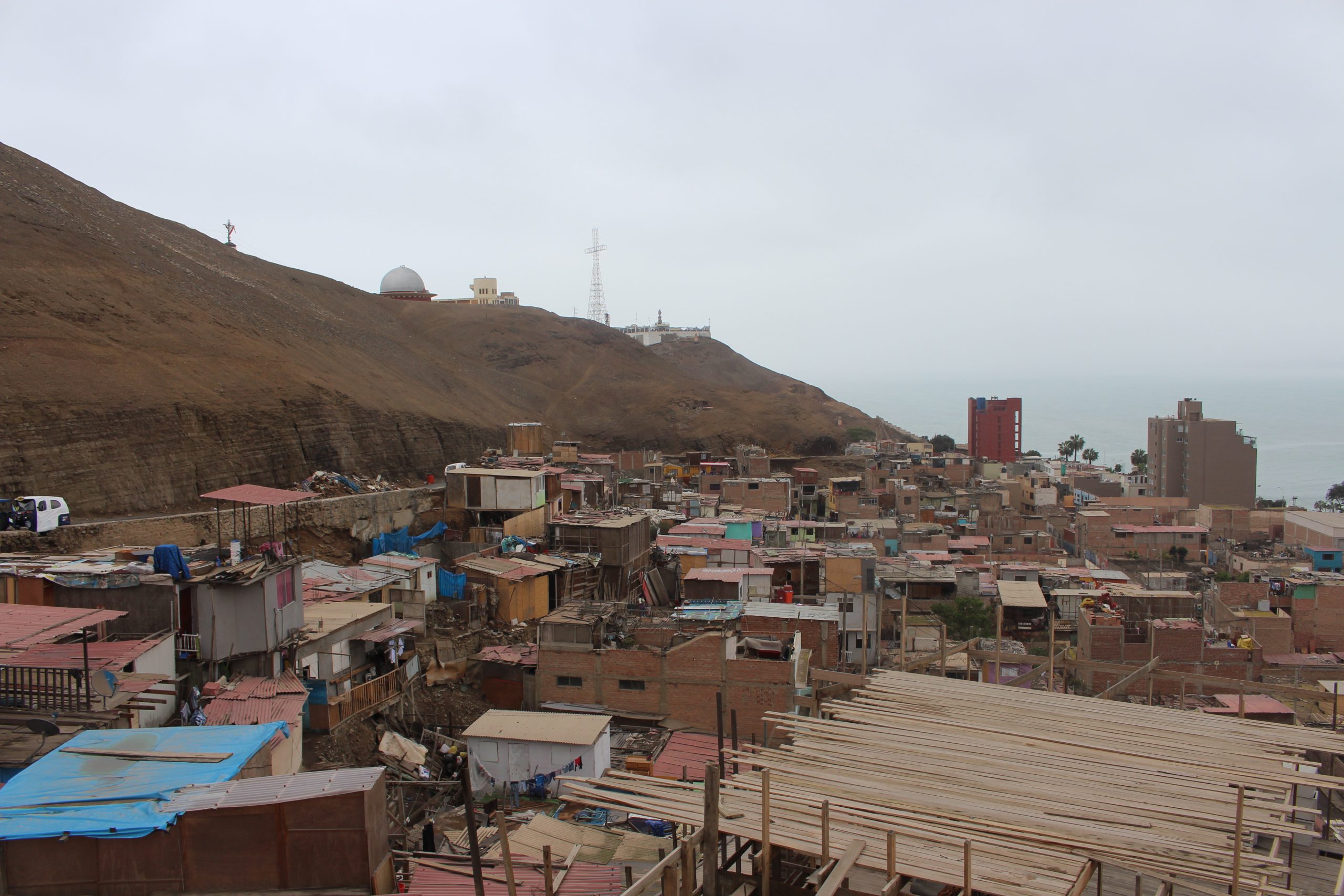 Some of Lima's shanty neighbourhoods, all built on top of each other down the hill.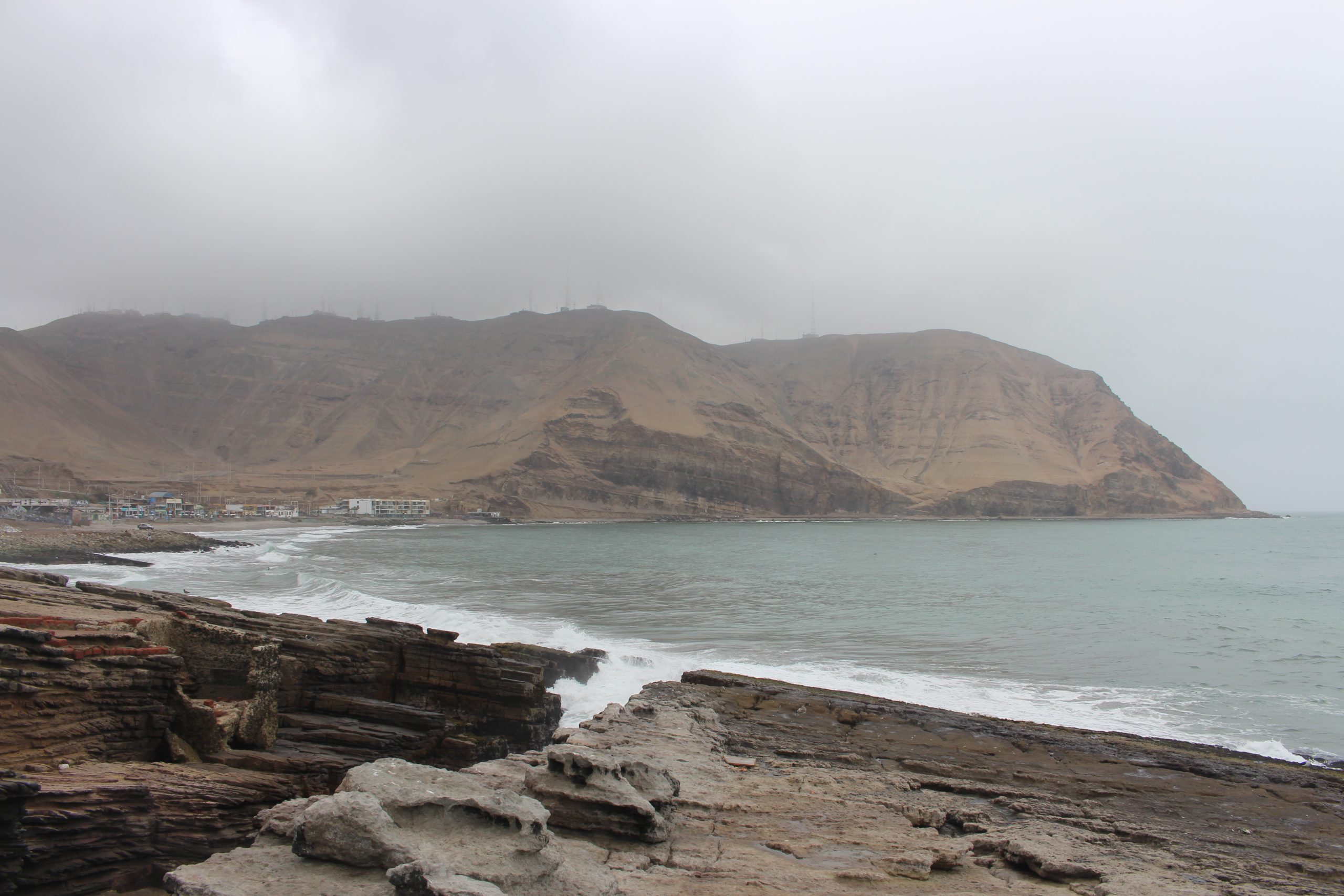 We stopped at a sea bridge that leads to a rocky headland, famously known for The Friar's Jump, where people dressed as monks recreate the drowning jump of  Friar Fancisco, a local legend of love and loss. No one was jumping the Wednesday I was there though! Very treacherous seas too.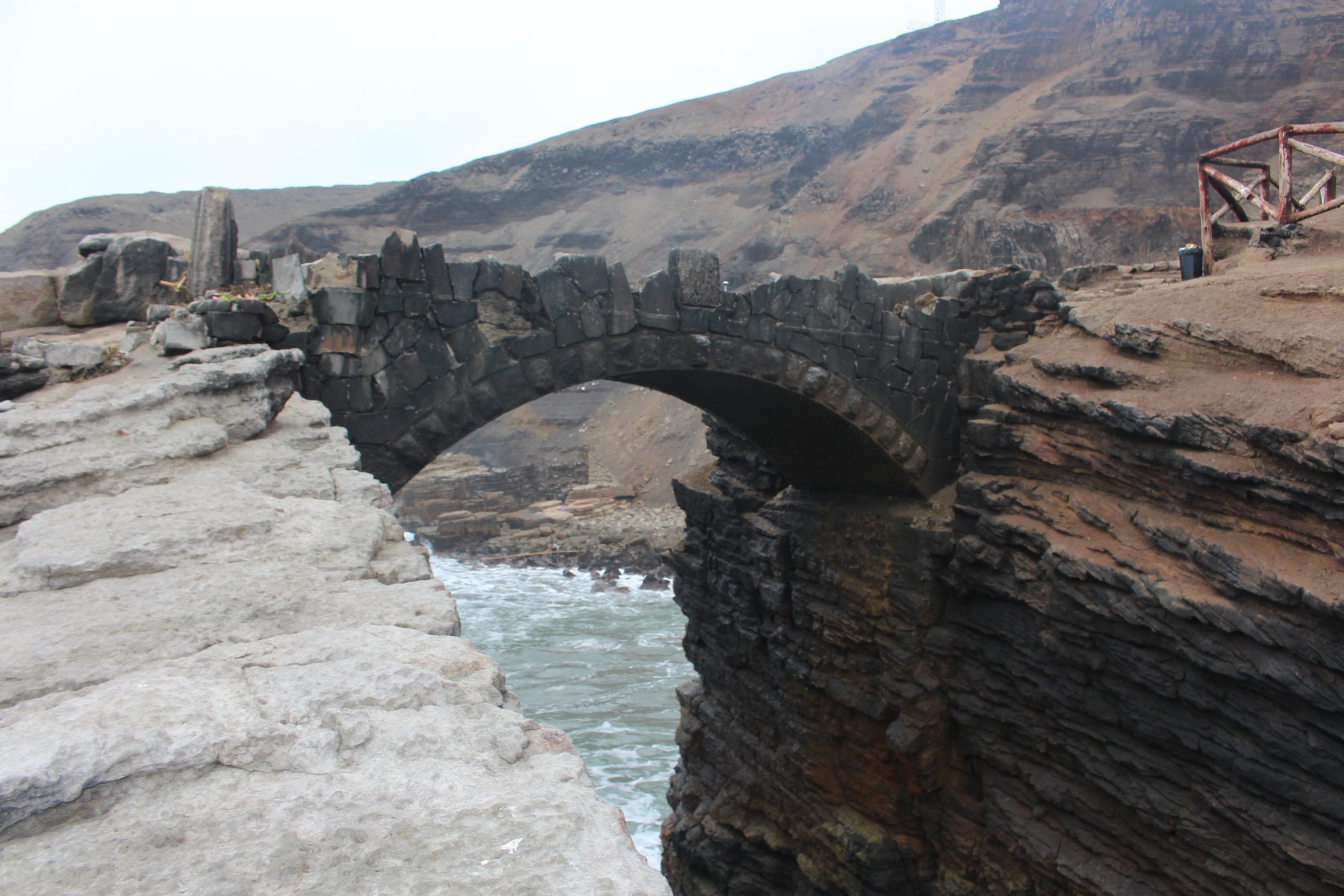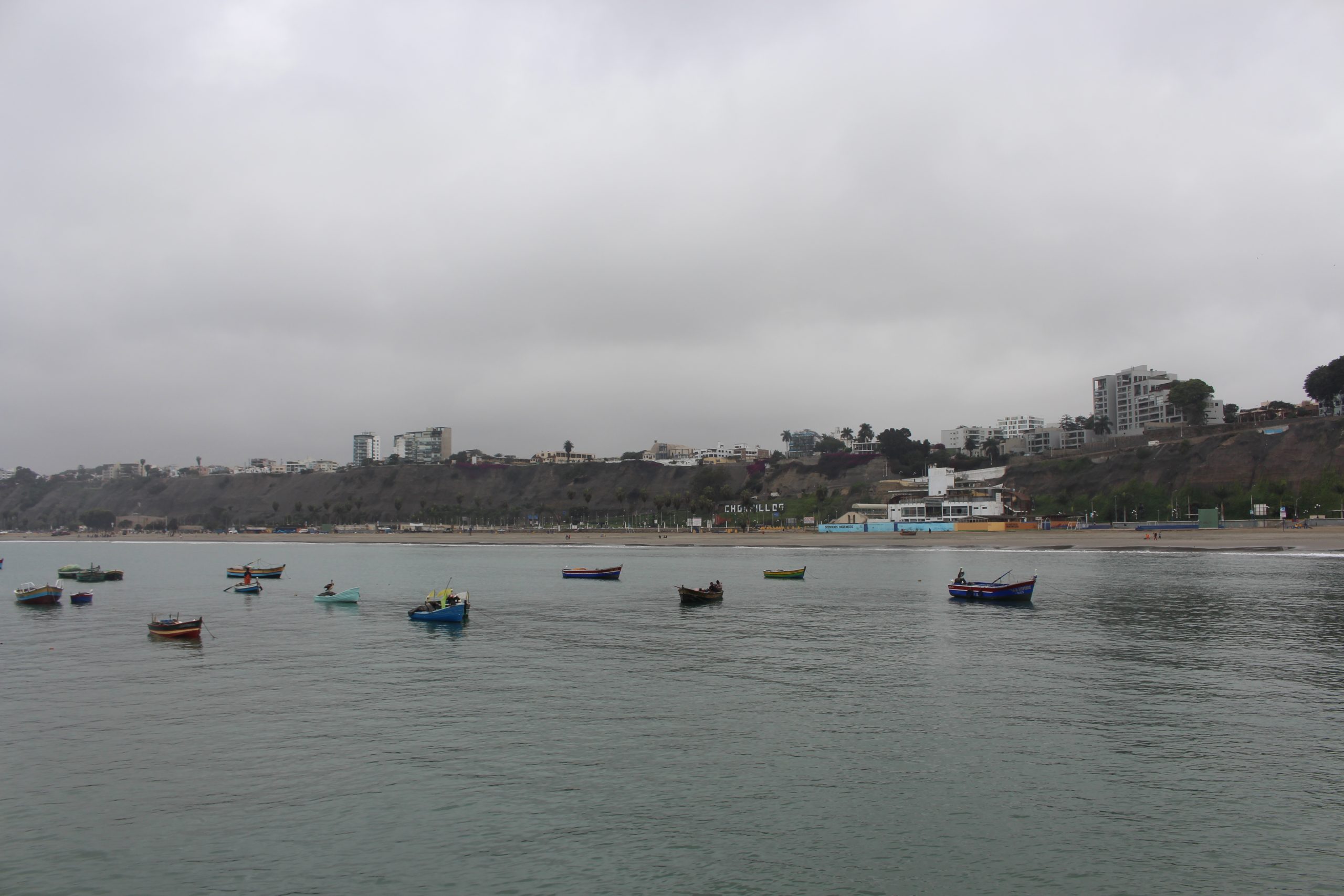 On my second bike riding tour, we travelled back to Chorillos to go to Fisherman's Wharf and Playa Pescadores. We had a random short boat ride around the harbour and then grabbed some fresh seafood (of course ceviche!) at one of the wharfside restaurants.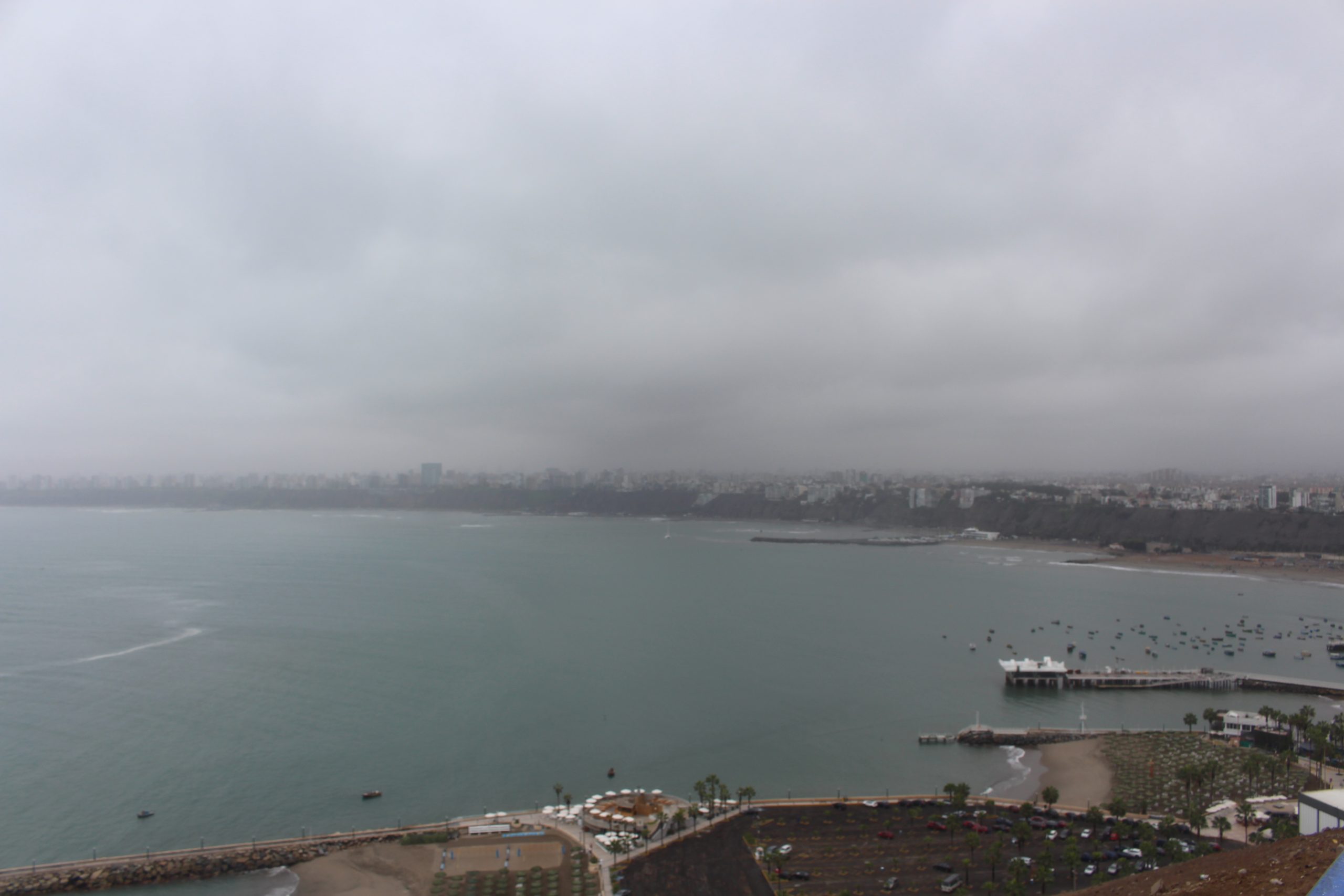 Barranco
Chorillos famous neighbour is the area of Barranco. Known for its bohemian vibes, street art and parks, this is a funky area of Lima to explore.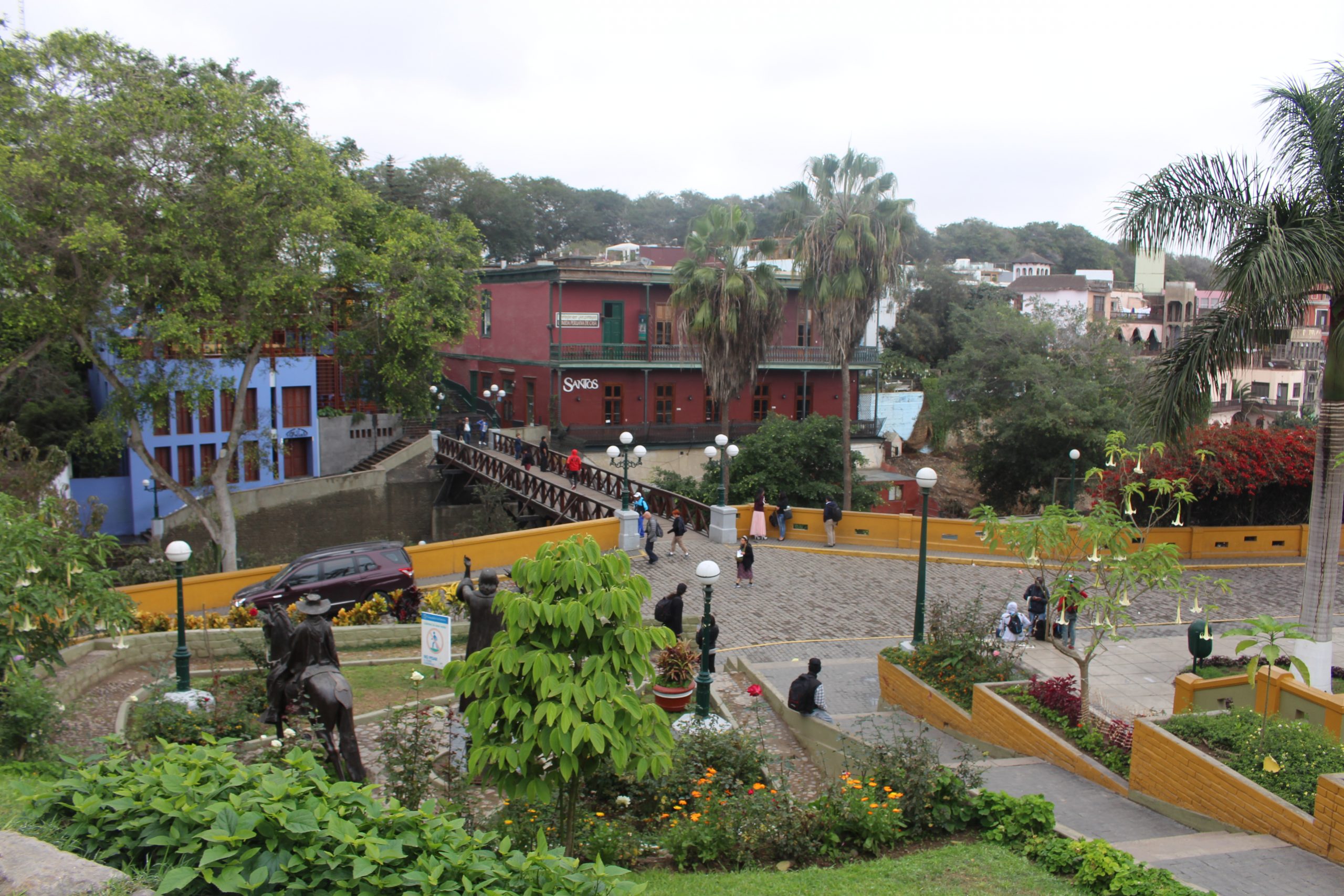 Walking down the narrow pedestrian streets of Barranco is a pleasant way to spend the morning or afternoon, spotting colourful murals, eclectic shops and crossing over and under the Bridge of Sighs. We parked our bikes near Barranco Park, which is another lovely spot for wandering and people watching.
We wandered around the Iglesia La Ermita, a crumbling gothic church, complete with a family of vultures on its roof.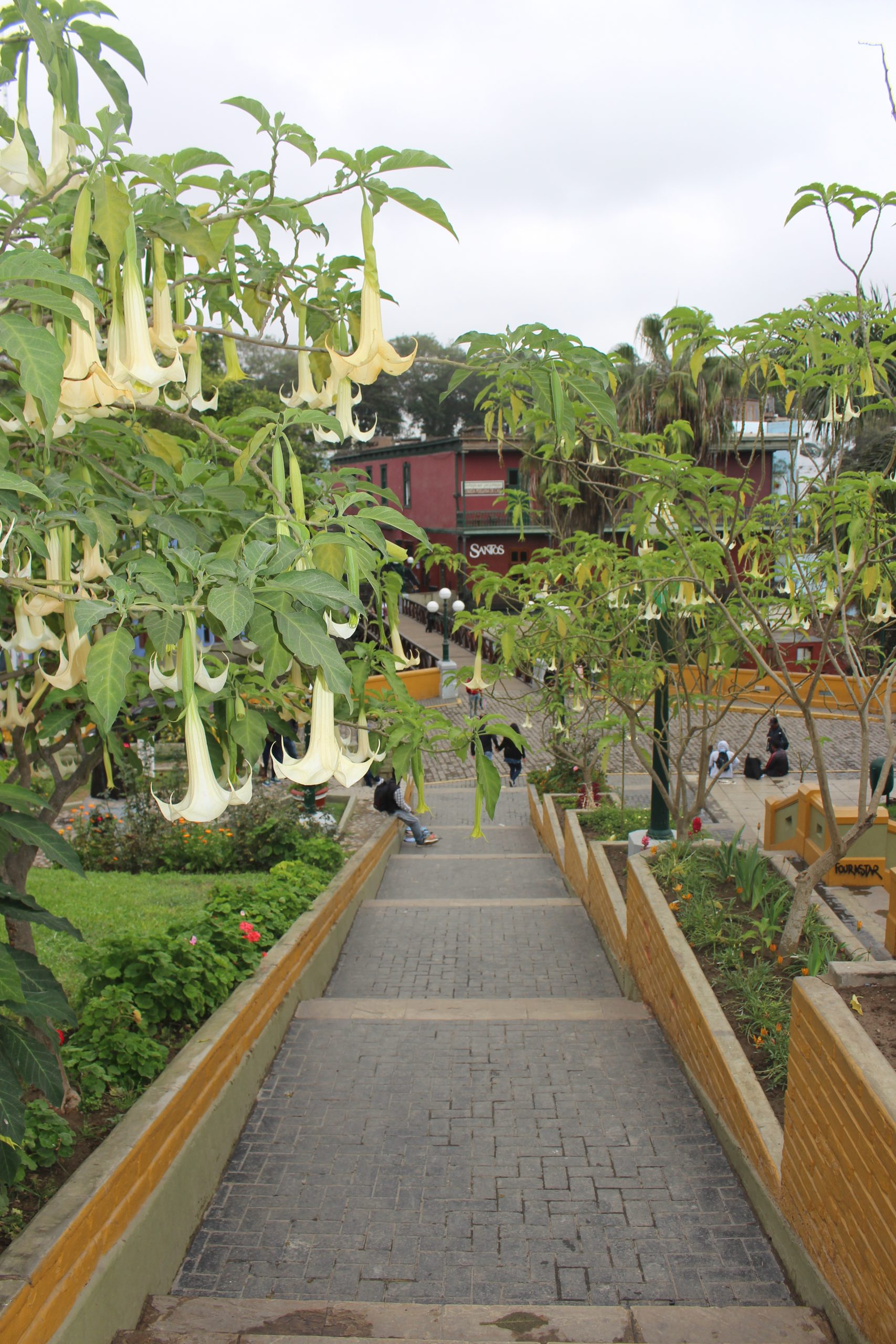 You capture glimpses into local's homes and the Pacific Ocean in the distance. There is even a furnicular down to the beaches of Barranco (though not good for us on a bike tour).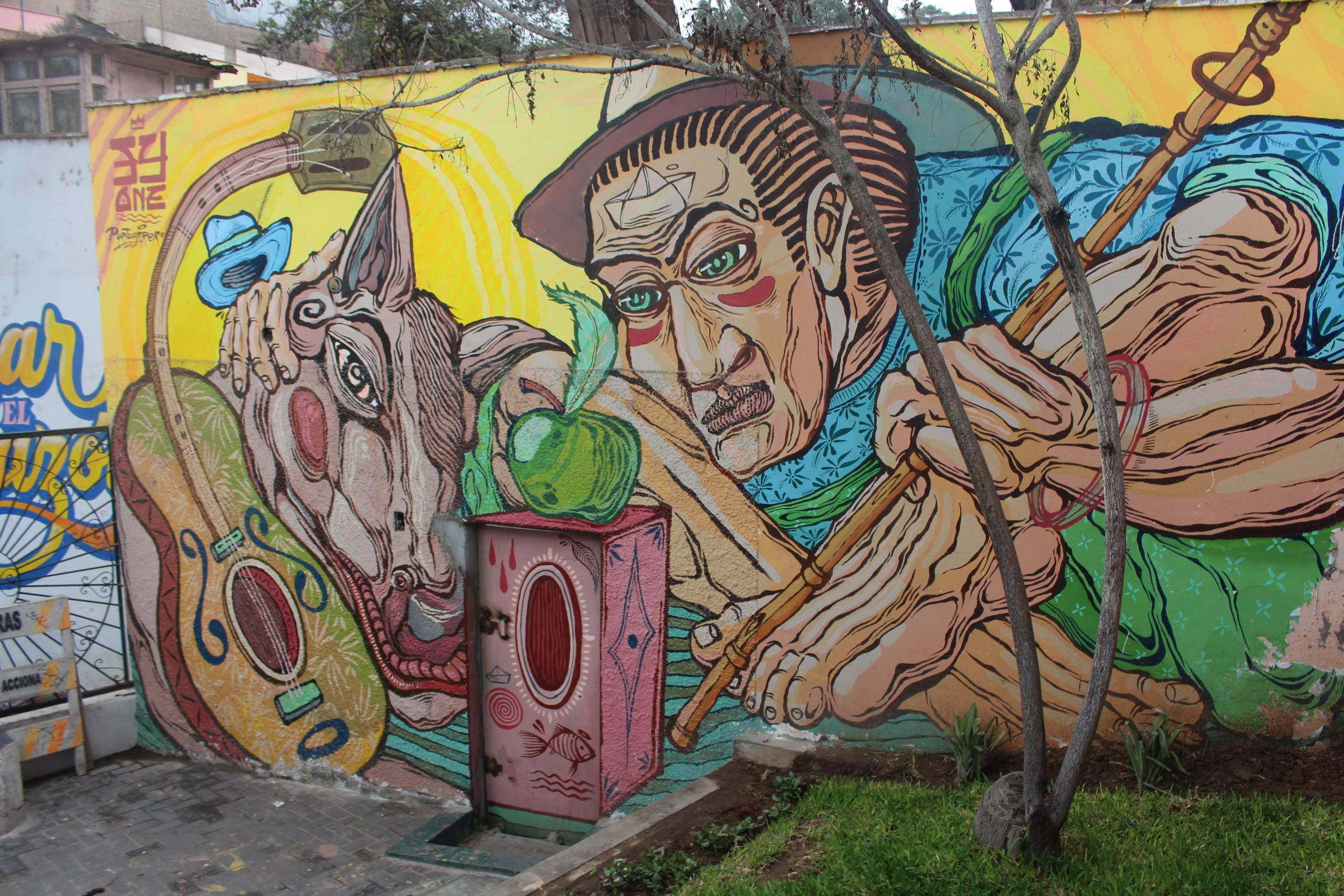 There is street art everywhere in Barranco.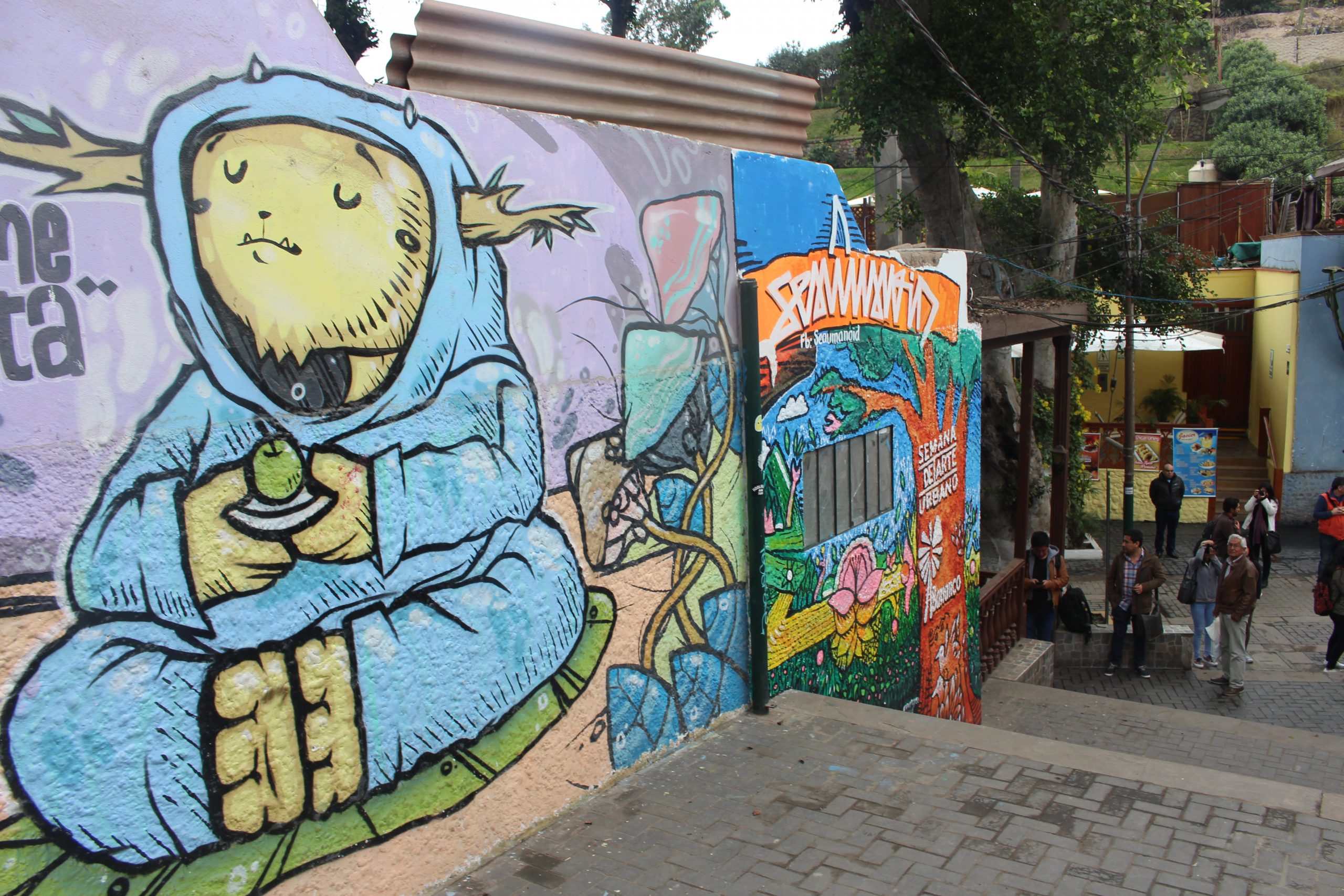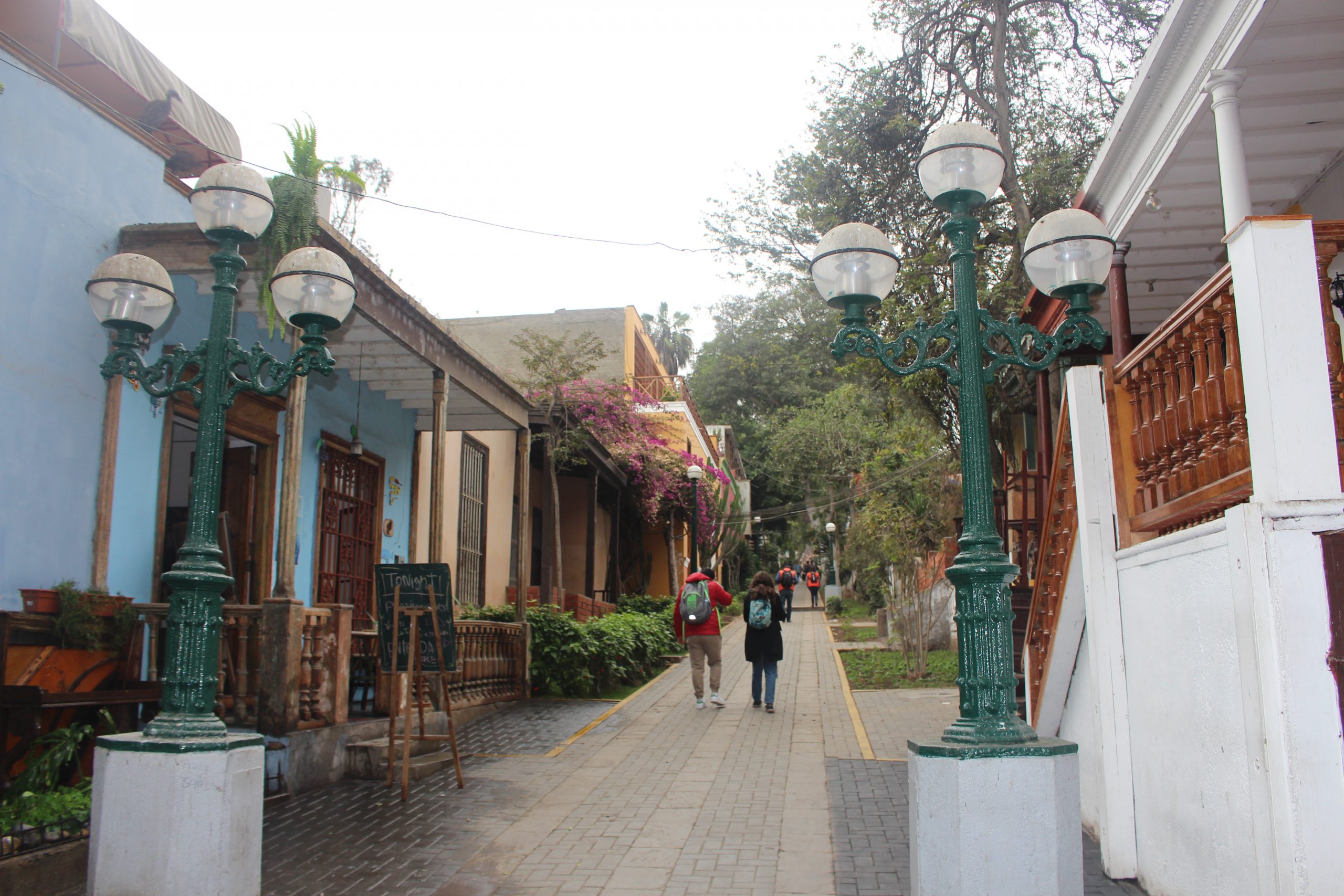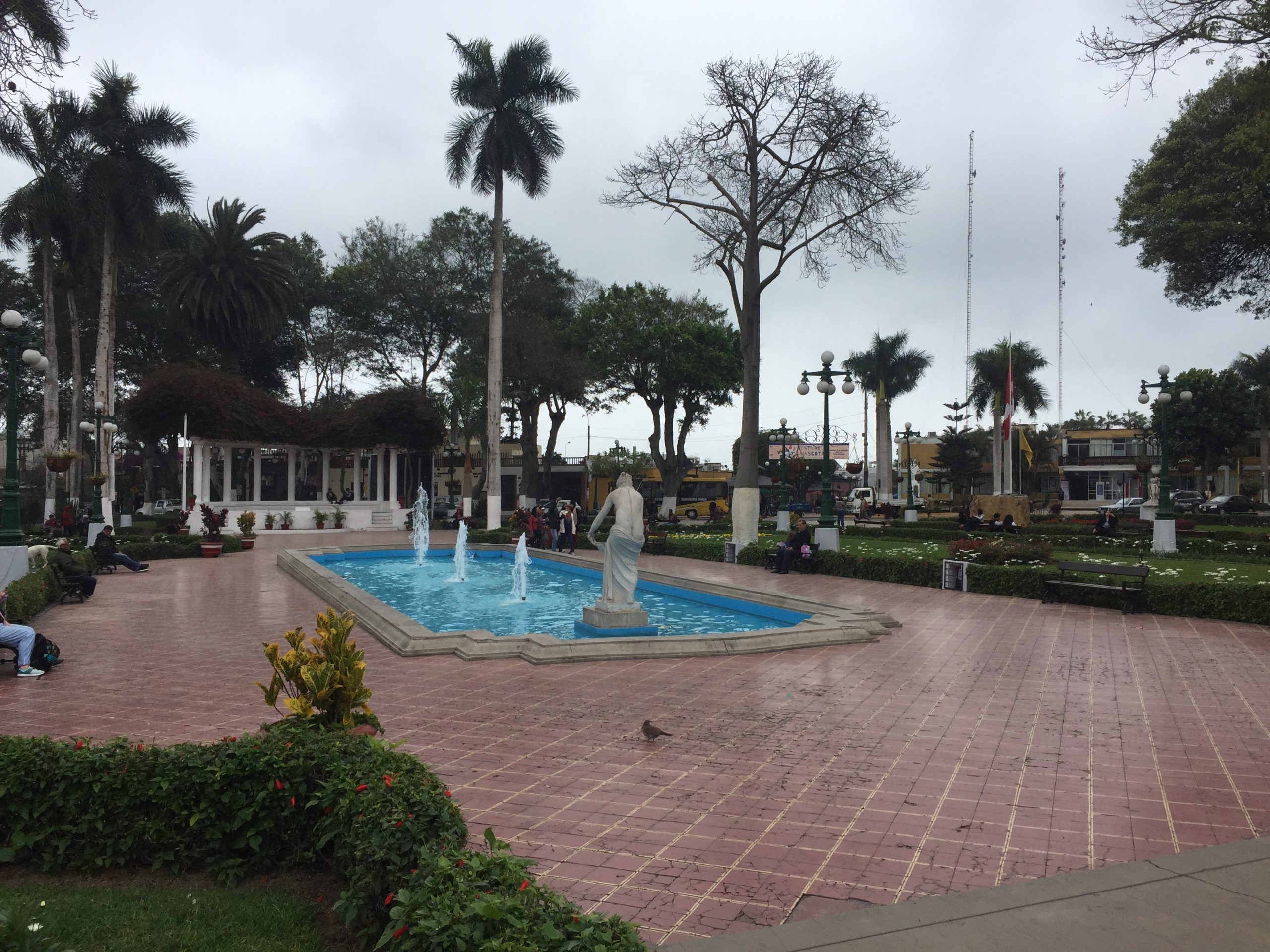 REASON 2 – THE FOOD
Lima, being one of the only South American capital cities on the coast, is a great place to start your adventure with Peruvian food. A bustling city, there is truly some cusine for everyone. My first week in Peru was in Lima, and I was delighted to try a range of dishes. In fact the only food that didn't agree with me was an American hamburger, so lesson learned!
On my first day I enjoyed some peruvian street vendor donuts and had my first Pisco sour! The drinks in Peru were something else, I just loved all the juices, smoothies, blended ice drinks and cocktails.
We had fresh seafood at the wharf in Chorillos, including my first ever serve of ceviche! I also got to experience Causas, small appertisers that feature a mix of mash potato with other ingredients. Yummy!
We got to sample many local delicacies on our 'bikes and bites' tour, including pineapple cake and gelato. There were many great ice cream and gelato shops all over Lima, especially around Miraflores. Another dish I tried in Lima was fried yams, a yummy alternative to chips or fries!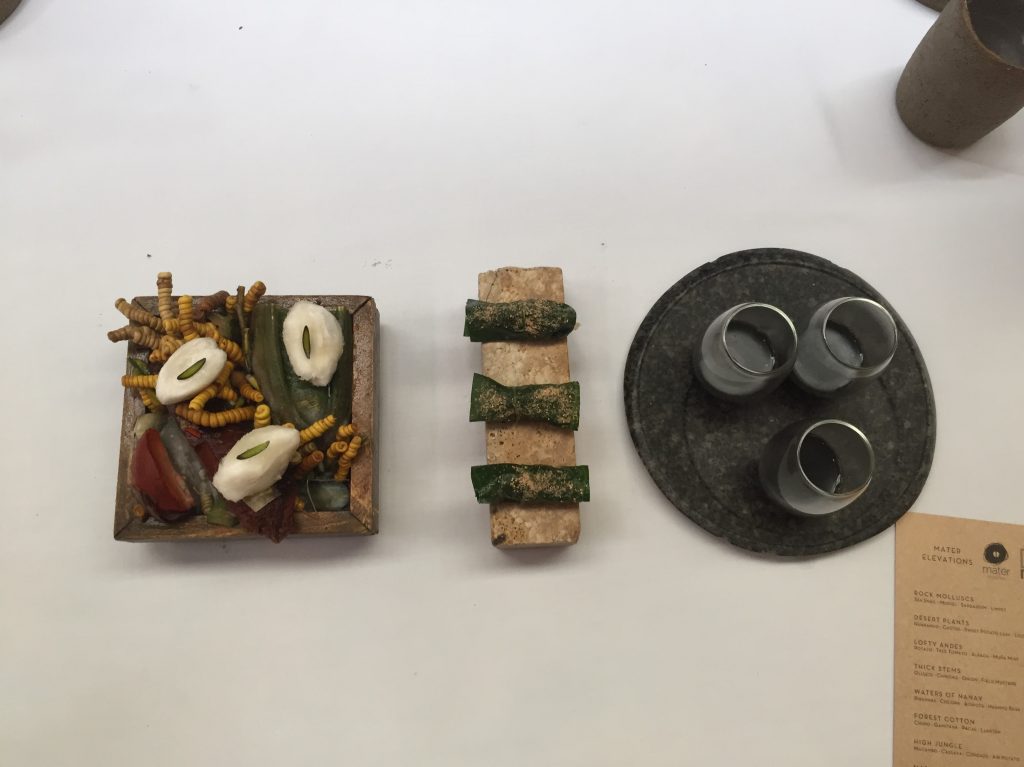 One of the foodie highlights we had while in Lima was a 17 course degustation lunch at Central Restaurante.  Constantly featured in lists of the top ten restaurants of the world, we were excited to have their 'Mater Elevations' meal, featuring dishes that were all harvested from Peru. Each dish comes from a different elevation, from below sea level to high in the Andés. And with names like 'The Land of Corn', each dish surely was a culinary adventure!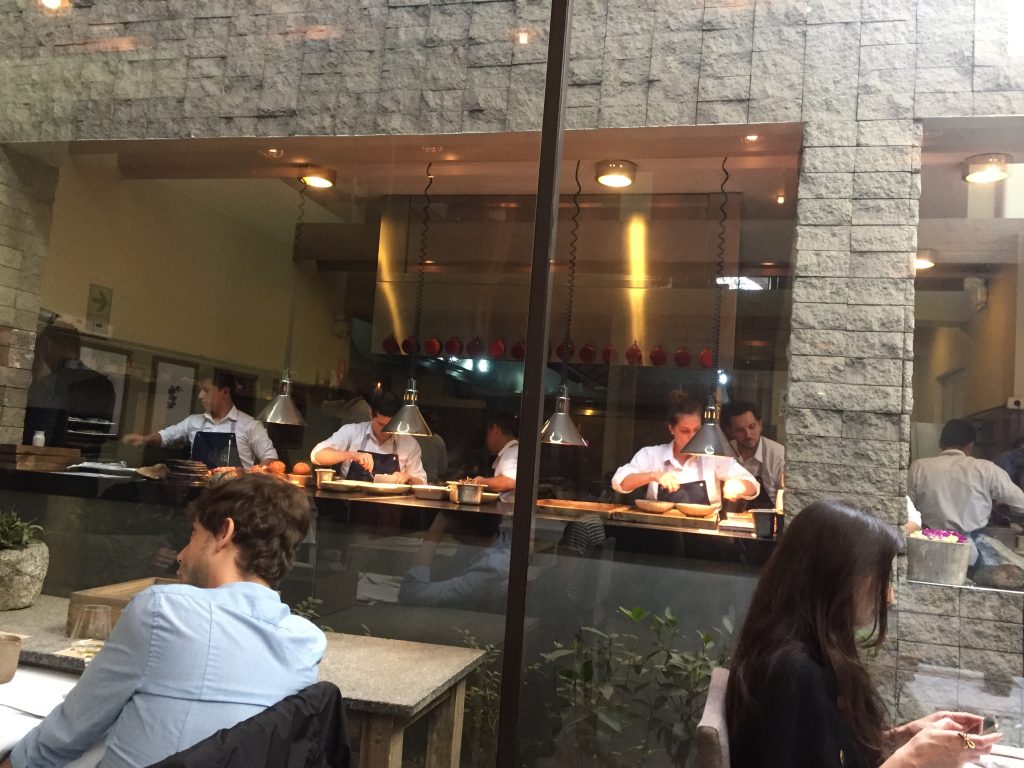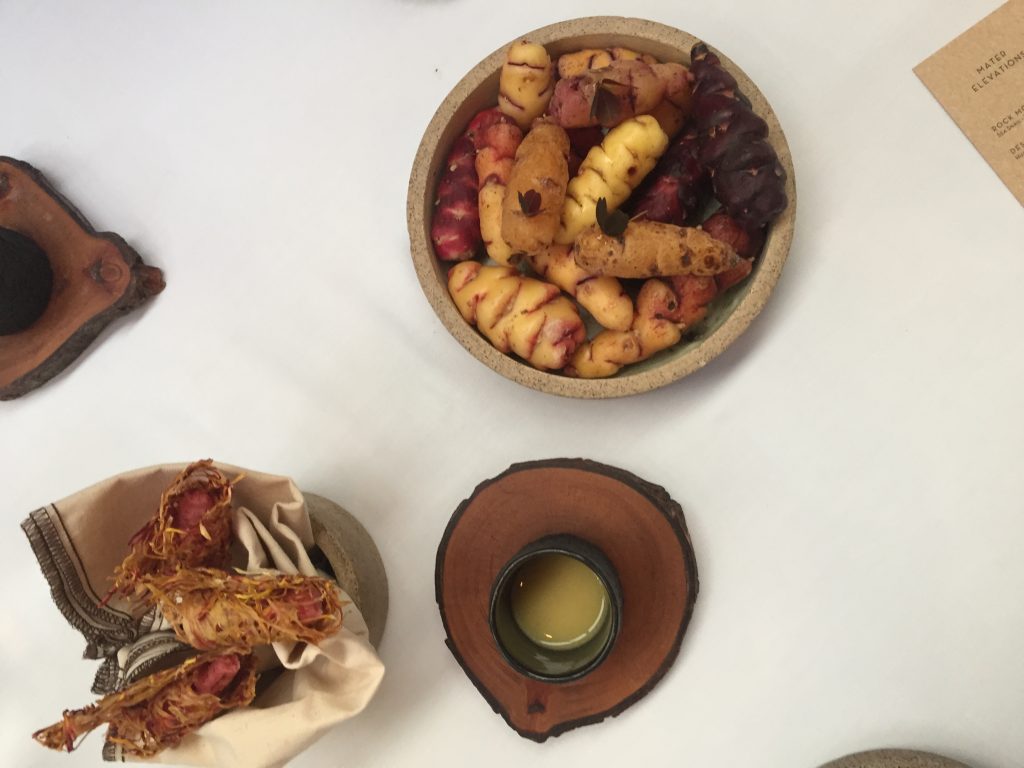 We chose the 7 course juice pairing option with our meal, and one member of our group chose the 12 course alcoholic pairing! Cue being drunk at lunch time on a Friday… It is definitely a once in a lifetime experience, I got to try shark, piranha, sea urchin, rock mulluscs, prickly pear, as well as six different types of potatoes, crab foam, alpaca, yukka stems, snails and clam!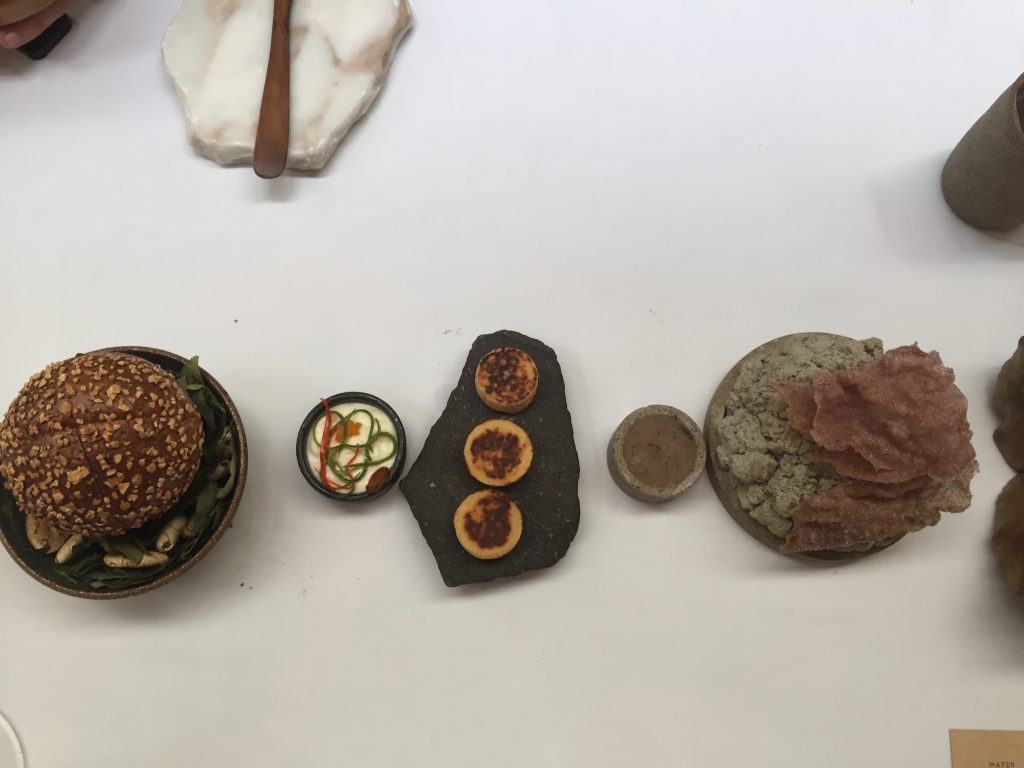 REASON 3 – THE DAY TRIPS
Most travellers arrive in Peru through Lima before moving up and down the coast or inland to see the amazing sights, like Machu Picchu and the Nazca Lines. Lima is the perfect place to base yourself and see more of Peru. It's also a great place to take a day trip to other, less famous places in Peru.  I was able to do a 20 hour round trip (yes it was that long!) to two great places, with Peru Hop.
Paracas
The first stop on my epic day trip was the coastal town of Paracas. We were meant to be boarding a boat trip to go see the sea lions and other wildlife at the Ballestas Isalnds, considered Peru's version of the Galapagos. Unfortunately the sea was considered too choppy and unsafe and the coastguard had shut it down. Nevertheless, Peru Hop changed their itinerary and we were able to visit the Paracas National Reserve.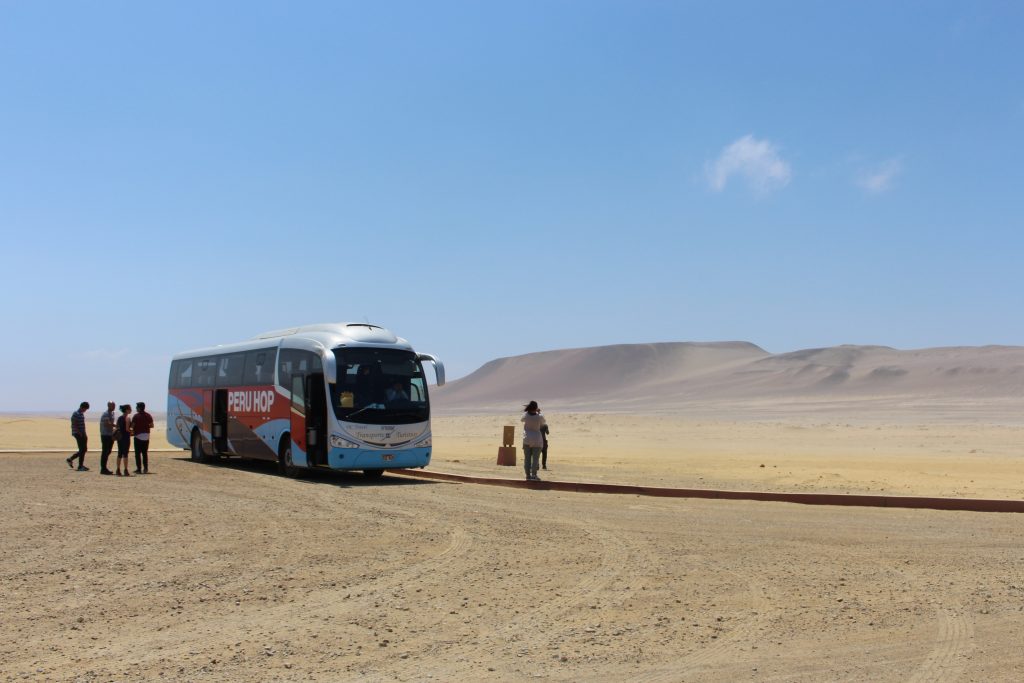 Thanks Peru Hop for doing all the epic driving!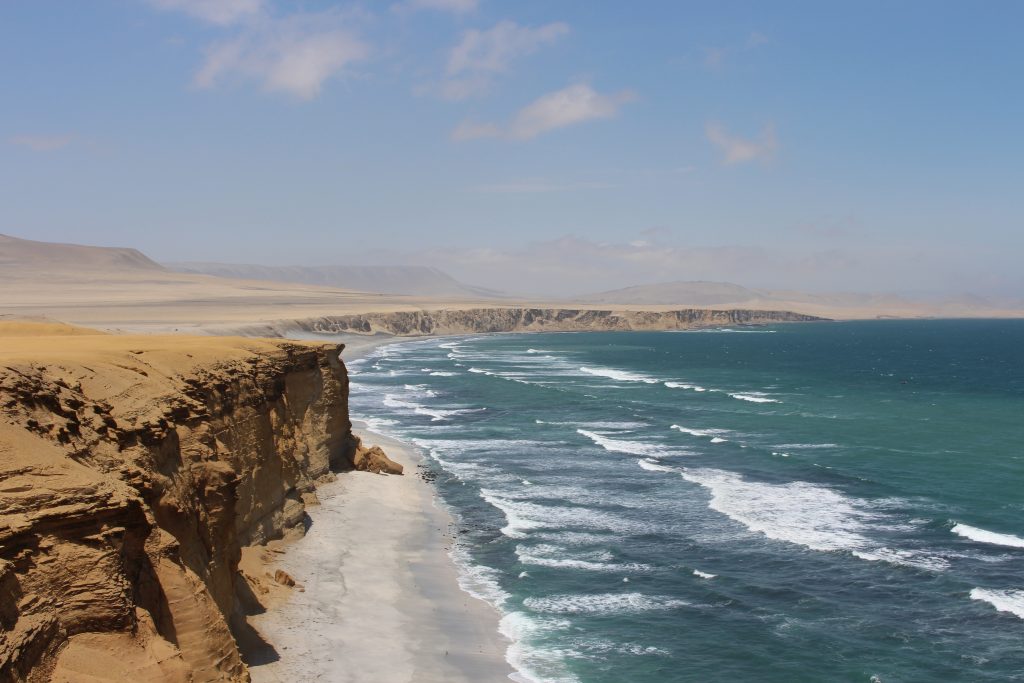 Paraccas National Reserve is known for its dramatic cliffs and colourful beaches. We spent a windy time on the headland, marvelling at the rugged desert and endless beaches, dotted with fishing villages. Some beaches had dark red and yellow sand. Others were being circled by eagles and vultures.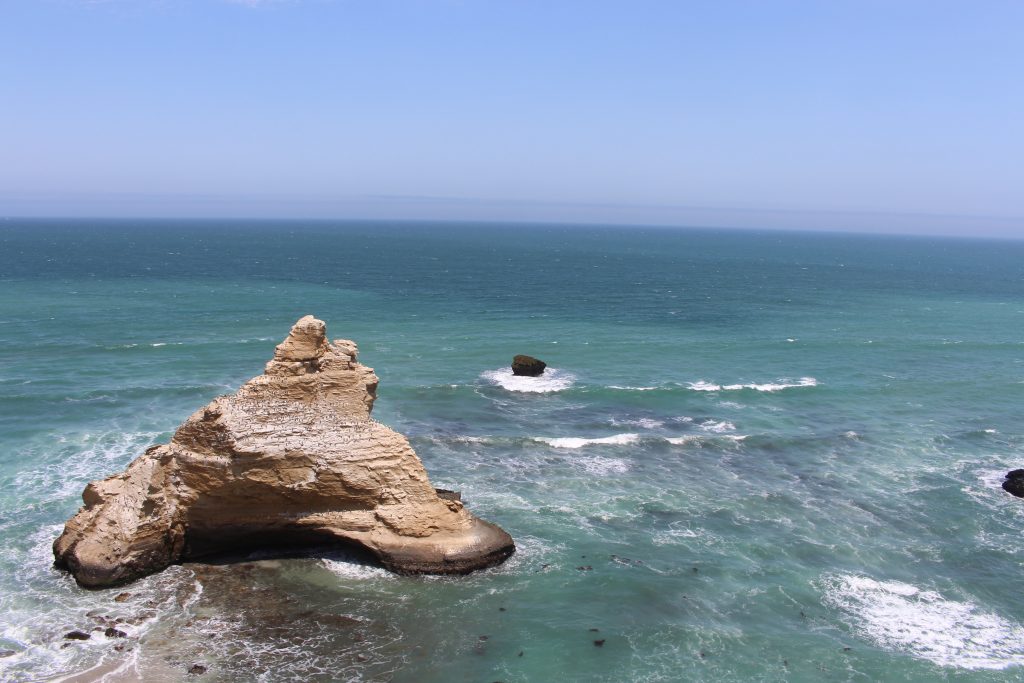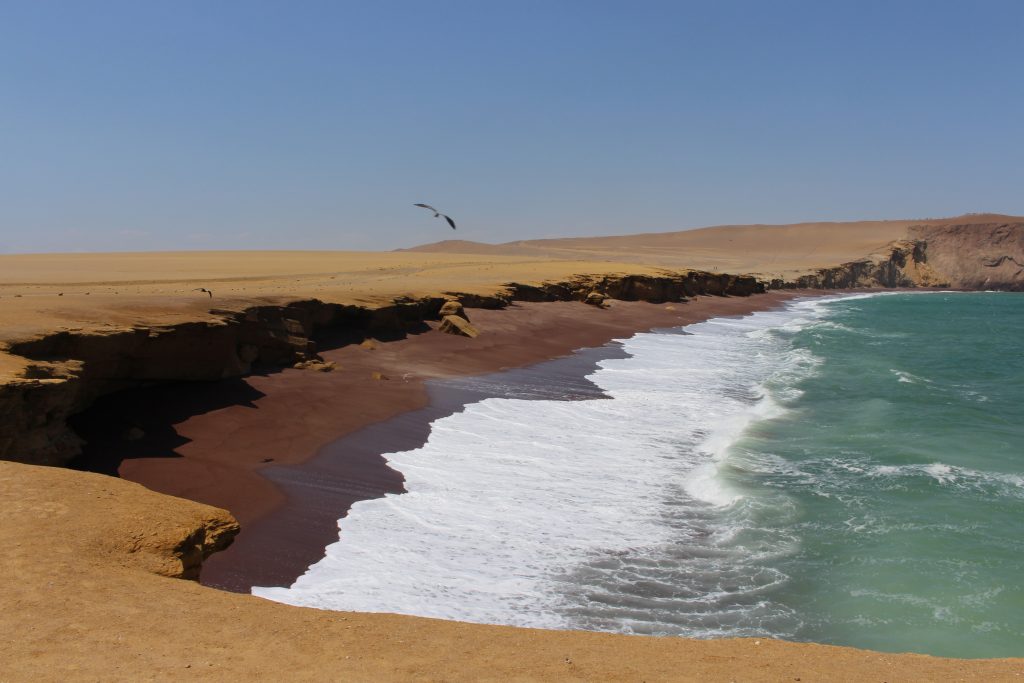 One of the beautiful red sand beaches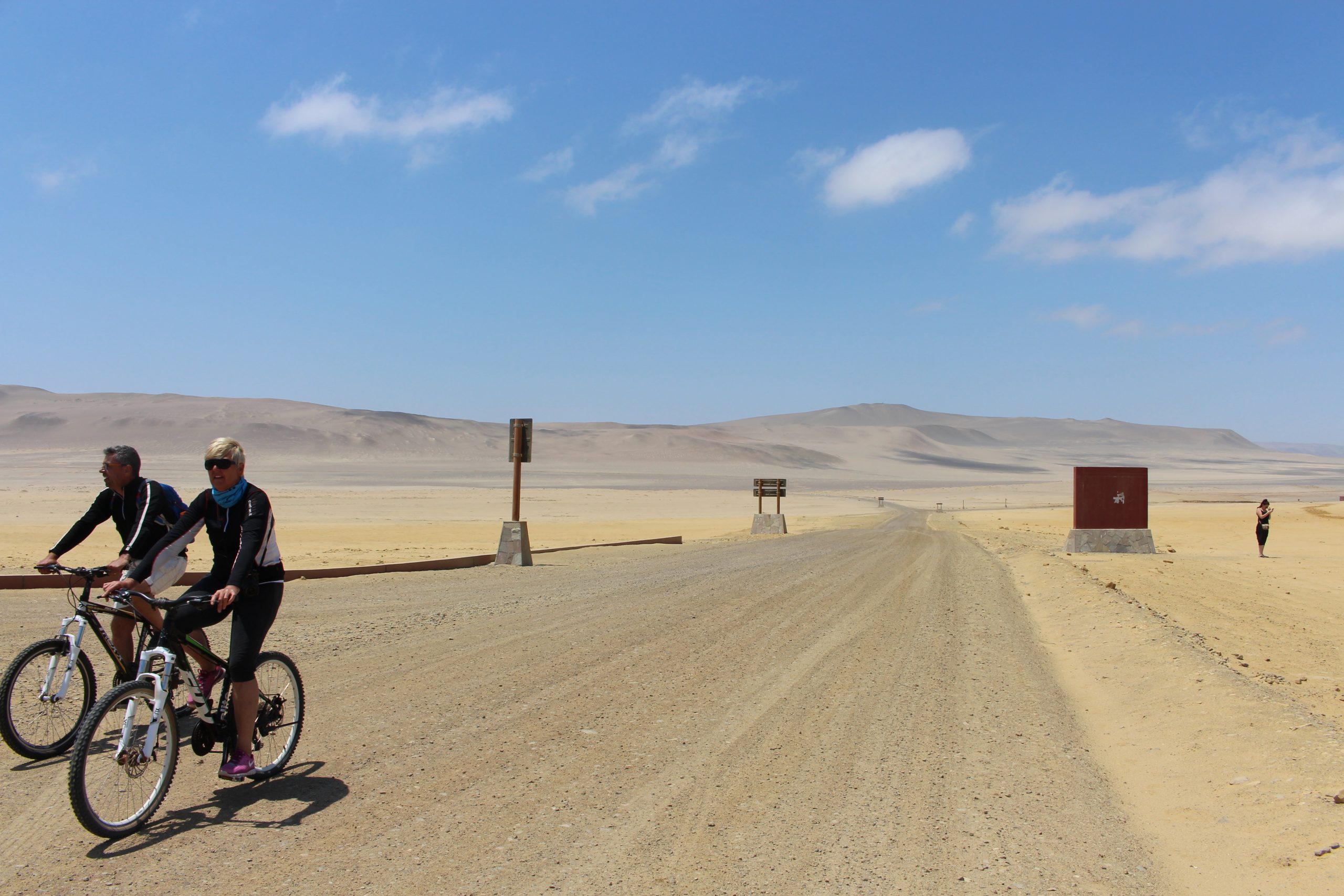 The entire west coast of Peru sits on an arid dry region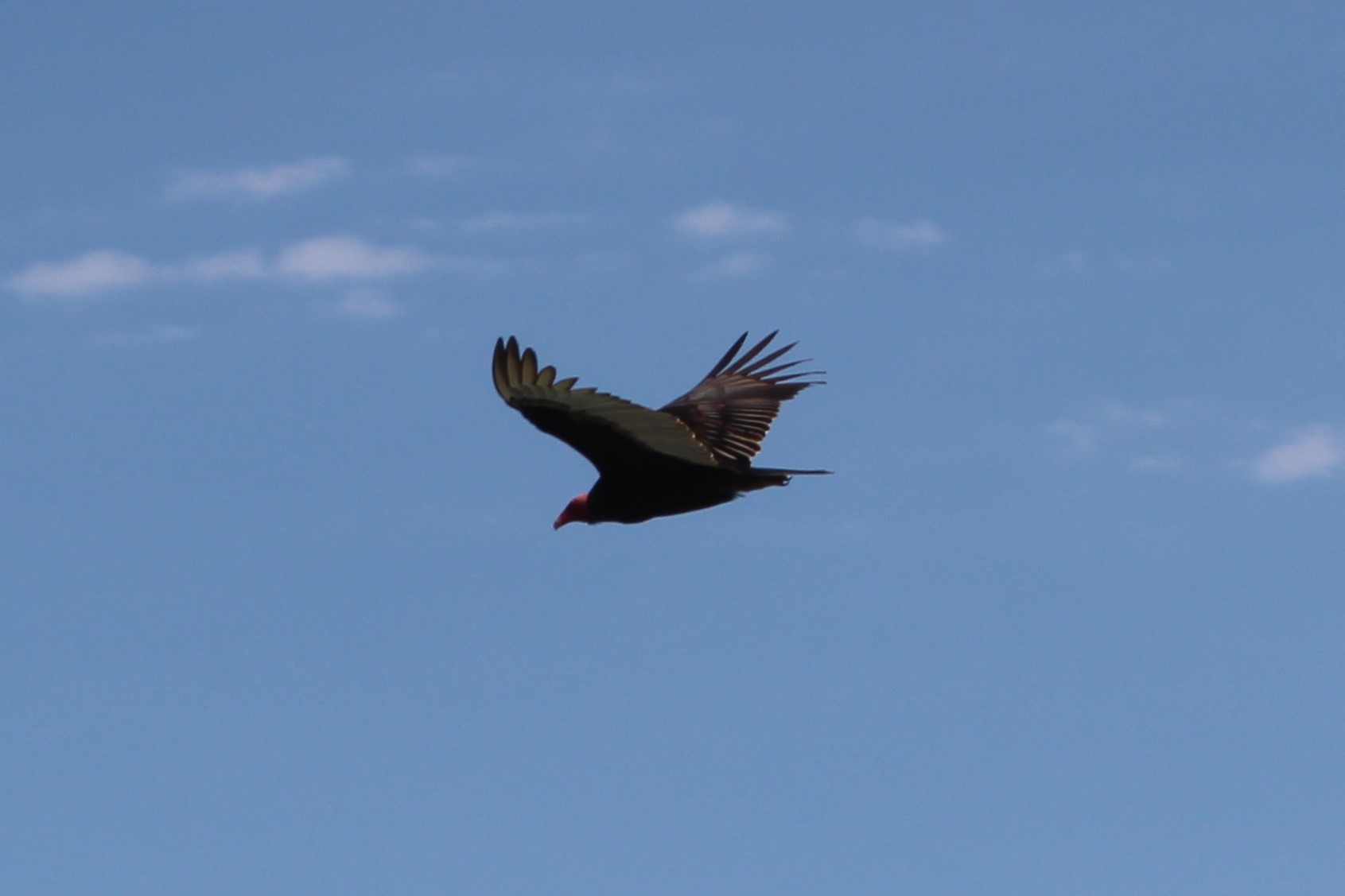 We saw lots of these red headed vultures while on the coast of Peru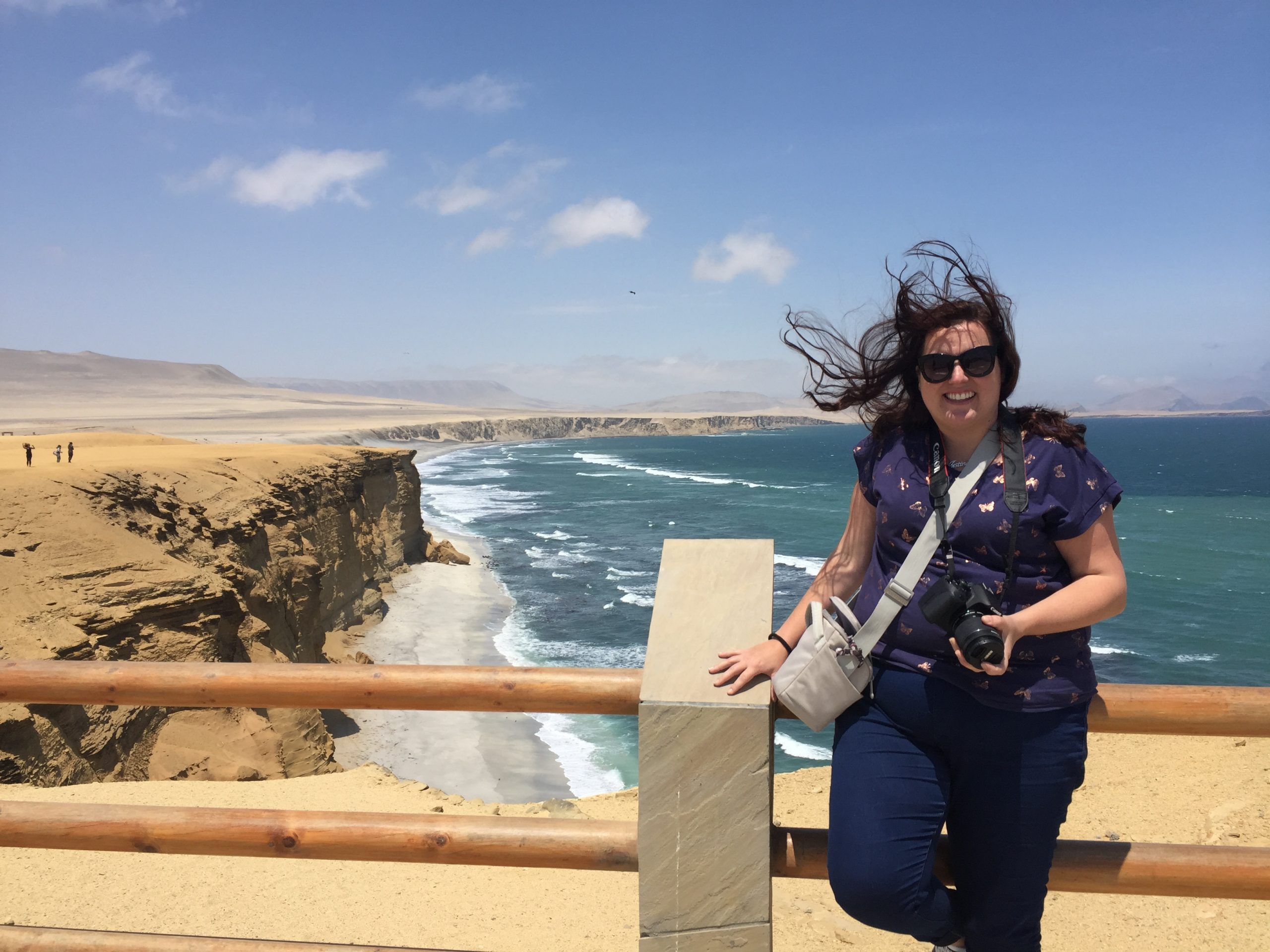 Windy times exploring the coast of Paracas

Peruvian Panoramas show off the vastness of the landscape from high on the cliffs
Huacachina
After leaving Paracas we continued driving south, past the town of Ica and into the endless sand dunes. Our destination was Huacachina, a tiny oasis settled around a lagoon in the middle of the dunes. My first thought was – Is this place real? Or a mirage! For a more detailed recount of Huacachina, visit this post.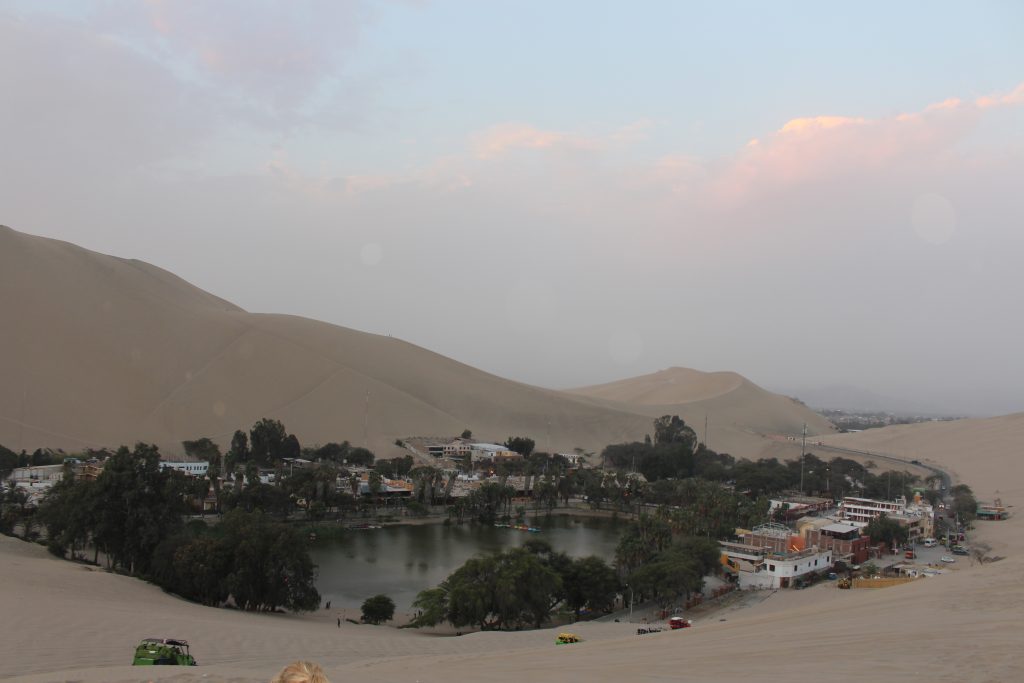 Huacachina is so small it only has about 100 permanent residents. The nearby town of Ica is a few kilometres away, as seen tucked in the corner of this photo.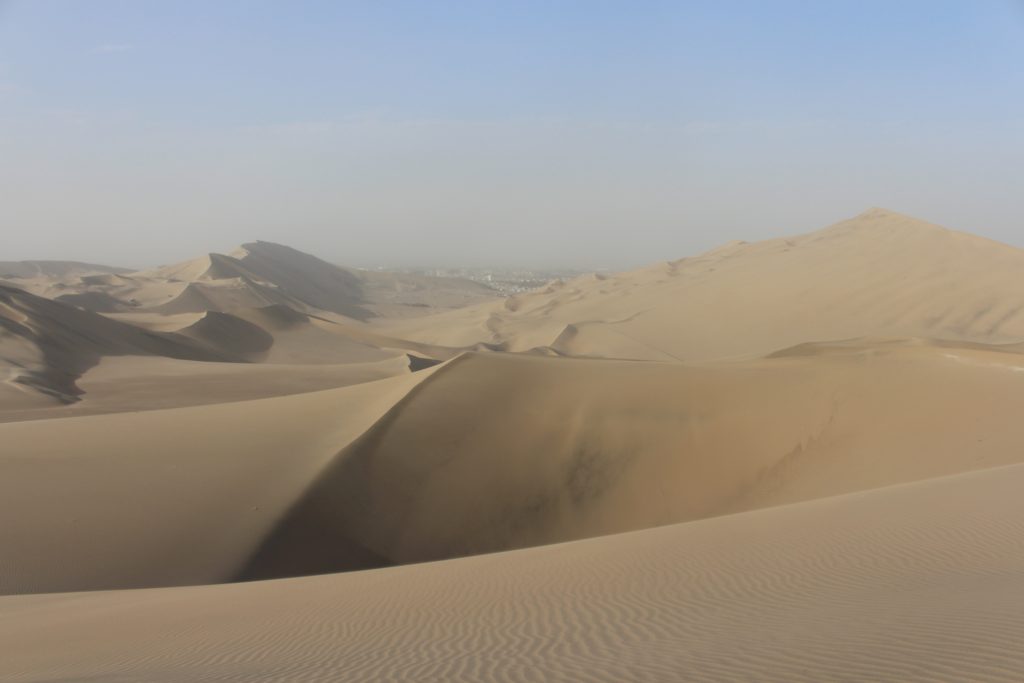 The dunes extend for miles all around Huacachina… I wonder what they are perfect for?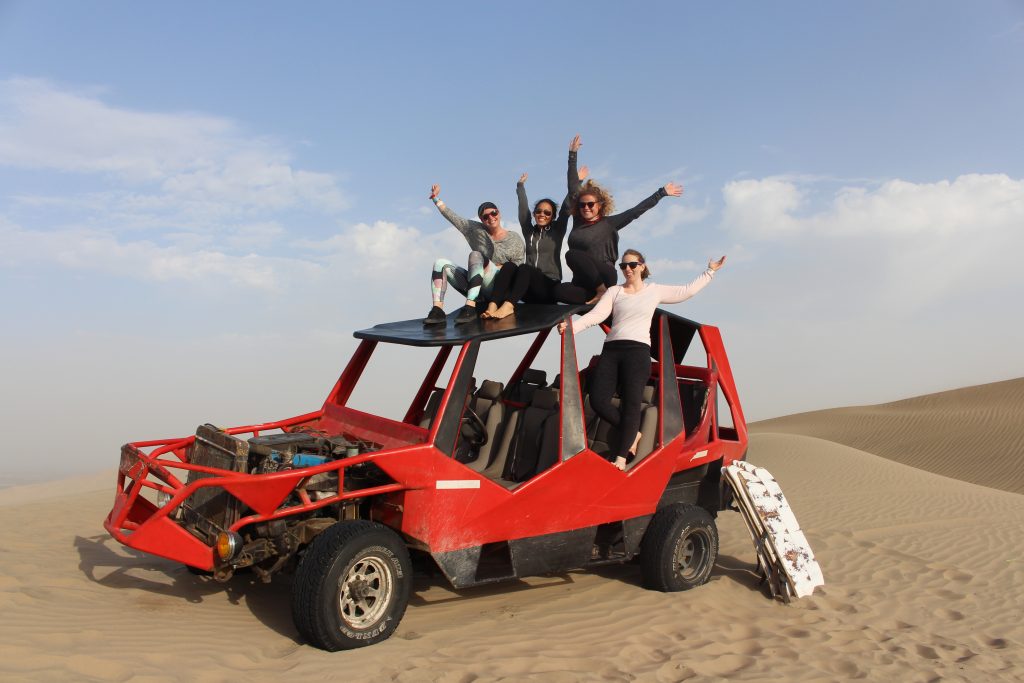 Sand boarding and dune buggy riding! One of the highlights of visiting Huacachina is going sand dune driving in little open air jeeps. It was akin to riding a rollercoaster, flying up and down the dunes and at times free falling down the other side! We screamed and laughed the whole time.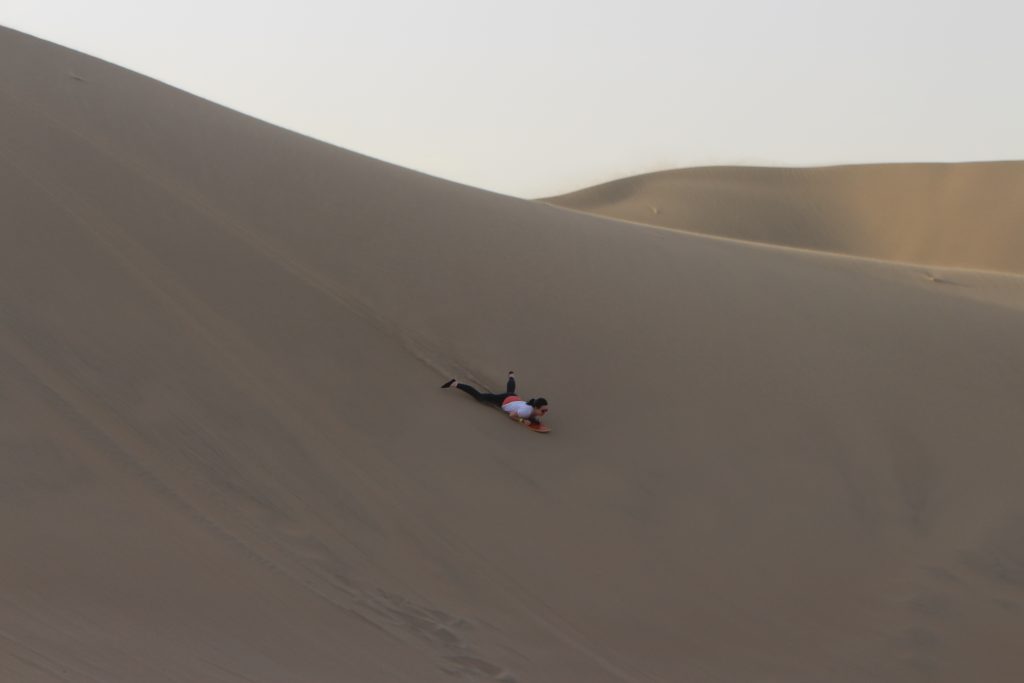 Then it was time to go sandboarding, and really experience the sand dunes up close. Like really up close. I had sand in my clothes, hair, ears, well… everywhere!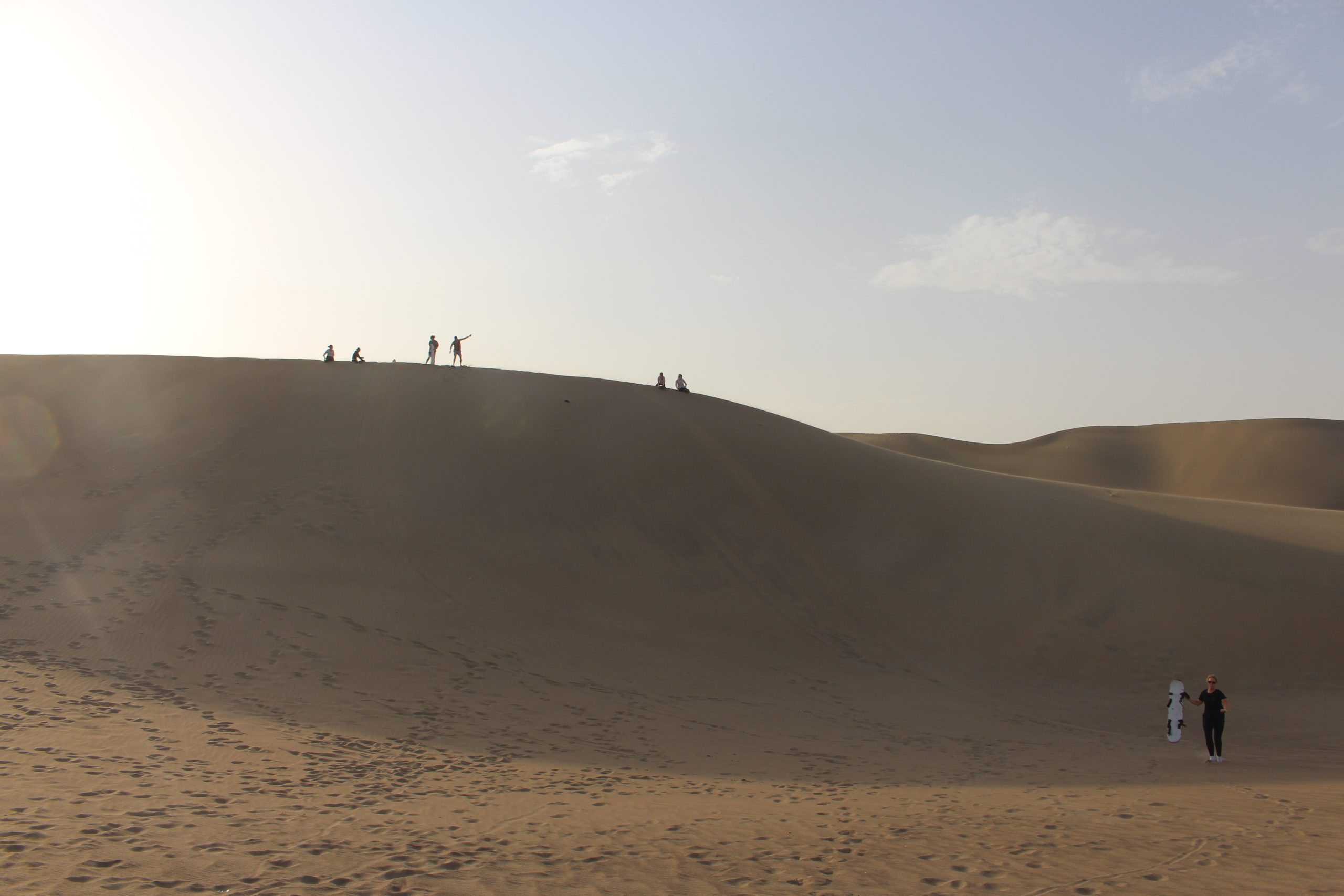 We had a little warm up boarding down a small slope…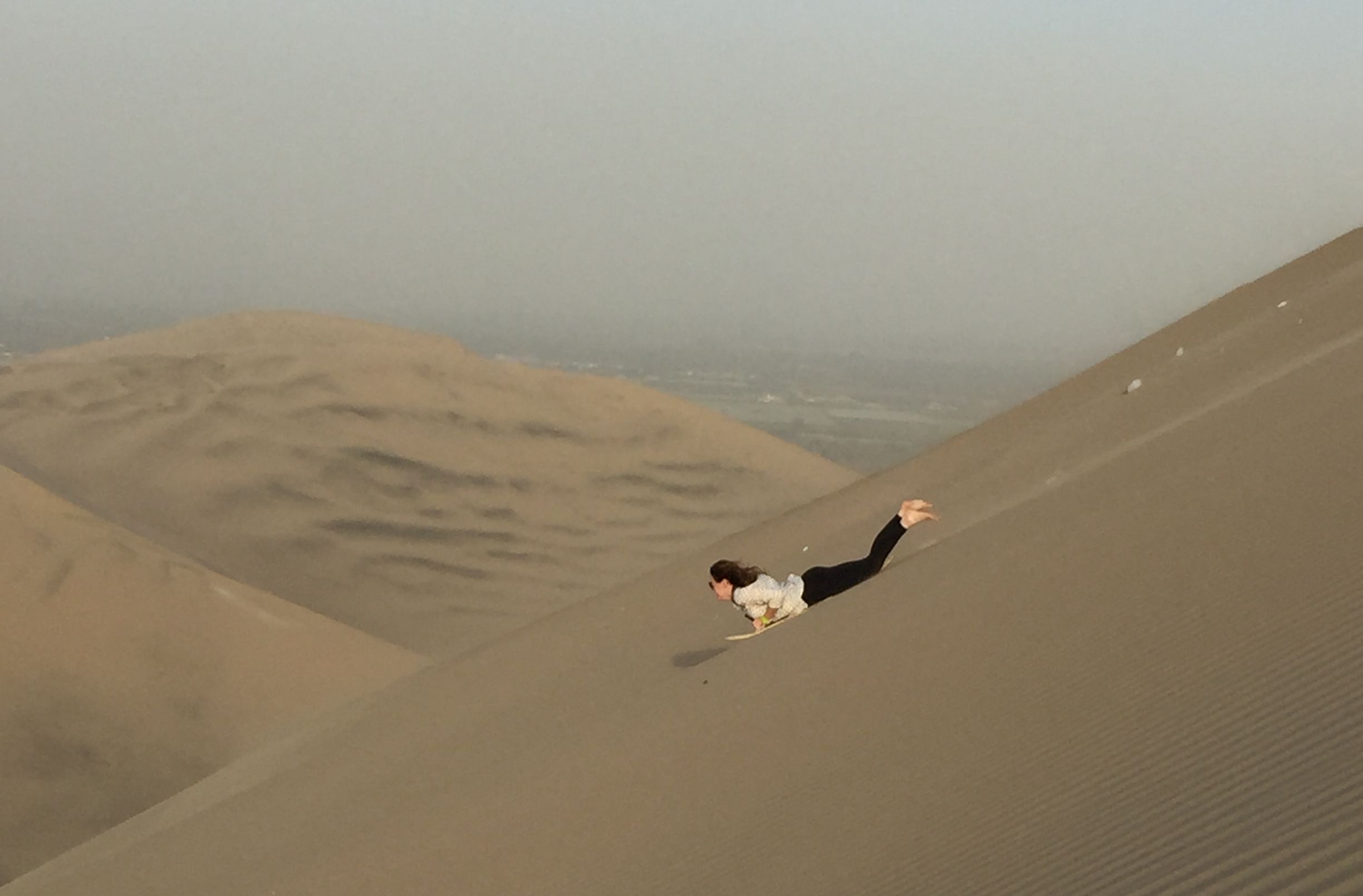 Then we moved on to the big slopes! I thought I would be scared, but it was awesome! You definitely want to do it lying down, much less chance of crashing.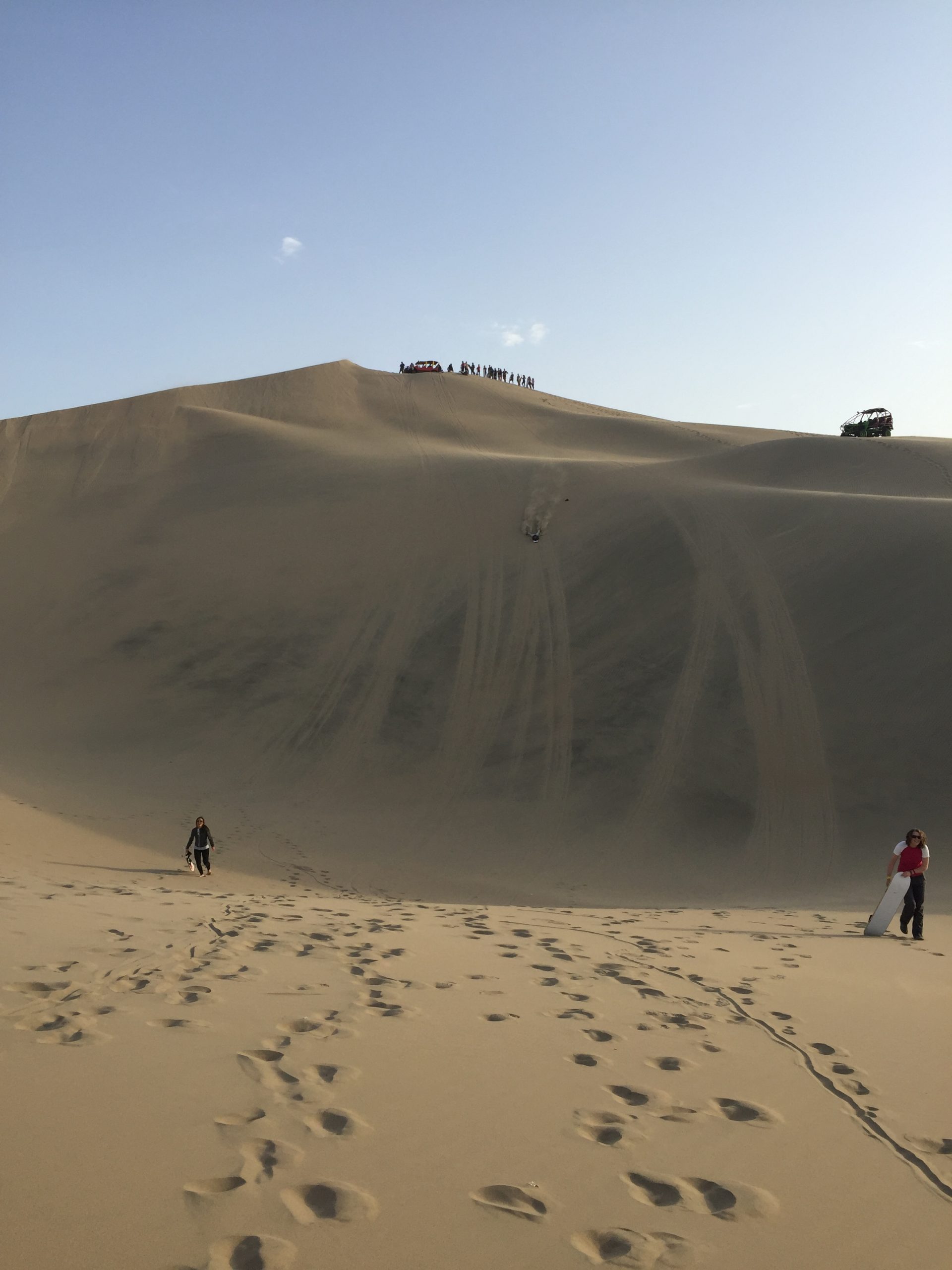 Such simple fun that reduced a group of grown adults to child like whooping, racing and rolling around in the sand. Not in that way!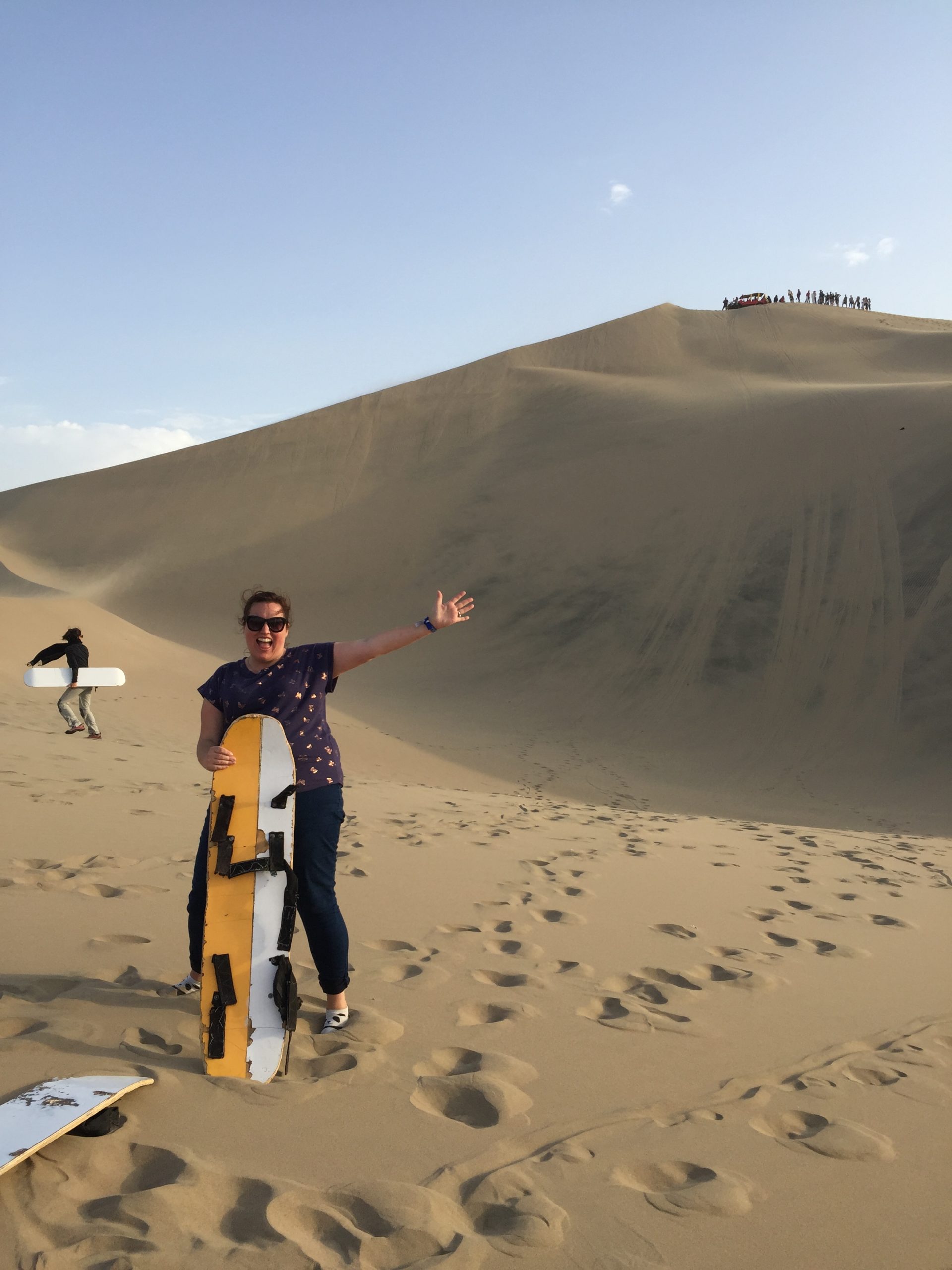 It was so. much. fun. It completely made up for my awful, 'being sick on the bus' start of the day, thanks to the aforementioned dodgy hamburger!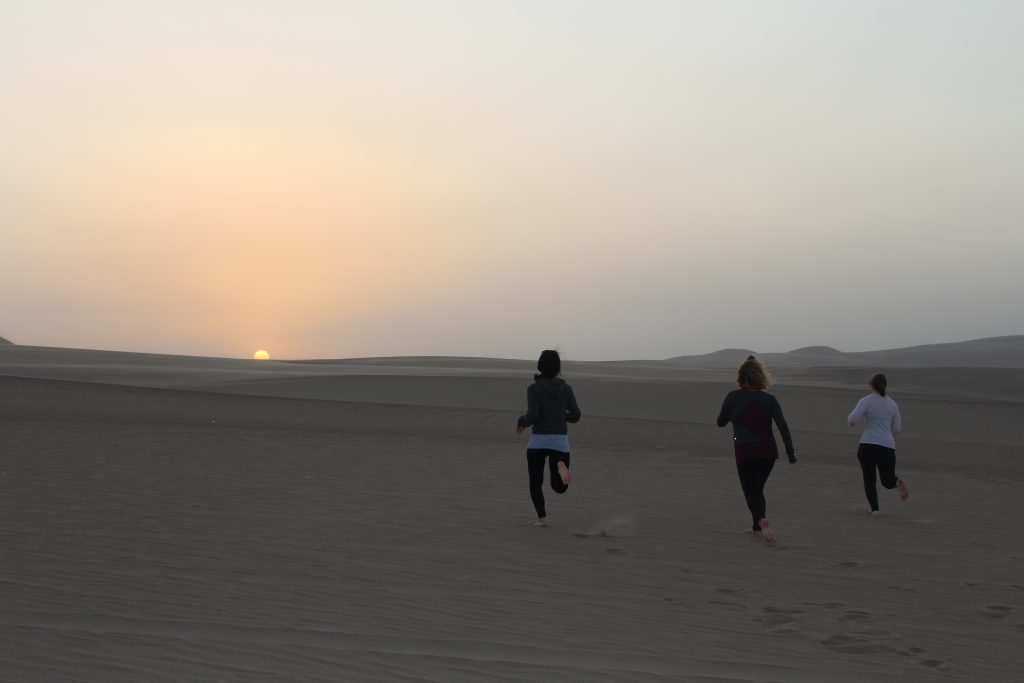 We finished our time in Huacachina (before getting the Peru Hop bus back to Lima) chasing the sunset as we cruised in our sand buggies back to Huacachina.
REASON 4 – THE SHOPPING
Like all captial cities, its fascinating to wonder around the different shopping districts. Whether it was the downtown markets to see the hundreds of potato types and stationery shops, or the upmarket department stores of Miraflores, I enjoyed spending some of my free time shopping, or at least window shopping!
I had a clothing emergency (ripped jeans, on day 4 of 28) that meant I had to do some late night shopping in Miraflores for some new pants to get me through the next 3 weeks. There was also so quirky clothing and jewellery stores to pop in to.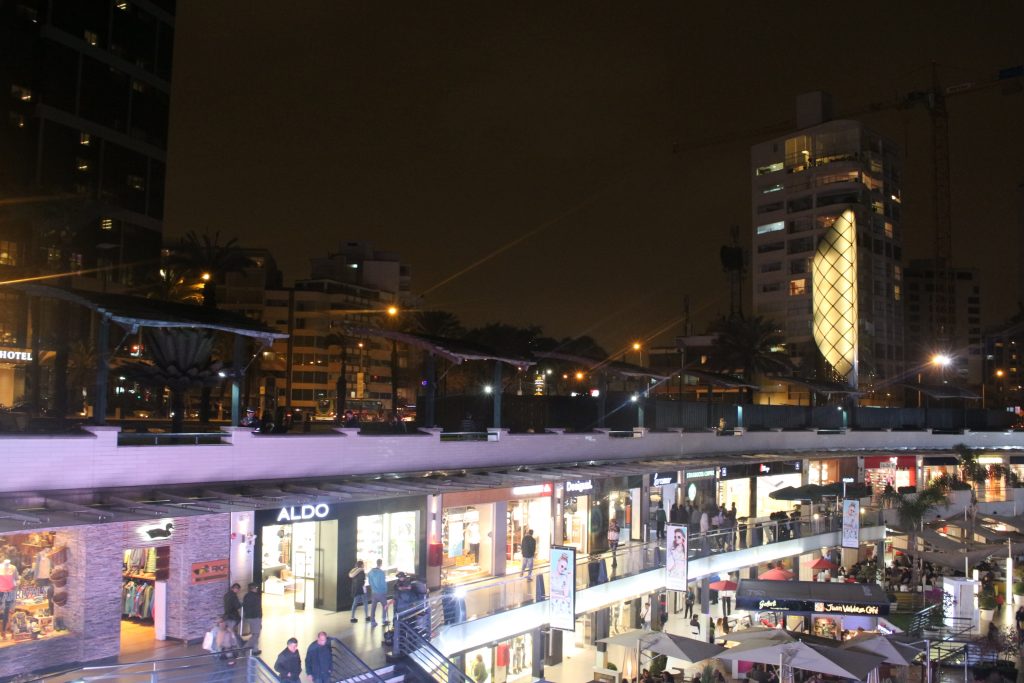 For all your mall dreams head to Larcomar on the cliffs of Miraflores. This seaside mall has many shopping options, as well as some amazing restaurants and bars. Shopping, eating and drinking? My favourite combo!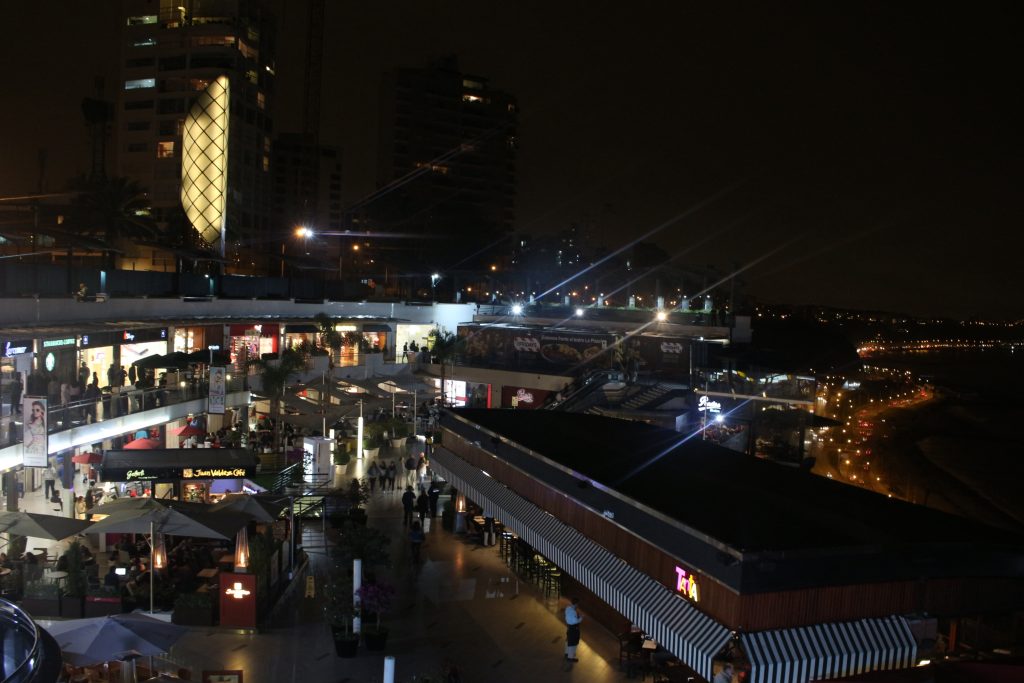 So hopefully I have convinced you to put Lima on your list, for at least more than one day! My 5 day stay was the perfect introduction to South America, and allowed me to test out my Spanish, sample the local cuisine and see the sites within a sprawling metropolis. After Lima we flew up and into the Andes, landing in Cusco. I was gratetful to have had time in Lima to get used to Peruvian customs, before having to get used to to the effects of high altitude! But I'll save that story for another post….
Pin Me!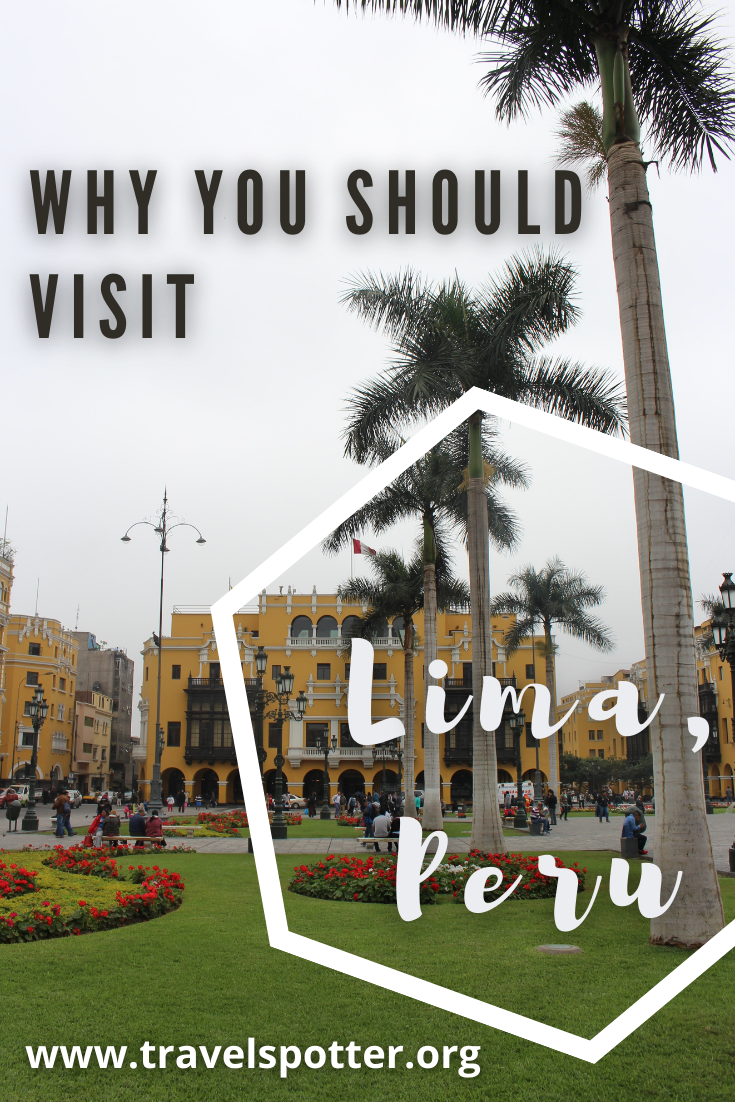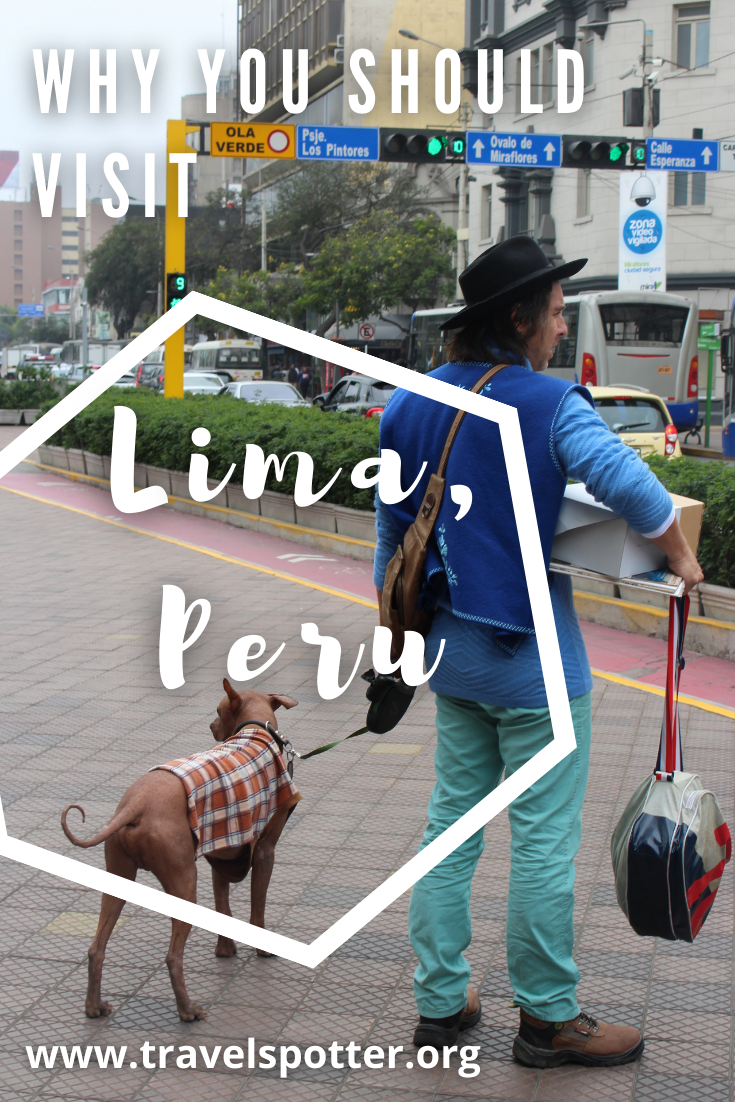 ---
---