Travel Essentials – Travel Make Up
Now I know there are some people who travel without taking or wearing make up, so this post is not for them.
Packing toiletries, skincare and makeup is always a challenging game, especially if backpacking or travelling light – 'carry on only' style. After many overseas trips I have got my toiletry packing down to a fine art, which resembles many small pouches fitting into my bags like a game of Tetris. I've also learnt many lessons about travelling with make up and myself as a 'make up wearing holiday maker'. Turns out I don't need 6 lipsticks? Mind blown. I also have learnt that due to my constant 'on the go' pace and FOMO, I wear less make up while travelling as I'm too busy sightseeing/can't be bothered/lazy/rushing about.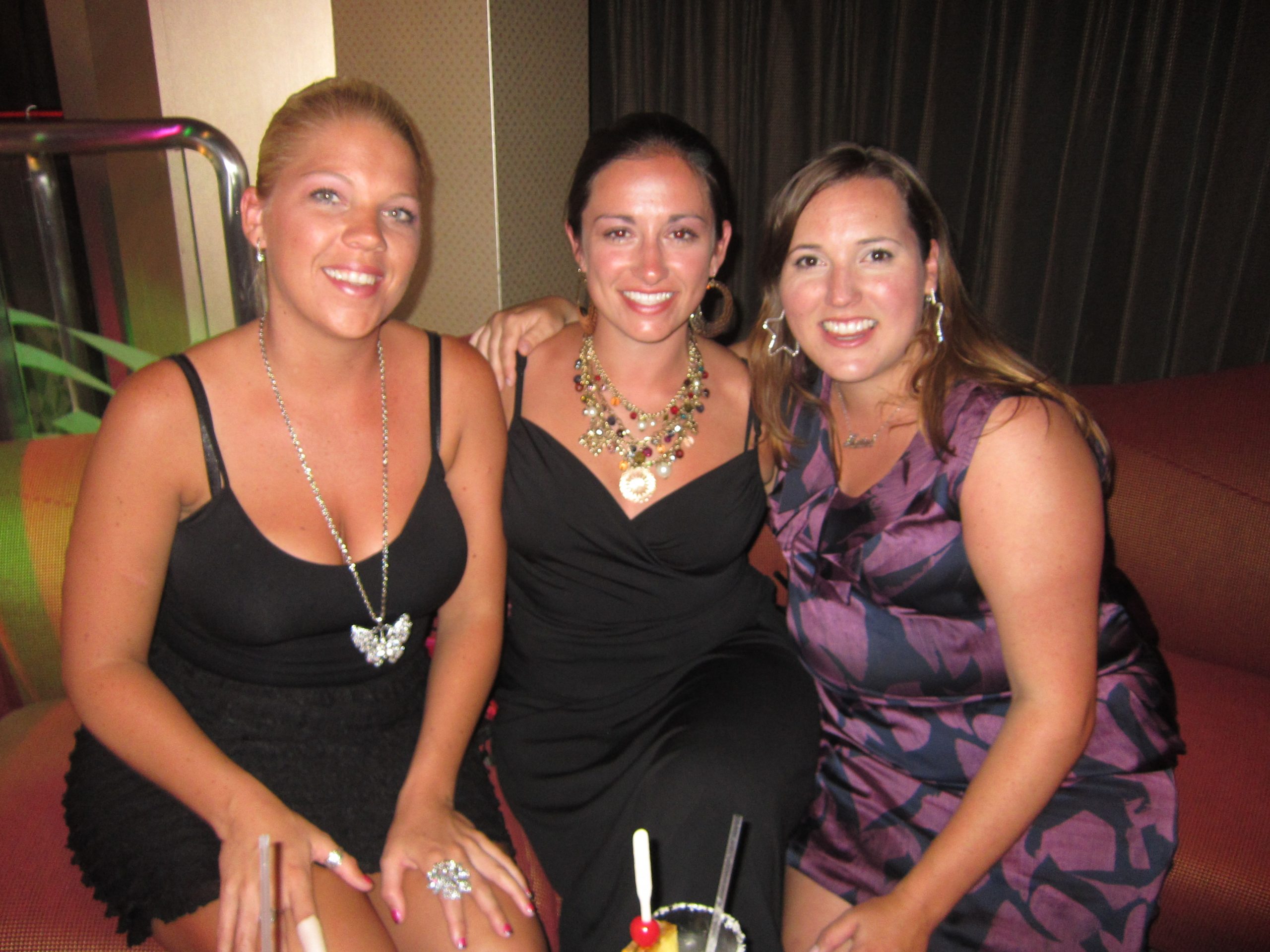 Trying to look glam all made up on formal night, no doubt we sweated off our make up dancing on our cruise to Mexico.
So after all these lessons I have designed the perfect 'capsule makup' collection for my different trips, which then has three tiers of application – perfect for all travel options. Pack 1 tier, pack them all!
Read on for my hints and tips.
Tier 1: The 'bare minimum' makeup
CORE PRODUCTS – SPF Moisturiser  – BB Cream / Tinted Moisturiser  – Tinted Lip Balm
Perfect for pool days, plane days and times when you are travelling and you can't be bothered doing make up, or you were up super early and didn't feel like doing a full face.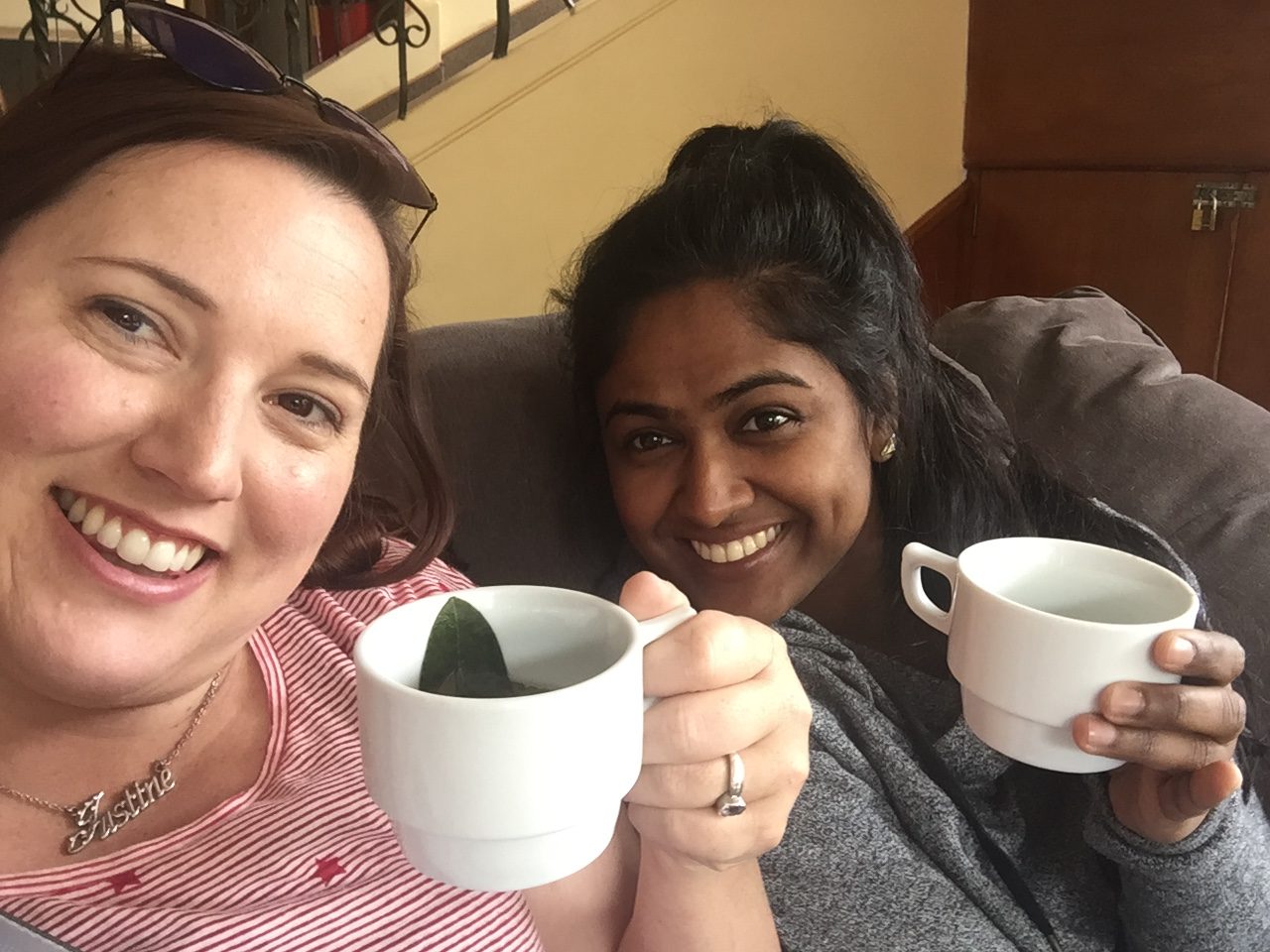 Classic bare minimum make up effort, as shown here after a very early morning flight to Cusco, Peru and then battling the effects of altitude sickness.
I always start with a good, high quality SPF moisurister, something to last the distance. I have been using the Nutrimetics 50+ SPF Face Shield for years and it's an excellent base for when you are out in the sun all day.
Next, I just give my face a layer of tinted moisturiser, but one that has enough coverage to even out your skin tone, blur any blemishes and give a little bit of eveness to the colour. I suffer from pigmentation and rosacea, so covering redness and uneveness is my absolute must each day. The Natio BB cream is one of the best as it really does have a good amount of pigment, and is layerable for build up. Two layers almost looks like foundation. Lately I've started using the Trinny London products, specifically the BFF SPF 30 skin perfecting cream, or the BFF Destress, which is a lovely blend of concealer and serum.
Finally, a wash of tinted lipbalm on the lips, and even on the cheeks for a fake blush. My go-tos are the Tinted Burts Bee's lip balms, I have about 3 on the go in different colours – pink, peach and watermelon. I just got myself the limited edition Lip Glaze and 'Peach for the Stars' from the Tanya Hennesy Model's Prefer collection (though tbh, I may have bought that one for the name alone!)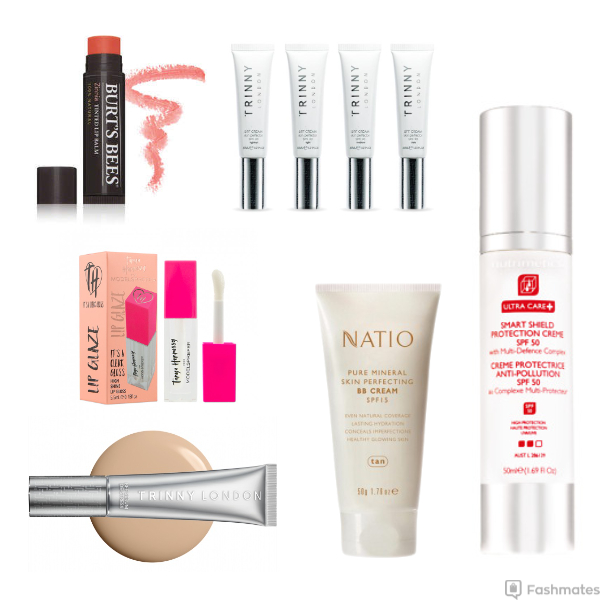 Tier 2: The 'no make up' make up
CORE PRODUCTS – BROW AND EYE PRODUCTS – CONCEALER – BRONZER
Perfect for all day sightseeing, casual dinners and day tours. It's when you want to look stylish and put together but not like you are hotfooting it around Santorini in a full face of make up (unless that's your thing, then in that case – you do you xxx)
Doing a day time make up look for a special lunch in Lima, Peru…. needed some lip colour to kiss the butt shaped potato!
After doing my 'bare minimum' look above, I will continue with a few more products. After my BB cream I add some concealer, especially to cover my redness and under eye circles. I have had different favourite concealers over the years, Benefit's Bo-ing, Olay and Maybeline, but at the moment I like M Co Beauty Instant Erase Concealer and Trinny London's Just a Touch. With concealer on I feel like I have a better make up base to work with. A concealer usually then stays in my bag all day for touch ups, as my skin seems to eat the makeup all day. I like a bit of bronzer and glow, but in a natural way. I've used Benefit Hoola and Dallas all my life, and when travelling I like to take the mini box versions.
To complete my no make up look I give my brows a neatening up with a brow pencil or gel, like Nutrimetics and then a wash of a single taupey/nude eye shadow, like MACs Wedge, which comes in a small pot. Finally I'll finish with some mascara. I usually still only use tinted lip balm most days, as it gives me some protection and colour, but I may mix it up with some colour from a chunky lip crayon for easy application in a pinky everyday shade.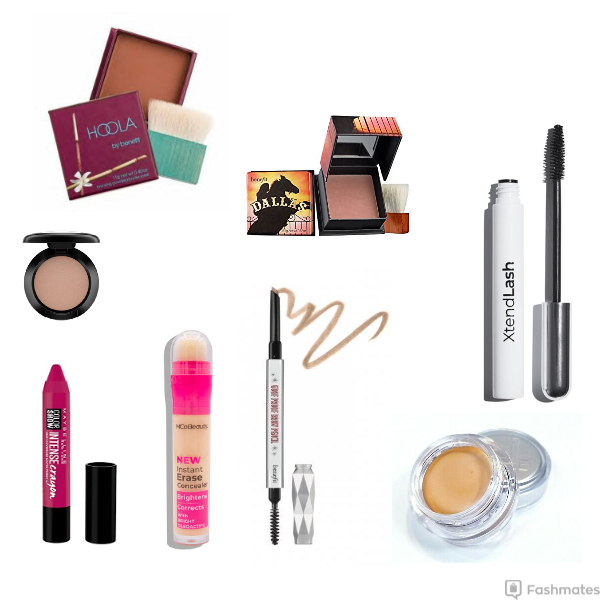 Tier 3: The 'travel glam' make up
CORE PRODUCTS – EYE SHADOW, BLUSH AND LIPS
Perfect for fancy dinners, trips to the theatre, nights out and overseas weddings!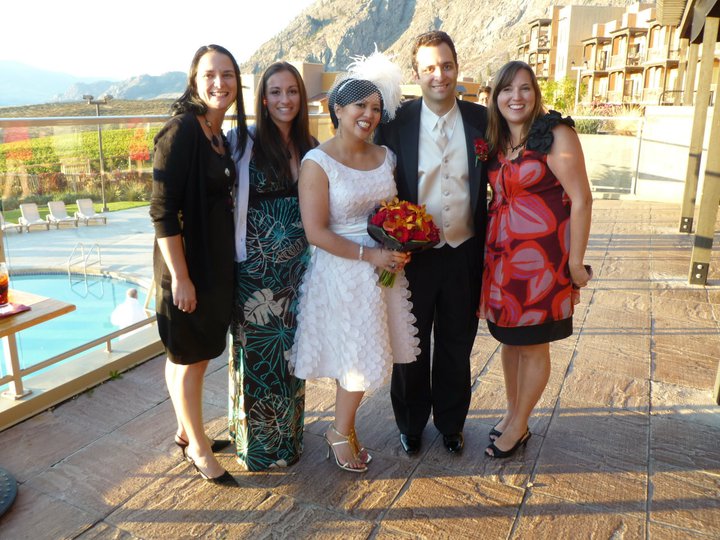 Travel glam make up for a friend's wedding in Canada! Eye liner and lipstick to go with fancy dresses and jewellery. 
At this level I will add blush or cheek stain, eye liner and proper lip stick, and perhaps even TWO shades of eye shadow – maybe even with some shimmer! This is where I will throw in a few eye shadow brushes, usually using my finger for all over colour and then a tapered brush to apply a darker colour as an eyeliner, saves me taking a separate eye liner. A palette of lip and cheek stains is perfect for mixing up looks.
For a long trip, more than a week I like to take little multi colour products that give you lots of options for eyes, cheeks and lips – as long as the packaging is small. My favourite MAC palette is  Semi Sweet Times 9, nine colours I can use as base, eye liner and even highlighter. Its also not a bad idea to pack a small mirror for travel touch ups, like Trinny's T Kit, attachable mirror,  and stackable pots are great, as is raiding the travel minis section of Priceline, Ulta and Sephora.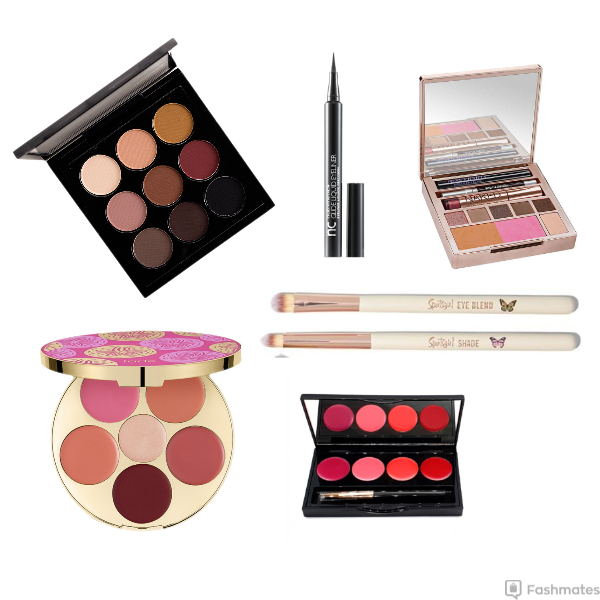 If I was packing for a fortnight away tomorrow (god I wish!) This is what my standard make up haul would look like:
SPF moisturiser, BB cream, concealer, setting powder, brow pencil, mascara, bronzer, eye shadow palette, one tinted lip balm, one lipstick and three make up brushes.
Pack all that in a squishy make up bag, pop it in my hand luggage and board that plane! What make up travel tips have you got?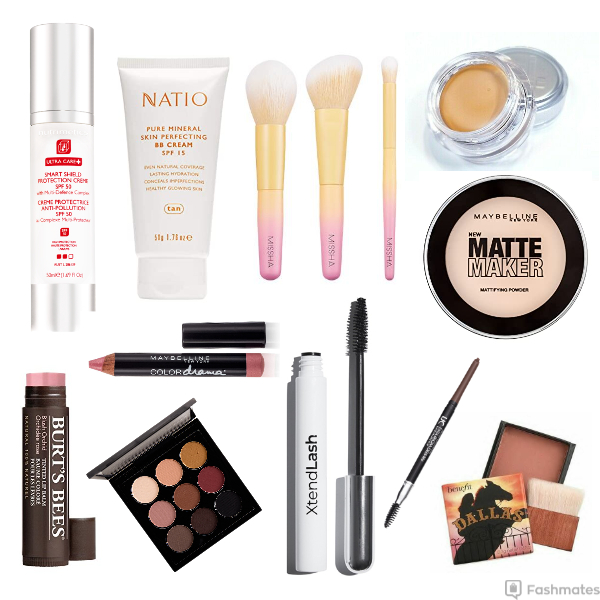 Pin Me!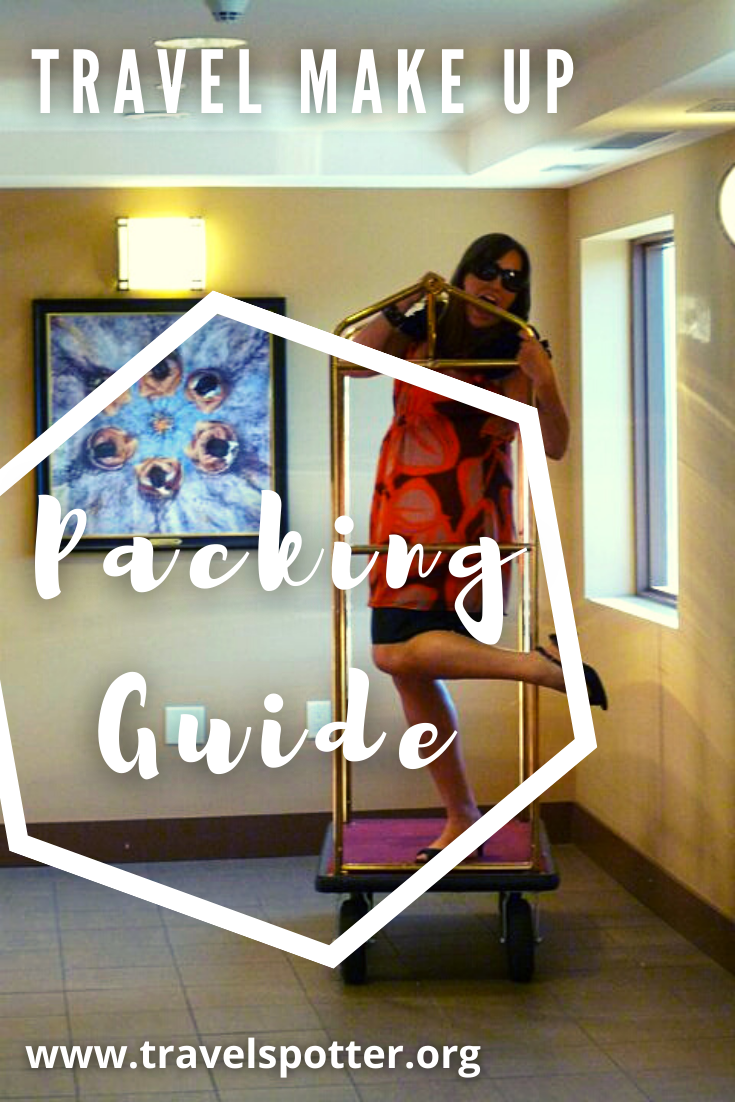 ---
---