My Top Ten: Beaches of Sydney's Northern Beaches
Sydney's Northern Beaches are an absolute dream destination for sunshine, beaches, surfers and swimming. The numerous suburbs that snake up the peninsula are designed for beach side living. I may sound a bit biased,  but seeing as I live here now, I guess I can get away with the blatant promotion! Lots of Sydney siders love this area, which is so conveniently located close to the city.
There are so many beaches, bays, creeks, inlets, cliffs, walks and headlands. There is also the famous Pittwater, a mini harbour perfect for boating. I have explored many places on the Northern Beaches over the years. As a new resident, I have been reflecting on my favourite beaches to visit. So here is my top ten!
1. Palm Beach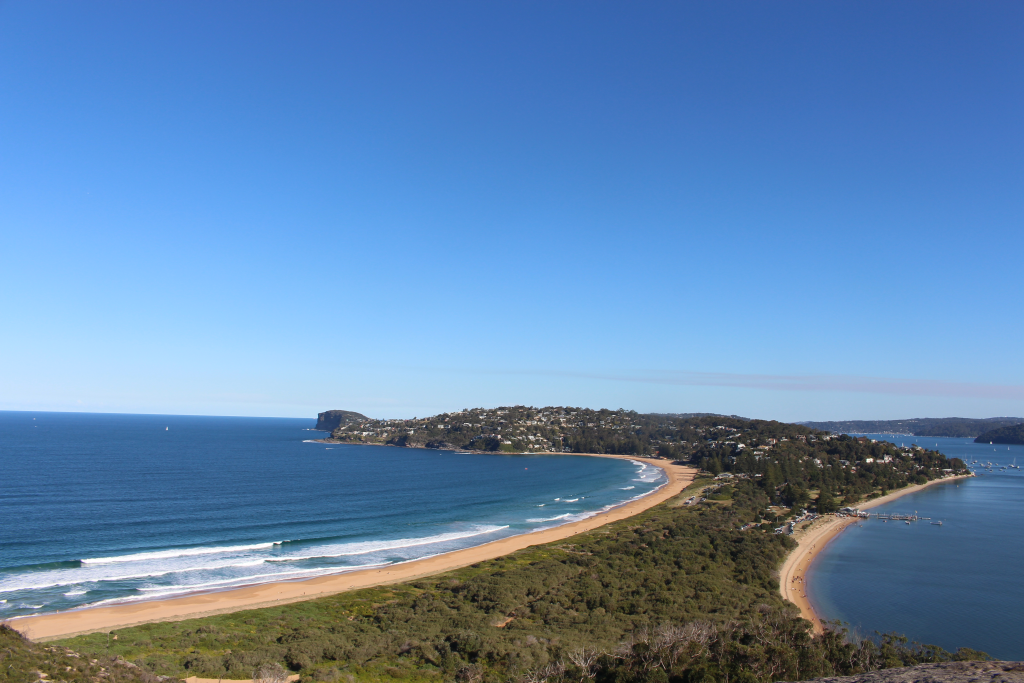 Palm beach, the farthest beach of the Northern Beaches has to be my number 1. Yes it's famous for being Summer Bay in the TV series Home and Away, but that's not why it's top of my list. Driving to Palm Beach takes time, but it's worth it. There is the long sweeping beach, perfect for a good long walk, providing waves suitable for swimmers and surfers, paddle boards and paddling. I like how the southerly end is usually nice and calm and I've even seen a surfer sharing his waves with a pod of dolphins.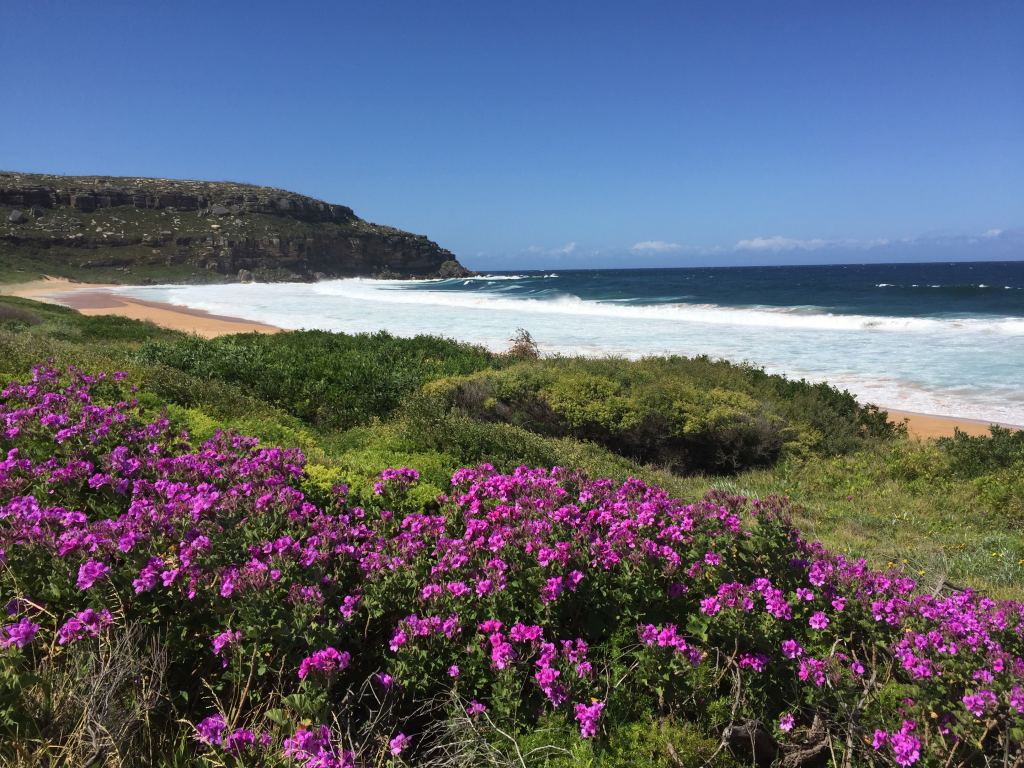 You can walk up the lighthouse trail  to Barrenjoey Lighthouse and around the headland, where you can be blessed with 360 degree views of the ocean, Pittwater, Broken Bay and up to the Central Coast. It's nice and steep, making you feel you are getting a workout but short enough to be rewarded with views after 15-20 minutes.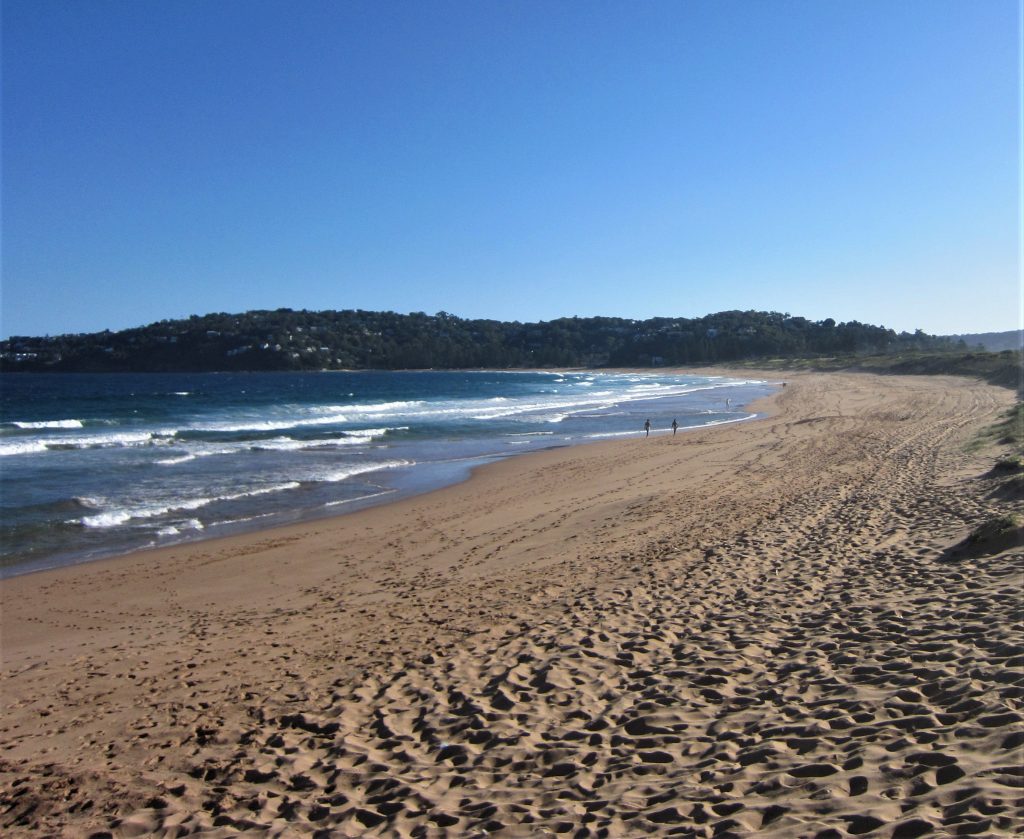 On the other side of the ocean is a little beach on the shores of Pittwater. This is a perfect location for picnics and taking out a kayak. In Palm Beach there's also a number of cafes and restaurants, a golf course, monthly beach side markets and a ferry service to other places in Pittwater and across to the Central Coast. If I have international guests visiting, I make sure we hit up Palm Beach!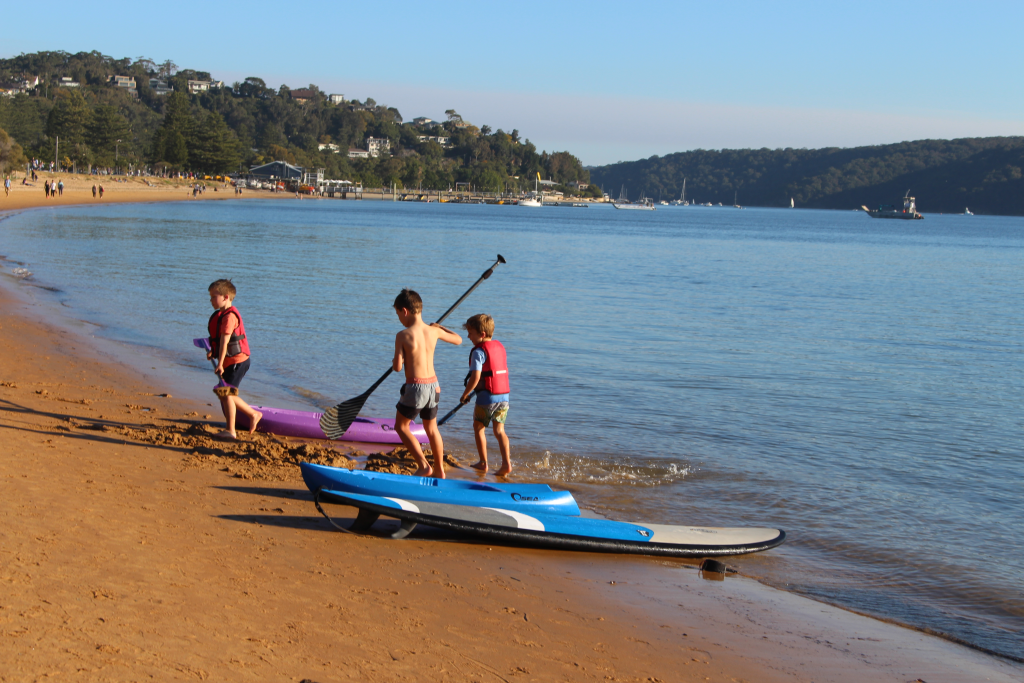 2. Bilgola Beach 
After Palm Beach, my heart belongs to Bilgola. This is the beach where my partner, The Artist grew up. So the first 7 years of our relationship involved walking down the steps in the photograph above to this smaller, less crowded beach.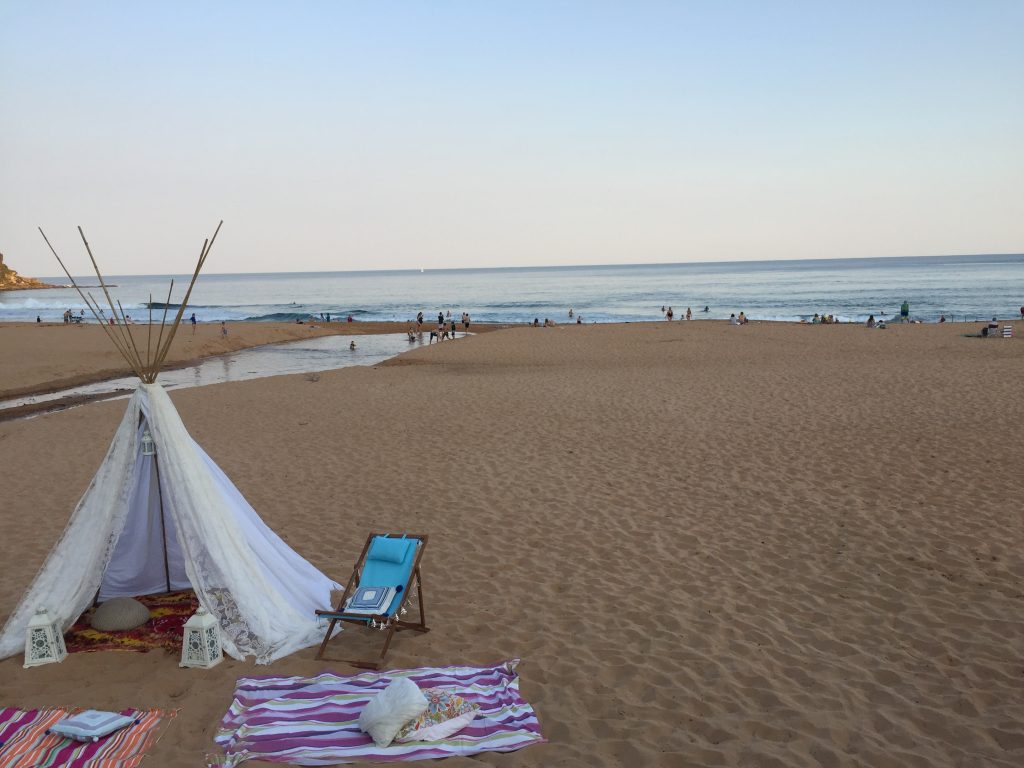 Bilgola is a picturesque beach,  bordered on each side by cliffs. It can be a bit rough for swimming, so it isn't as family friendly – but there is a great pool. The limited parking means it doesn't get too crowded.
3. Mona Vale Beach
From Bilgola Beach, our local for seven years to Mona Vale Beach, our new local! This beach is the closest to our new house. Mona Vale is well known and offers plenty of things to do. There's the regular beach; long and sandy, two ocean pools in the middle and another beach with shore breaking waves known as 'The Basin' on the other side of the pools. Across the road is a huge park and picnic area. At the surf club there is a kiosk and cafe. Pine trees line the beach and there are two headlands you can walk up and around, admiring the view.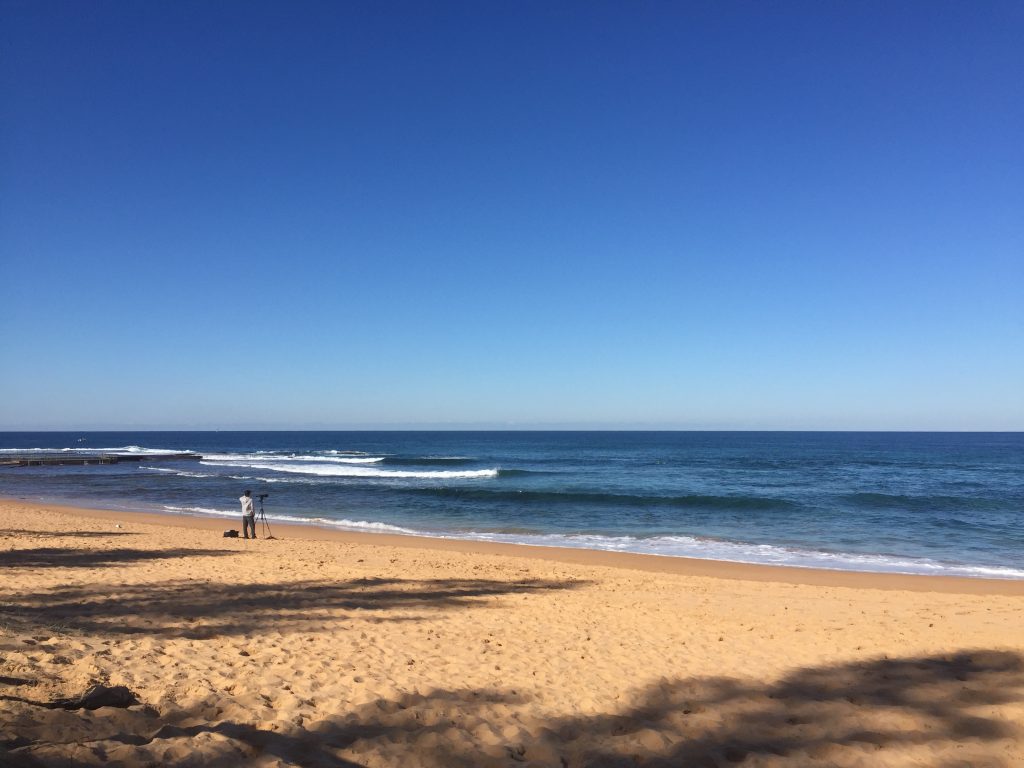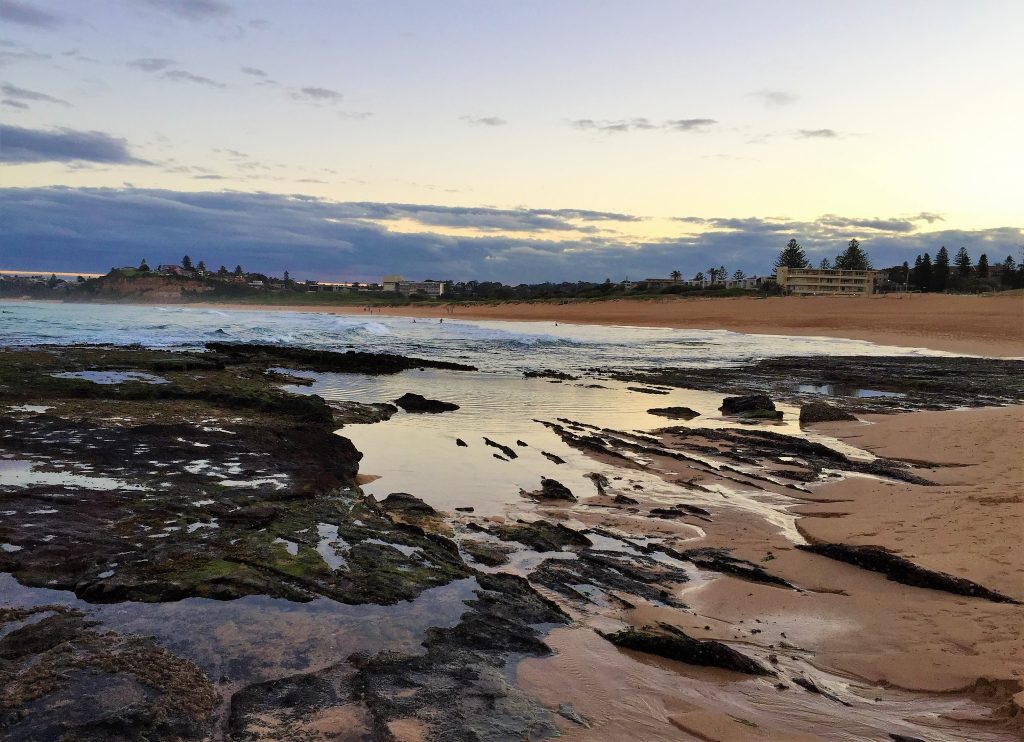 4. Whale Beach 
I've always been a fan of Whale Beach. Not as popular as Palm Beach, but this beach is the second last beach on the peninsula and I remember visiting here as a child. The car park is right on the sand and there is a small amount of grass next to the car park for those who'd rather sit on grass than sand. Of course, there is a pool, and a large rocky area you can walk out and around the headland from the pool. There is a kiosk there and a space for a cafe/restaurant, but at the moment it is empty. Around the corner on the road down to the beach is another cafe.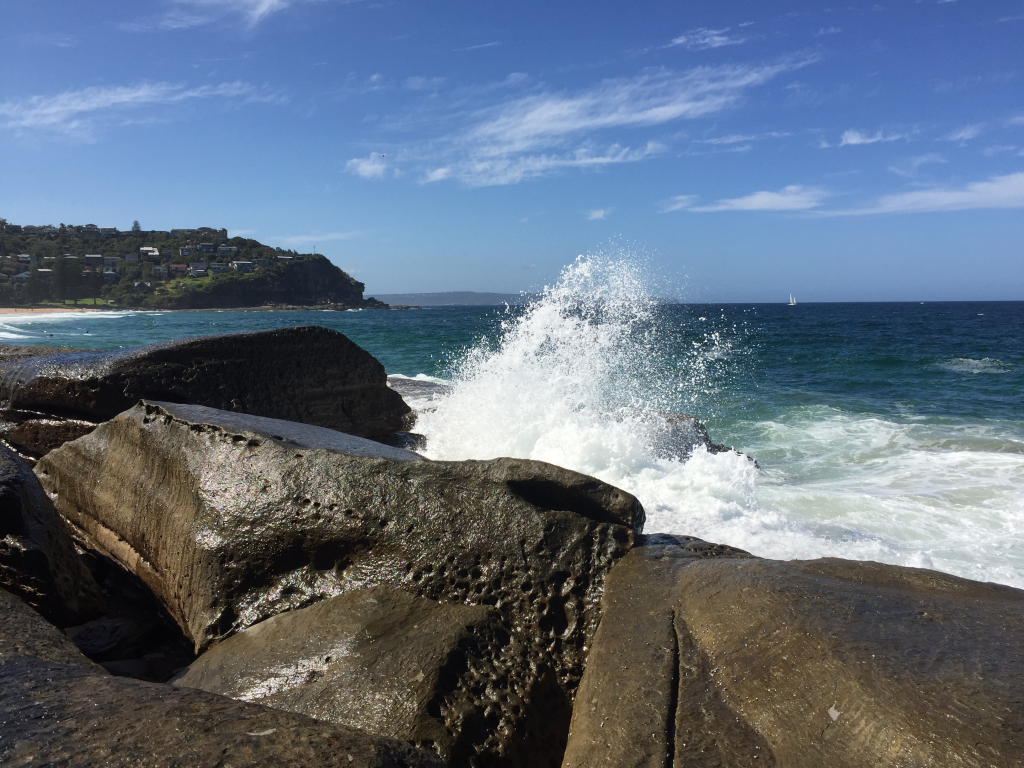 Another thing I like about Whale Beach is the drive around the headlands and down to the beach. I always admire the fancy houses, some with permanent residents, others used as holiday houses. And of course, you can live like the rich and famous by staying drinking and/or dining at Jonah's, a swanky restaurant and accommodation venue high on the cliff above whale beach. For the really fancy, take a sea plane there!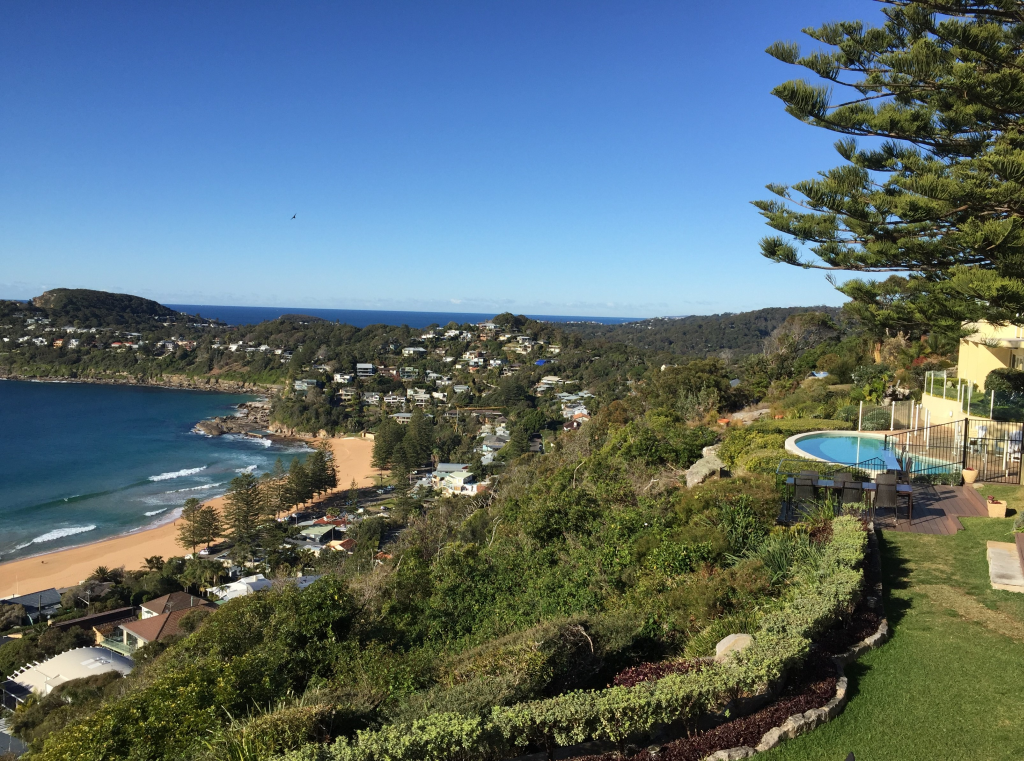 5. Shelly Beach 
Shelley beach, tucked away east of the famous Manly Beach is small and very often, overly crowded. It's lovely for swimming out of the big waves and for snorkeling. The walk there is also very picturesque, following the boardwalk from Manly, past the Fairy Bower pools with their statues of the sea nymphs. It's a nice day out, if you can handle the summer crowds!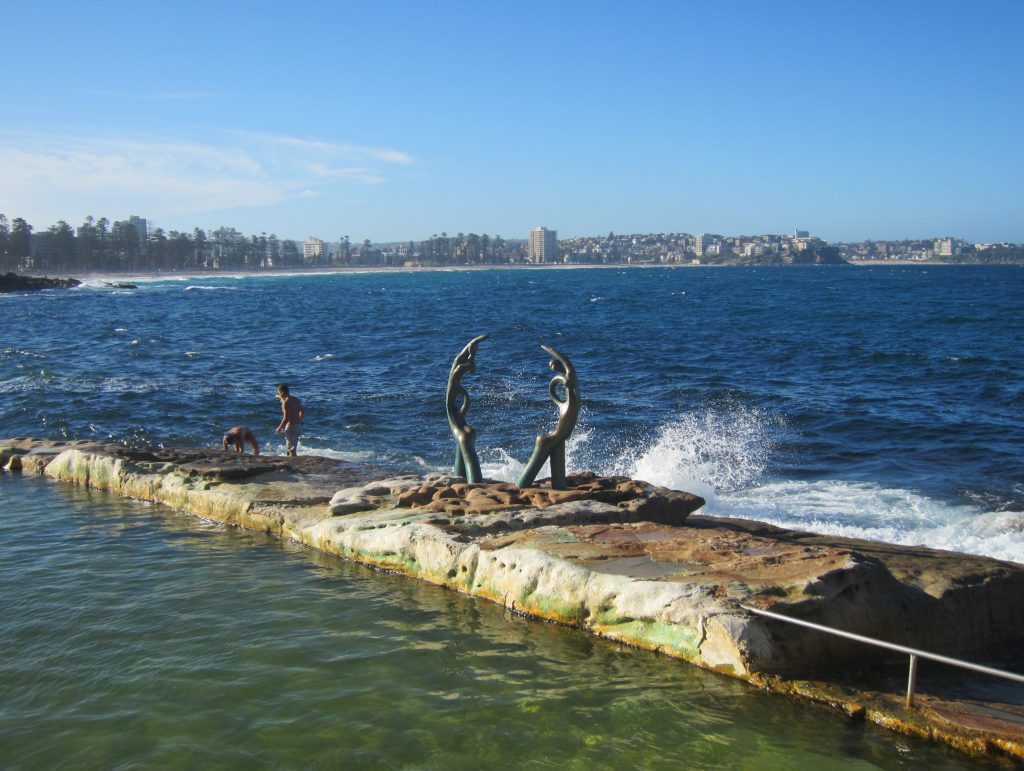 6. Turimetta Beach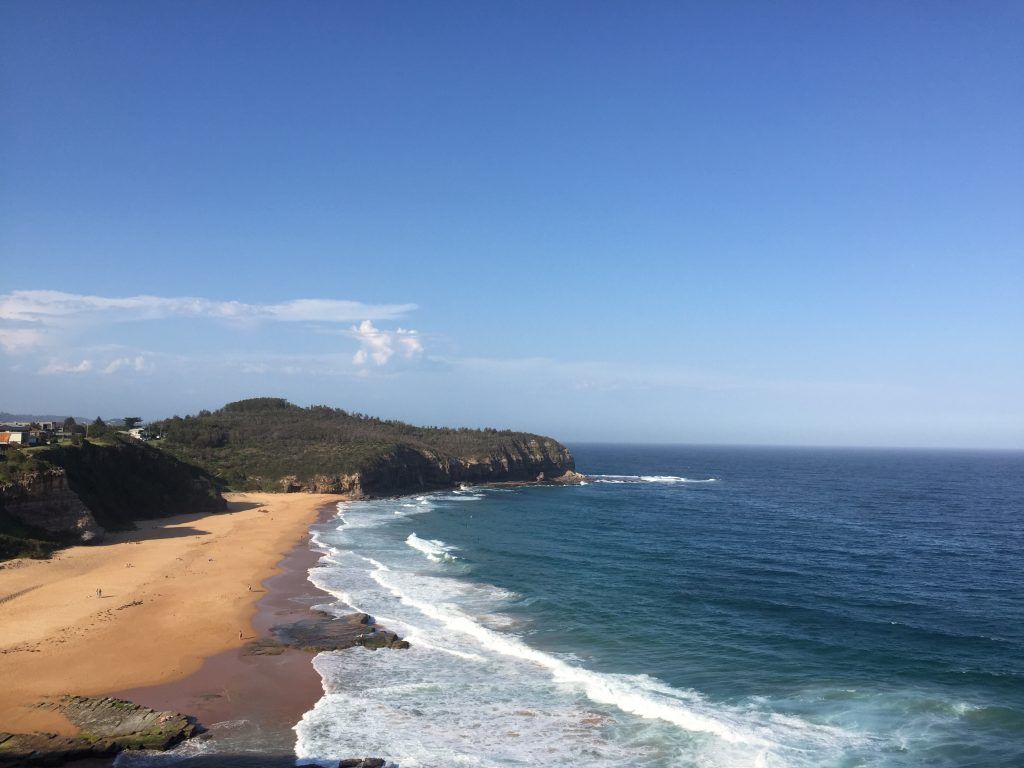 Probably the least visited of all the Northern Beaches, Turimetta is a rugged beach, unpatrolled and at times a bit wild. Tucked away between headlands and down a set of stairs, Turrimetta is great for walking along and exploring, as many locals know!
7. Fisherman's Beach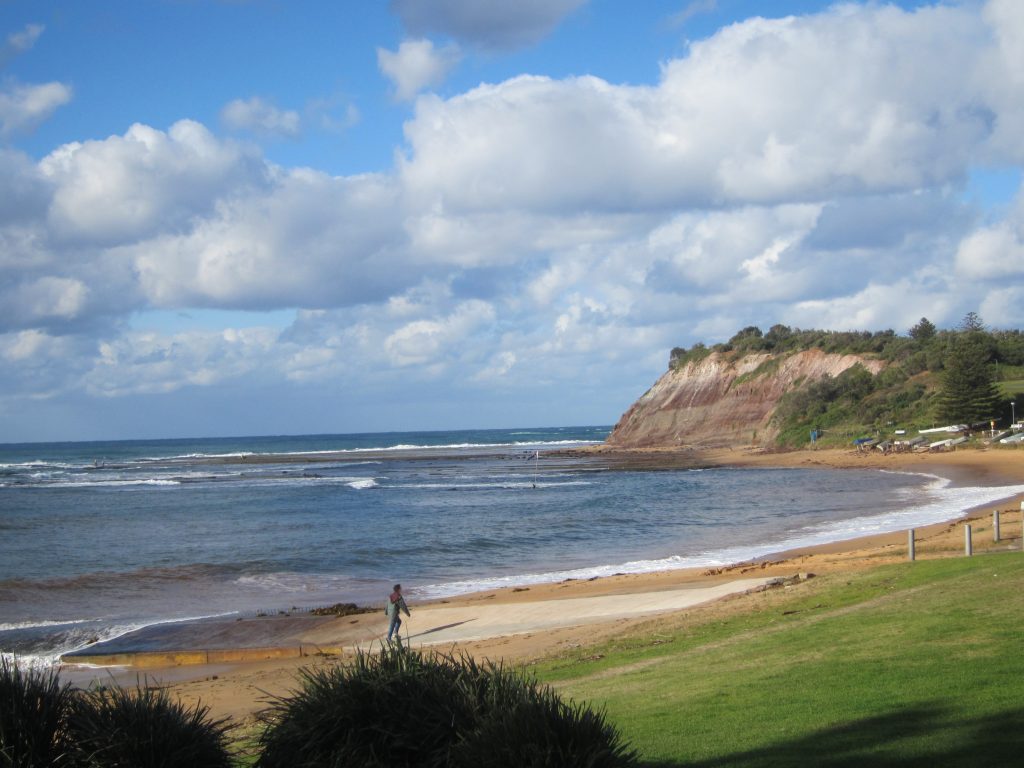 Fisherman's beach is tucked away at the end of Collaroy, a little cove with low waves, grass and a boardwalk leading out to the rocks and headland. I like it as it is nice to walk around and sit at, giving views up the coast. It's also a great spot for lunch at the Long Reef Golf Club cafe.
8. Dee Why Beach 
After Manly, I think Dee Why would be the next busiest beach on the Northern Beaches. And it's easy to see why. A long beach, with a pool, nice park and playground, with a newly updated boardwalk and concrete steps / seating to sit on and watch the surf. There is a promenade of twenty or so restaurants and take away shops and places for beach buys, burgers and ice cream. It's one of our favourite places to go and grab an early feed while the sun sets.
9. Avalon Beach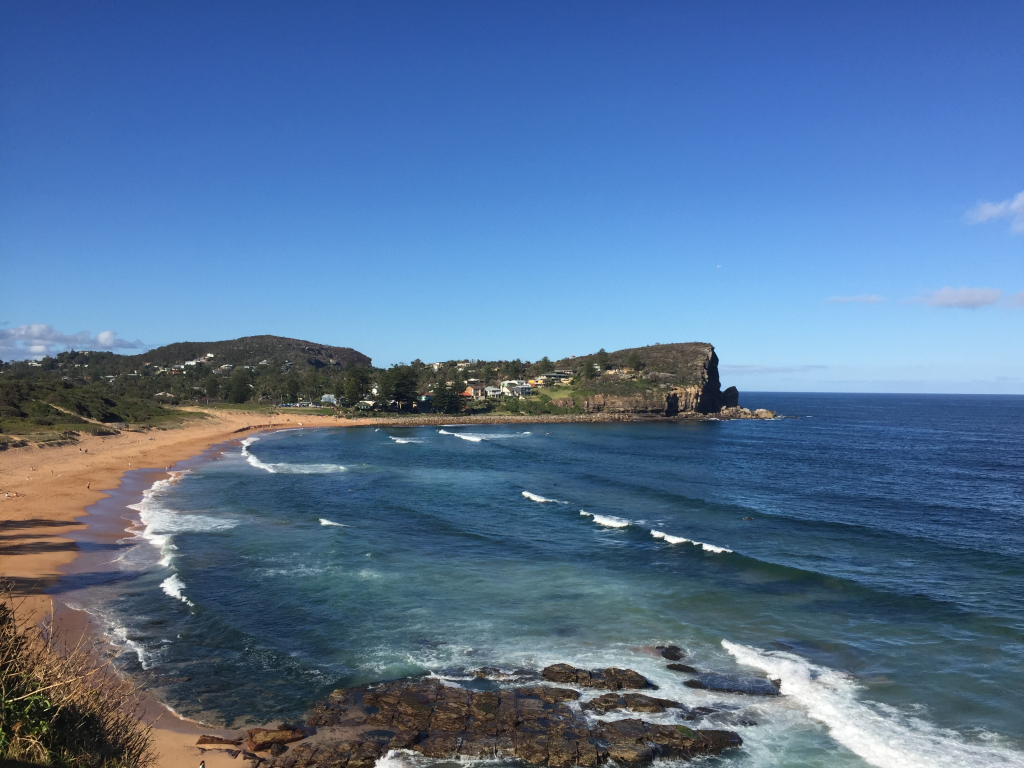 Popular with locals and surfers, Avalon is one of the Peninsula's finest. There's a pattern to these great beaches, they all seem to have cafes and kiosks, ocean pools, grassy hills and pine trees, headlands and lookouts, and of course fine yellow sand and rolling surf. Avalon isn't really too busy, often missed by tourists heading to Palm Beach. I love grabbing an ice cream and driving up to the south headland where the surfers (old and young) put on wetsuits and hang around their cars and vans. A classic, Aussie beach location.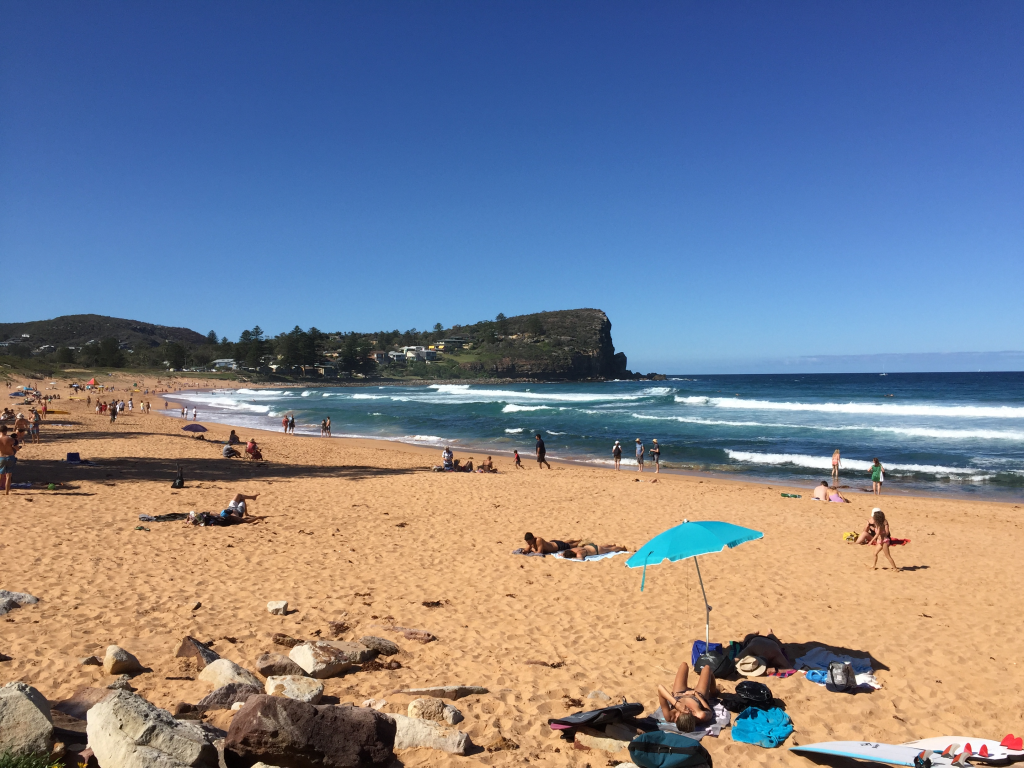 10. Newport Beach 
And finally, Newport Beach. Not as famous as the Californian version, but a nice sweeping beach popular with families and a great destination to end up at after you've strolled the shops and restaurants along the main road in Newport village. The park is always buys on weekends with big family get togethers and children hanging out on the play equipment. There is also regular markets and even things like yoga and events at the surf club.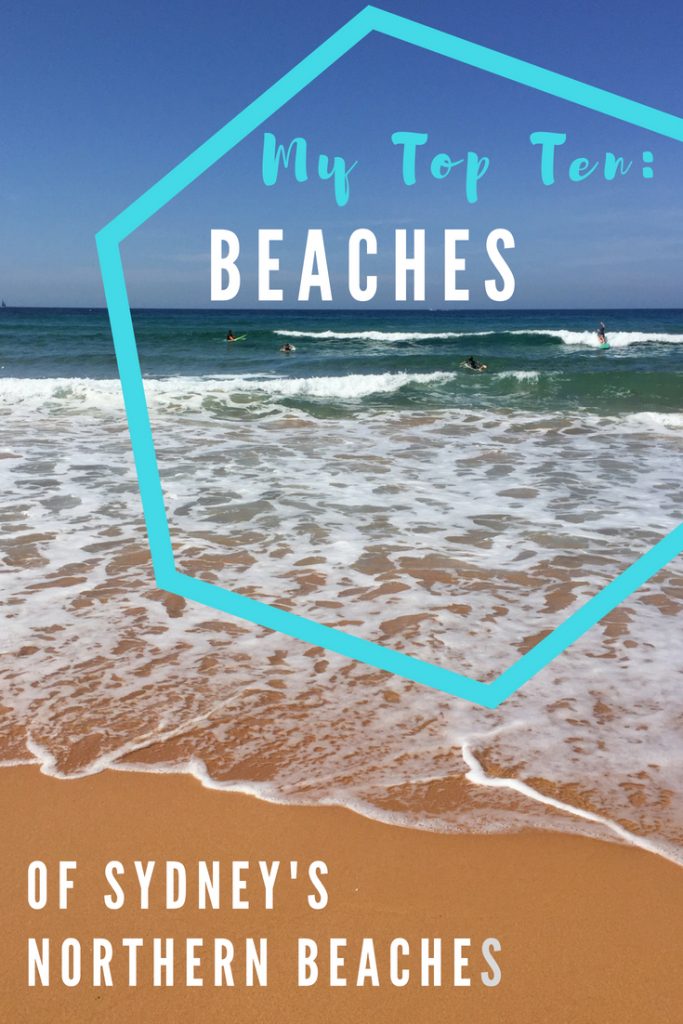 So there you have it! My top ten beaches of the Northern Beaches. I am looking forward to the weather getting warmer so I can revisit all my favourites and discover some new pockets. Not to mention get in some walks and view points around Pittwater too.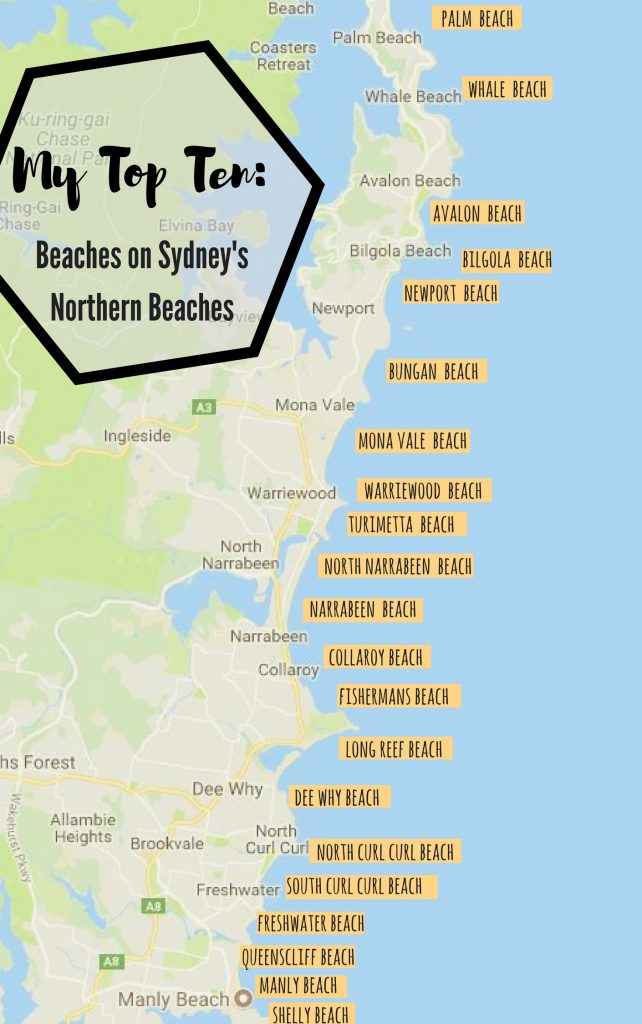 Leave a comment and let me know your favourite beaches of the Northern Beaches, or other favourite beaches in Sydney!
---
---