Watercress Cafe, Bali
Whilst staying and exploring the areas of Seminyak, Legian, Chengu and Batu Belig in Bali I was pleasantly surprised by the amount of fantastic cafes, bars, restaurants and clubs on offer. It's seriously a foodie's dream and the prices are so reasonable!
You forget you're in Indonesia and think you're at some trendy inner city cafe, with scrumptious breakfasts, cocktails, vegan and organic options on offer. Not to mention every cuisine imaginable.
We were staying at the Grand Balisani Suites at Batu Belig Beach, just past Seminyak and were given the hot tip on our first day out to head up the road to Watercress Cafe for Breakfast. After one visit we headed back two more times, making it our regular foodie fix – brekky style.
Yummy food, a cute, stylish cafe and a budget price tag! They are also open for lunch and dinner, which we will definitely have to do when we go back, because we vowed we would be back….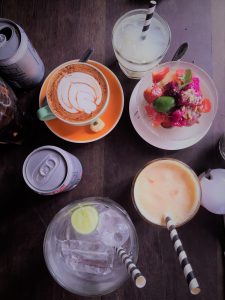 Also loved visiting these foodie and drinkie spots:
Motel Mexicola – for Mexican and Debauchery
La Laguna – beachside and beautiful
La Favela – THE ULTIMATE place to visit. Words can't explain… will do a blog post soon
Where do you like to eat and drink in Bali?
---
---