NINE THINGS TO DO IN: UPOLU, SAMOA
I had such a great time in Western Samoa! We spent a few days on the island of Upolu and a few days on the other major island, Savaii. Samoa makes for a great holiday destination in the Pacific – for adventure seekers, couples and even families. Thinking of visiting? Here's nine great things you can do on the main island, Upolu.
1. Swim in the To Sua Trench
Swimming in the To Sua trench had me the most excited about all the things you can do on the island of Upolu. It's a famous, overly instagrammed sinkhole that you can climb down and swim in,  with water coming in and out from the sea just beyond.
We managed to climb down the steep slippery ladder (which was an adventure in itself!) and hold tight onto the rope as we swum around. The rope is necessary as the surge of the ocean catches you unaware and you find yourself being dragged towards the underwater passage to the sea. The To Sua Trench is just off the main ring road of the island. Like many attractions in Samoa, it is actually on someone's private property so you pay an entry fee to visit. There is also a nice garden, picnic tables and the beach cliffs at the location. It is definitely a MUST DO in Samoa!
And I am still mourning the loss of ALL my GoPro Footage, as it died while I was filming in To Sua, wiping all my images and videos. So sad!
2. Visit Lalomanu Beach
Up the end of Upolu is one of the prettiest beaches on the island, Lalomanu Beach.  The water is warm and there are palm trees and fales dotting the sand. A number of casual restaurants are there for drinks and meals, we literally ordered our lunch, had a swim and then hopped out when they called us that it was ready! We spent an hour of so relaxing here and looking at Nu-utele island, an uninhabited island just off the beach.
3. Catch a Sunrise or Sunset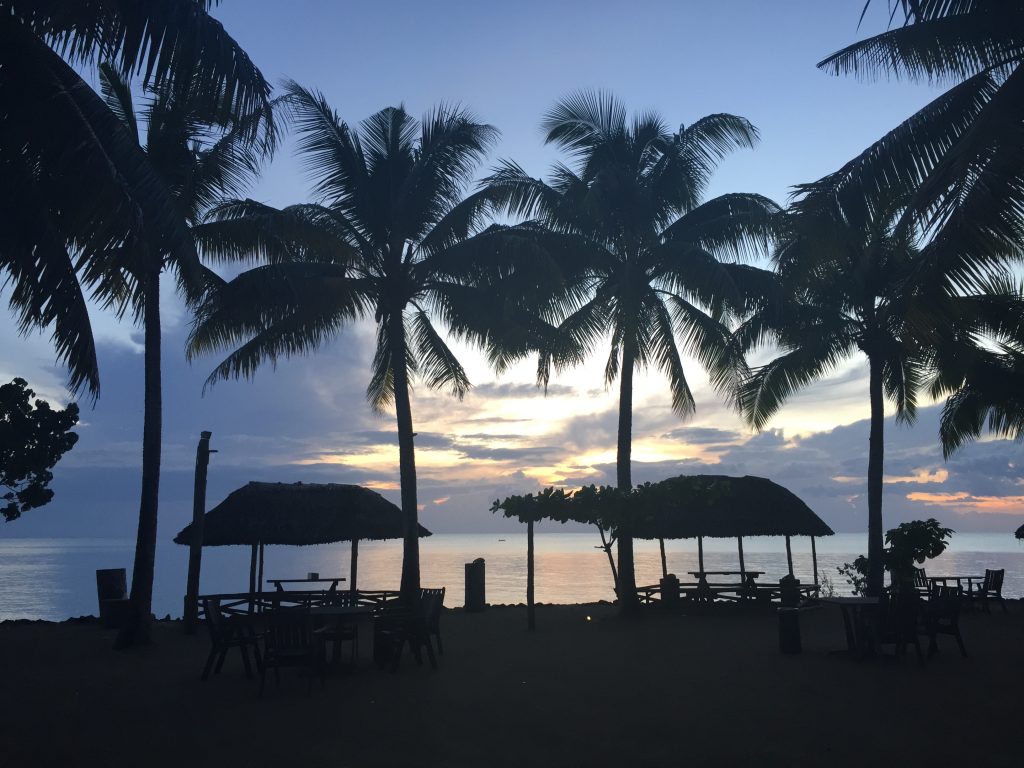 Now you can catch a scenic sunrise or sunset from anywhere on the island of Upolu. We had the advantage that our accommodation, Le Vasa Resort was on a small peninsula, Cape Fatuosofia, allowing us water views from 3 sides. Sunrise on the right, sunset on the left!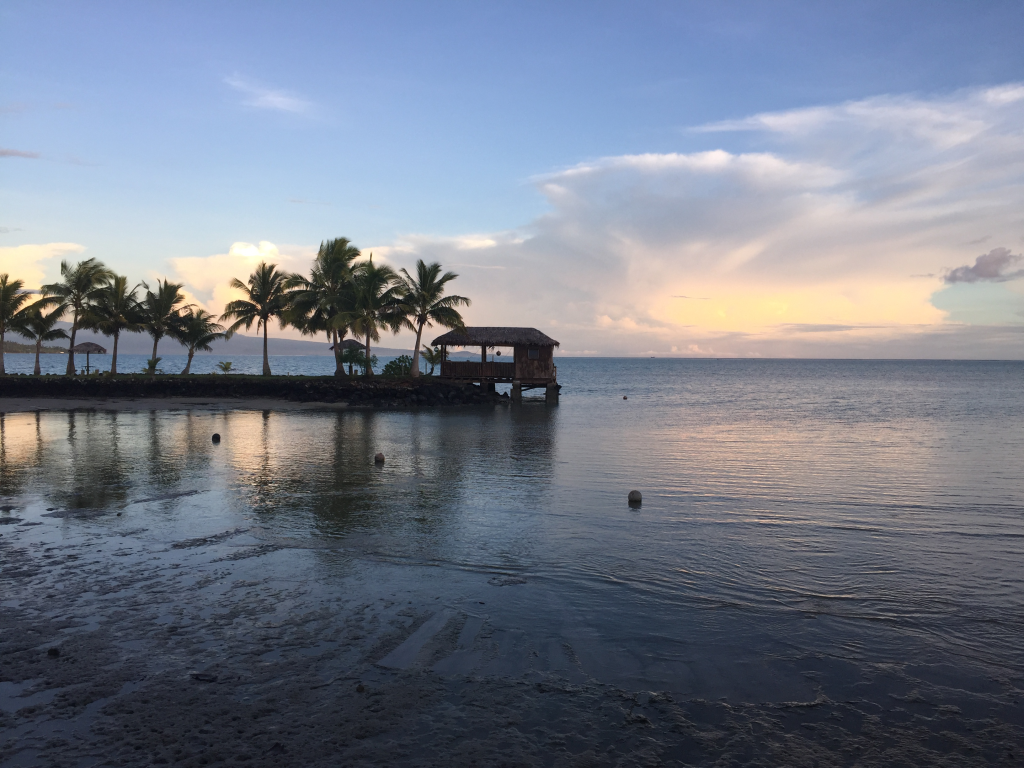 4. Swim in a Waterfall
There are so many waterfalls on the island of Upolu, you just need to know where to look. Most are deep within the fences of private properties and not well signposted. Luckily we had a great guide for the day who knew where to take us. We had to drive off the main road and then walk along a trail to the Togitogiga Waterfall where we swam in the pool and under the falls. I gave my fancy Canon DSLR camera to a local to take photos of us and they came back all blurry, like the one above! He obviously fiddled with some setting and didn't know what he was doing, and I didn't think to check at the time…lesson learnt, sometimes giving someone an iPhone is easier!
5. Ride the Local Buses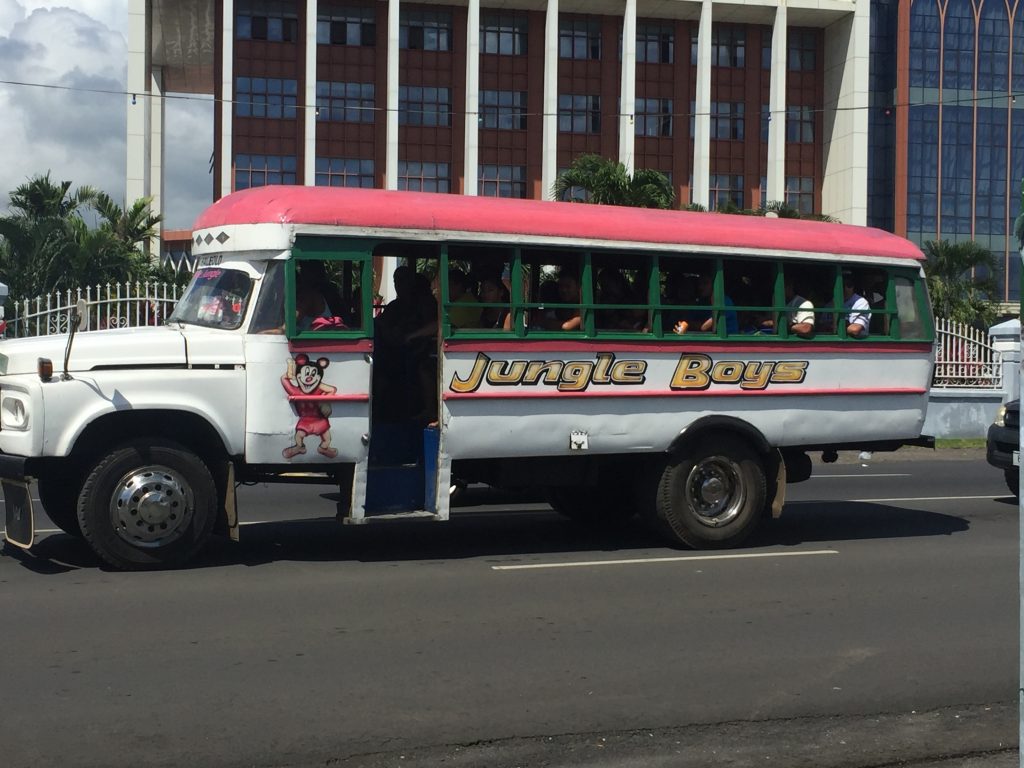 On our last day we decided to head into Apia, the tiny nation's capital and go to the markets. For an experience we caught the local bus home. It's super cheap and fun, but definitely rustic! No air conditioning, so the windows are all down and everyone hangs out the sides in the stifling humidity. As tourists and definitely not locals, we were given a seat by friendly gentlemen standing up and letting us sit. The buses have about 20 wooden benches, small in size, so seating two adults side by side was a squeeze! Much to our surprise they just keep loading the buses with more and more people, and everyone ends up sitting in people's laps, even strangers! There was a definite order of preference of who gave up their seats, young gave up to old, male gave up to female. At one time the tiny bench seat opposite us had 5 people on it! And only 2 of them knew each other. Our ride was over an hour (and admittedly too long) but I am glad we did the bus ride to really feel like a local.
6. Swim in a Cave Pool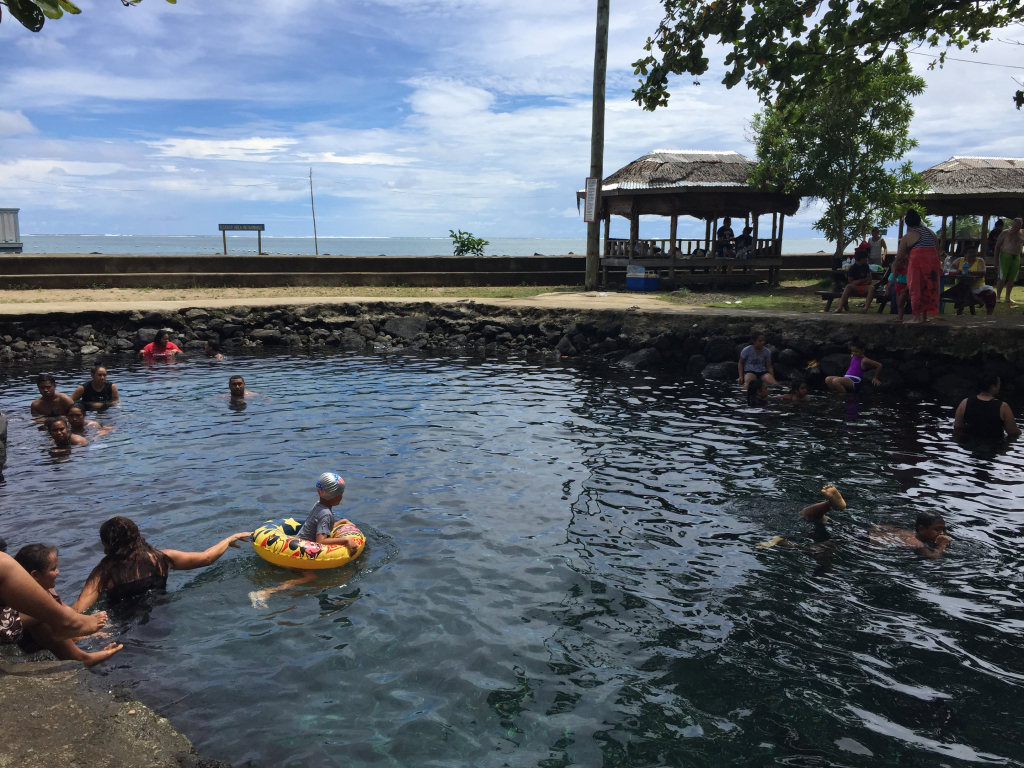 The Piula Cave Pool is a freshwater pool right next to the ocean formed by a natural spring deep in the cave. We arrived to find it swarming with locals, all out enjoying the refreshing waters and swimming 20 metres or so into the cave! Located under a cliff with a church perched on top, the Piula cave pool is very picturesque and another great find just off the main road, only 45 minutes from Apia. The water is super clear and swimming into the cave isn't as scary as I thought.
Alas, this was another place where I wore my GoPro and then lost all the footage from inside the pool and cave when it died. It was a brand new GoPro too!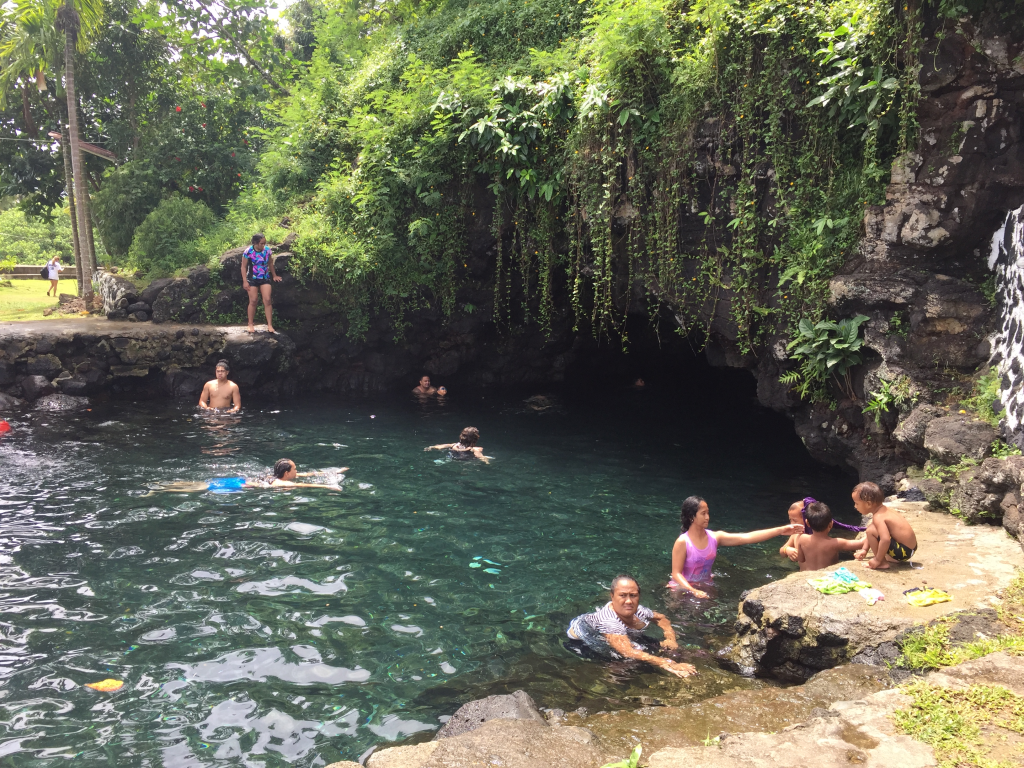 7. Sliding Rocks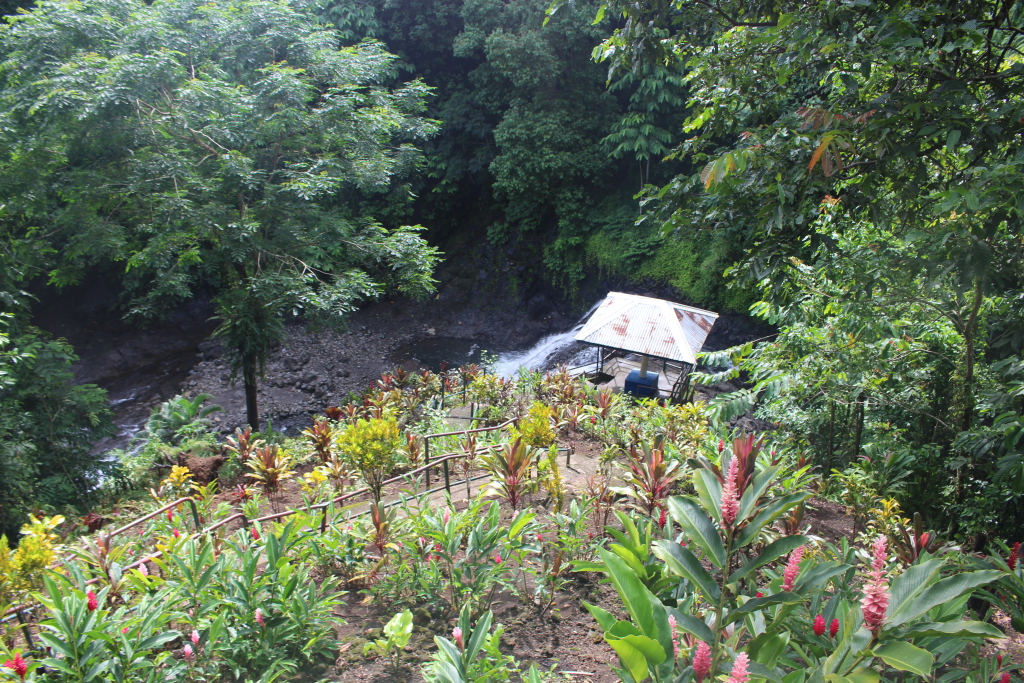 OUr first stop on our day trip around the island of Upolu was the Papaseea Sliding Rocks. They looked tame in all the videos and photos I had seen so I was keen to 'slide' down the little waterfalls. These falls and rocks are very weather dependent, and you can have a great experience or a painful one depending on how much water is flowing. It seemed to be gushing for us, as we made our way down the 300 or so steps to the gorge and creek below.
I took one look and thought, nope I'm out, if I try to do this sliding rock thing I will break an ankle and be out of action for the rest of the day, and week! So I watched as only one of us braved the big slide. She looked graceful and avoided injury, but lost her glasses as she plummeted into the pool below. One of the issues we had was working out which rock to slide down, and how to access the water at the top and bottom. There was no guides down there, or posters, or locals. Hence the rest of us didn't do it for fear we would be doing it wrong, and end up stranded at the bottom of a waterfall, or injured. Still, the falls are a beautiful place to visit and swim, but be informed if you want to slide.
8. Drive Through the Island's Centre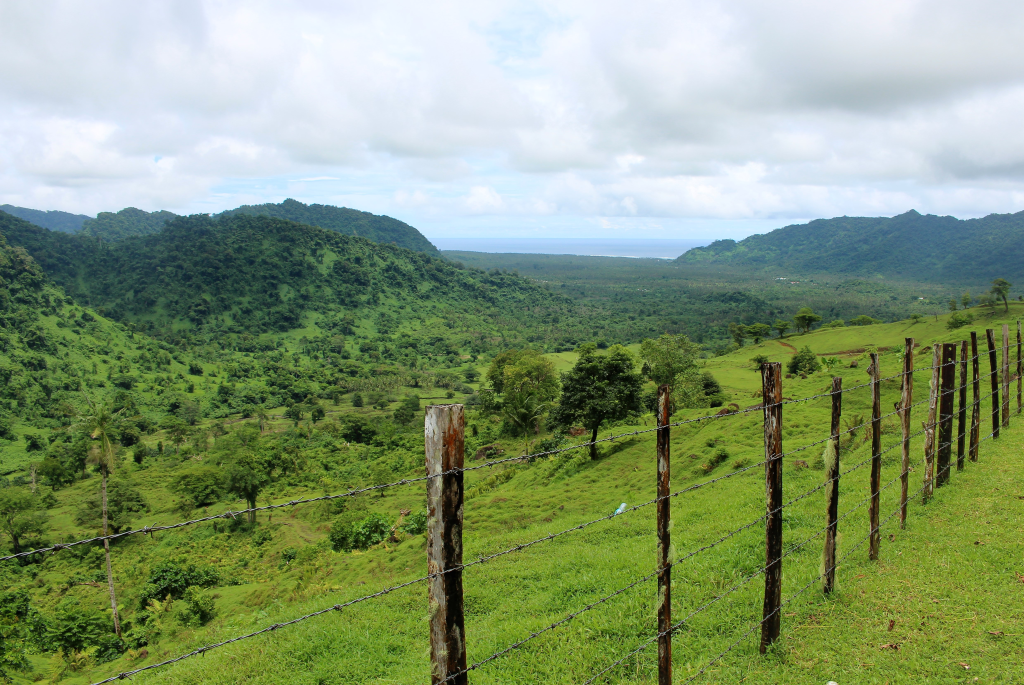 The interior of Upolu is just as beautiful as the outside ring road and its beaches and palm trees. Lush and green, we enjoyed meandering through the winding roads up and over the island of Upolu, past paddocks, properties, mountains and remnants of Volcanoes. Breathtaking!
9. Relax by the Pool and Ocean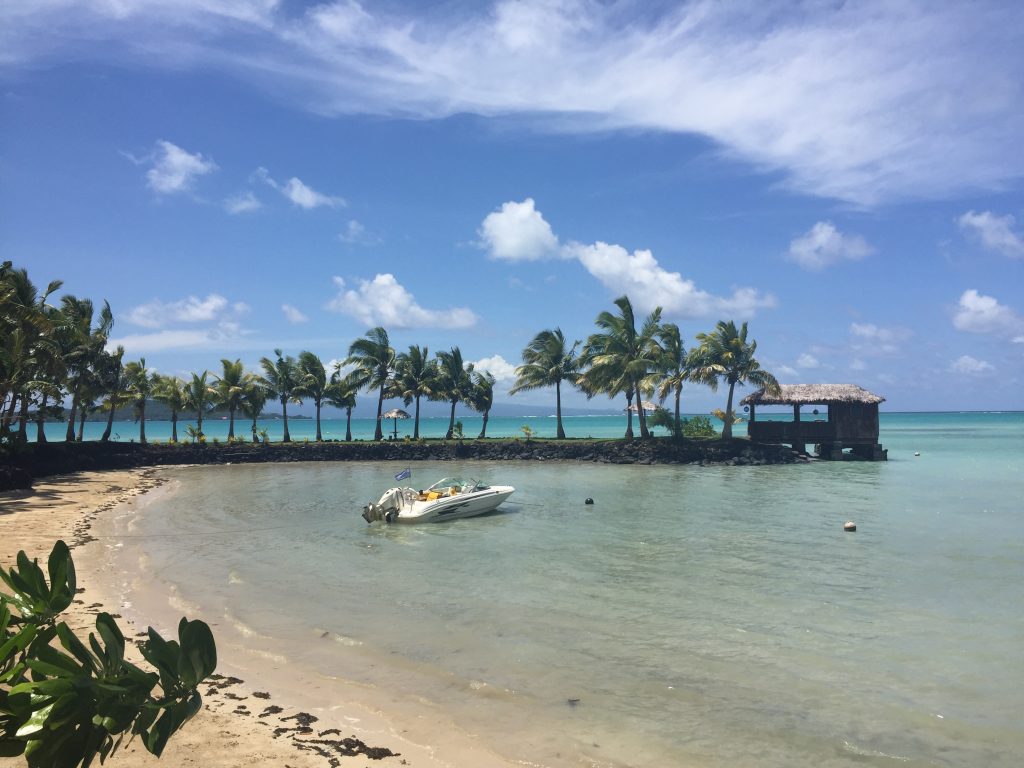 We were determined to spend half of our days in Samoa relaxing and having some much needed down time. Lying by pools and taking dips in the ocean was extremely good for the soul. We loved staying at Le Vasa Resort, and spent a day or two (or three) just hanging with a cocktail by the pool. The ocean around was a little choppy at times, so we ventured out in a kayak. We spent more time in the ocean when we visited the other island, Savaii.
So there you have it, nine great things to do in Upolu, Western Samoa! We crammed all that into 4 days, and if we had 4 more we would have ventured to more islands, more waterfalls, more beaches and some of the attractions in town. Western Samoa is not far from Australia or New Zealand so it makes for an alternative to Fiji, Bali or Vanuatu.
I loved it as a tropical island get away, and the people are so amazingly nice and friendly, not pushy at all. I can't wait to tell you nine things to do on the other island, Savaii!
PIN ME!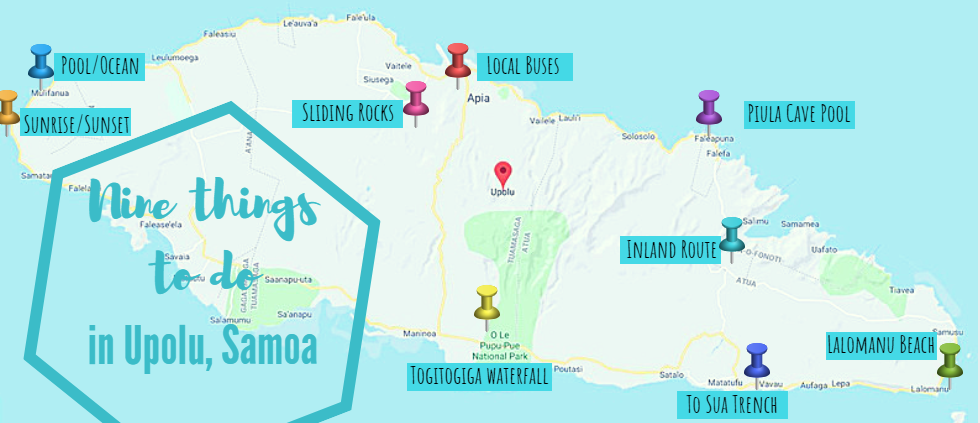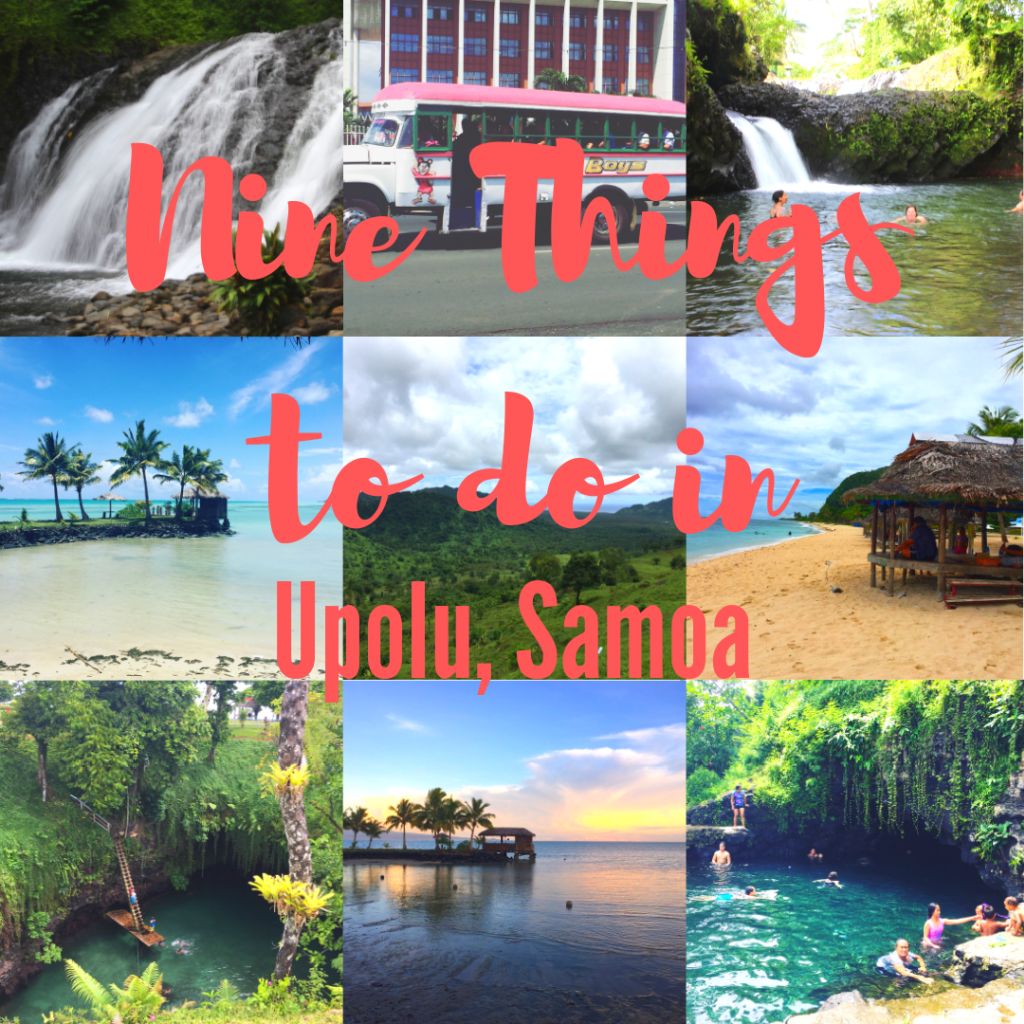 ---
---